How To Convert PDF to JPG Like a Pro
The web is full of PDFs—you might find them as attachments to emails, as documents on a company website, or as downloadable files. In some cases, you will need the content from these PDFs in a different format for presentation purposes, such as a PowerPoint presentation.
There are also times when it may be necessary to convert a PDF file to something more manageable—for example, JPG, PNG, SVG, and TIFF. Fortunately, no matter what file you want to convert your PDF to, there is software available that makes the job easy.
Although easy and convenient, you should be careful with what software or app you use to convert a PDF to JPG, especially since there are a bunch of unreliable websites and apps out there.
Since a PDF file can't be opened on a phone or tablet and is incompatible with most multimedia tablets, converting your PDF to JPG will give you the possibility of editing, saving, and sharing your files in many different ways. DoNotPay is here to guide you through the process of converting a PDF to JPG with ease! We can get the job done in a snap as soon as you sign up.
Wondering how to convert your PDF file to JPG on Windows 10? Find out once you access our award-winning app!
How To Convert PDF to JPG
Wondering what the best way to convert your PDF file to JPG is? We're here to provide you with some guidance on how to convert PDF to JPG without any costly and time-consuming software.
PDF is a popular file format used for storing data, but it's not the best way to save your images if you want them to be printed.
You can use various online programs to convert PDFs to JPG files. Consult the table below for more details on these programs:
| Programs | How It Works |
| --- | --- |
| Adobe Acrobat Professional | Adobe Acrobat is designed specifically for editing and converting documents. You can use it to create PDF templates so that you don't have to convert them manually all the time. The program also prevents conversion from causing errors in your documents |
| Free PDF Writer | Free PDF Writer is built for converting and editing PDFs, and it allows you to keep the original JPG files |
| PDF-to-JPG | PDF-to-JPG allows you to edit your document after converting it. You can also choose your own output quality from the program options, according to what will work best for your needs. The software converts all pages to JPG files automatically |
These programs are only some of the many you can find online and use to convert your PDF documents to JPG. You can use them to get the job done, but you should also learn about their drawbacks before you decide to do so.
The Problem With PDF to JPG Online Converters
Although online PDF to JPG converters may look like a life-saver for anyone in search of a fast and easy way to convert PDF files to images, there are some downsides that should be considered.
For one, these websites tend to reduce the quality of the graphics and may even distort images. If you are trying to create or enhance your own documents in the process of converting them, they will not be compatible with your work as they will be too blurry and/or pixelated. Even if a website's online view might look crystal clear, you can end up disappointed with the results in the end.
Additionally, these websites are often sketchy and unreliable. Most of them also store your data, which can prove quite problematic if you're converting work documents or other important files. Online converters don't protect your privacy and may even sell your data to third parties, so you have to be extra careful with what you choose to use to convert your files.
Ways To Discern if the PDF to JPG Online Converter You Choose Is Safe
When you download something from a website, there is always a concern that your personal files could be gathered and hacked into when you least expect it. This is why it is crucial to know if the file converter you're using is safe.
How do you tell if a converter is safe? Check out the table below to find out:
| Check if the Converter You Chose Is Safe By | What To Do |
| --- | --- |
| Finding the privacy policy | Find the privacy policy of the website you want to use to convert your files and see what it says about protecting your sensitive data |
| Looking for reviews | Look for other people's opinions on how they rate a converter. If they have a bad opinion about it, there's probably a reason for it, so check it out before you download anything from them. This will help you know whether to trust it or not |
You Can Convert a PDF File to JPG Safely With DoNotPay
Why worry whether your documents and sensitive info will be protected or not when you don't have to? With DoNotPay, you can have peace of mind knowing your documents will be converted safely and deleted from our app after 24 hours! Not only that we don't store your data, but we also offer you the option to convert all file types in a few clicks with no annoying ads popping up every second!
The process is streamlined to a tee as well. All you need to do is:
Upload the document you want to convert
Pick what format you want to convert it to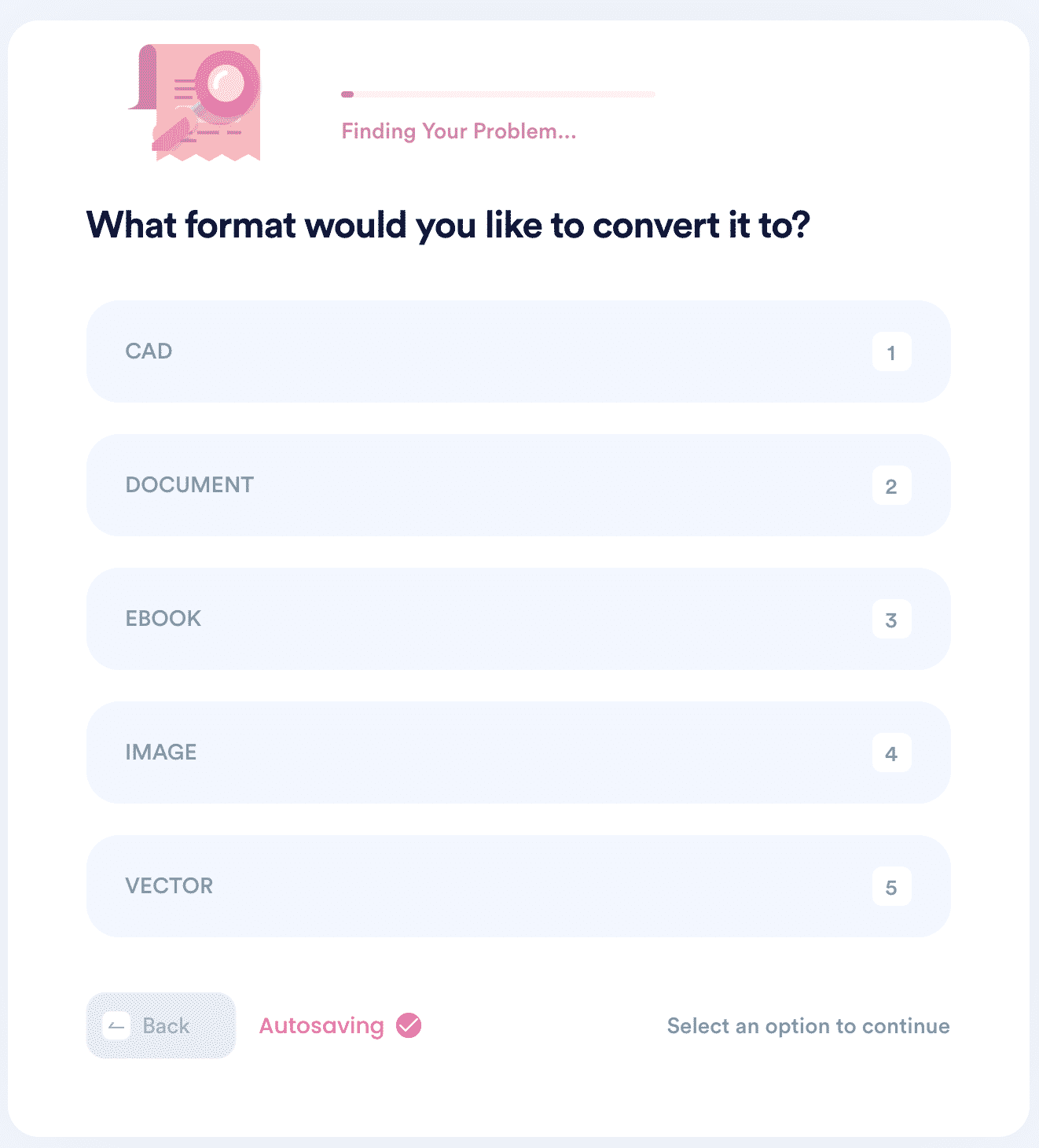 That's it! We'll convert your file right away, and your newly converted file will be ready to download from your "My Disputes" page!
What Other Files Can DoNotPay Convert?
Converting your PDF file to JPG isn't all DoNotPay can do for you! Consult the table below to see what other files you can convert easily by using our app:
Save Money With the Help of DoNotPay
Are you tired of losing money on useless memberships and forgotten subscriptions? Our app can help you cancel subscriptions or memberships in a snap. Have some questions for the customer service? Use DoNotPay to jump the phone queue.
If you want to sign up for a free trial but don't want to risk being charged, get our virtual credit card. Thanks to this card, you'll enjoy any free trial stress-free. It will also save you from receiving spam emails.
In case you're also struggling to claim a warranty or insurance, we can assist you with this too. Rely on DoNotPay to solve any issue regarding purchased products—whether you need to return an item, file a chargeback request, or get a late delivery refund.
If you're dealing with a serious problem, don't bother wasting your money on lawyers—our AI-powered app can help you file a complaint, appeal a banned account, sue anyone in small claims court, and draw up various legal documents!
DoNotPay Also Helps You Earn Money
Our app is an expert at saving money, but we can also assist you in earning some. You can use DoNotPay to find unclaimed funds under your name, sign up for paid clinical trials, and get victims' compensation. If you want to redeem your gift cards for cash, enter numerous sweepstakes, and get compensated for a delayed flight, count on our help!