Learn How To Convert PDF to JPG on Windows 10 Quickly!
Portable Document Format (PDF) is a file format created in 1993 by Adobe. The PDF format is used to exchange and present documents in a manner independent of application software, hardware, and operating systems.
JPG, on the other hand, is one of the most popular image formats created in the early 1990s and has been used to store graphical information ever since.
Although the PDF file format is great, it isn't perfect. There are many reasons that people choose to convert PDFs into JPG images, and if you're one of them, you came to the right place!
We'll help you avoid wasting time trying to figure out how to convert PDF to JPG on Windows 10 on your own by providing you with a streamlined step-by-step guide on how to do so. Once you subscribe to DoNotPay, you'll be able to convert your PDF file to JPG, PNG, SVG, or TIFF, in mere seconds. What's better, DoNotPay guarantees absolute safety and security, and we only store your files on our servers for 24 hours, deleting them afterwards.
How To Convert PDF to JPG on Windows 10
You can use various online converters to convert your PDF file to JPG on Windows 10. Check out the table below to see what some of the commonly used ones are:
| Converters | Description |
| --- | --- |
| Adobe Acrobat | Adobe Acrobat is a converter that allows users to create, open, edit, comment on, and save files in PDF and other formats |
| Smallpdf | Smallpdf is a free, open-source software for generating and converting PDFs on your computer |
Using "free" programs and online converters is the most common way to convert any file type, but that doesn't mean it's risk-free.
There are certain issues you may encounter when converting your files online, so we're here to help you understand the potential risks and show you how to steer clear of unreliable websites.
What Are the Risks of Using Free Programs To Convert PDF to JPG?
Recently, many free online file converters have sprung up. These websites are designed to help individuals convert their documents from one format to another easily. While the conversion is easy and free, if you're not careful, you might end up paying bigtime in the long run.
The most common risks associated with using these websites include viruses, privacy issues, and identity theft.
The biggest concern with these types of converters centers on the fact that it is possible for your documents to be intercepted and used for illegal purposes. If you're converting any work-related documents, we strongly suggest that you steer away from these sketchy websites and free online converters.
Another concern with these online converters is the possibility that your information can be copied onto other computers and shared with other parties. This can be particularly problematic when the file copies include social security numbers or other personally identifiable information.
Due to the previously explained risks, it's best to make sure the converter you want to use is safe beforehand. We're happy to show you how to do so!
How To Make Sure the PDF to JPG Converter You Choose Is Safe
When choosing an online file converter, it's important to determine whether it is:
Safe—doesn't allow access to any of your personal information or system settings
Secure—doesn't allow anyone else to gain access to your information
Reliable—can be trusted by you
Up-to-date—latest file converter updates
If you checked the above-listed factors and you are still unsure whether or not a file converter is safe, you can also consider the following:
| What To Consider | Why It's Important |
| --- | --- |
| Does the converter have an online verification process? | This is important because you will need to provide your personal information in order to download the files for later use. You can find out if a converter has an online verification process by looking at the website that hosts the converter |
| Is the converter asking for your financial information? | There are a lot of file converters online that ask for personal information, such as your credit card number, social security number, and bank account information. If you come across such websites, don't share your personal info and avoid using them because you can get scammed and tricked that way easily |
Convert PDF to JPG on Windows 10 With DoNotPay Safely in a Snap!
DoNotPay ensures the safety of your files and offers you the easiest way to convert a PDF to JPG on Windows, Mac, or Linux! We provide you with high-quality files and the fastest service on the market! All you need to do is sign up for our app and complete our quick guide to get it done:
Upload your PDF file
Choose JPG as the file type you want to convert it to
Visit the My Disputes page to download your file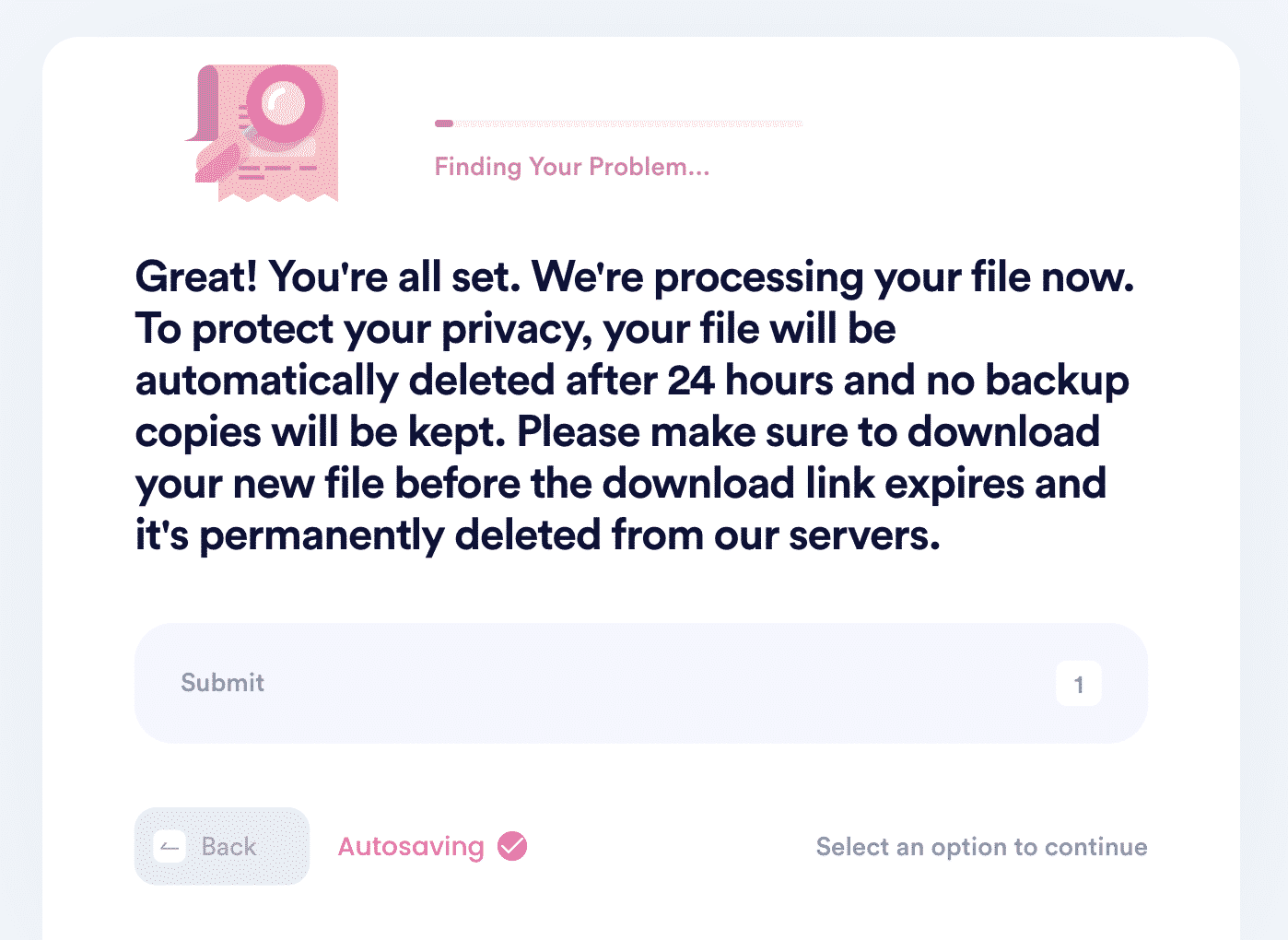 To make sure your data is protected, we'll remove your files from our app's database after 24 hours.
What Other Files Can DoNotPay Convert?
Converting your PDF files to JPG on Windows isn't everything we can help you with! DoNotPay helps you convert other documents as well! Check out the table below to see which ones:
Save Money With the Help of DoNotPay
Are you tired of losing money on useless memberships and forgotten subscriptions? Our app can help you cancel subscriptions or memberships in a snap. Have some questions for the customer service? Use DoNotPay to jump the phone queue.
If you want to sign up for a free trial but don't want to risk being charged, get our virtual credit card. Thanks to this card, you'll enjoy any free trial stress-free. It will also save you from receiving spam emails.
In case you're also struggling to claim a warranty or insurance, we can assist you with this too. Rely on DoNotPay to solve any issue regarding purchased products—whether you need to return an item, file a chargeback request, or get a late delivery refund.
If you're dealing with a serious problem, don't bother wasting your money on lawyers—our AI-powered app can help you file a complaint, appeal a banned account, sue anyone in small claims court, and draw up various legal documents!
DoNotPay Also Helps You Earn Money
Our app is an expert at saving money, but we can also assist you in earning some. You can use DoNotPay to find unclaimed funds under your name, sign up for paid clinical trials, and get victims' compensation. If you want to redeem your gift cards for cash, enter numerous sweepstakes, and get compensated for a delayed flight, count on our help!