Find Out How To Convert PDF to HTML in the Simplest Way Possible
PDF is a file created by Adobe and stands for Portable Document Format. It is used to store and distribute data and documents. The HTML file format is used as the basis of a web page. HTML files are written using HyperText Markup Language and can be displayed in any modern browser without a plug-in.
HTML files can be edited with a simple text editor, unlike PDF files, which can be difficult to modify. To avoid wasting time looking for a reliable file converter, sign up for DoNotPay! You'll get access to our nifty File Converter product that can convert PDF to HTML safely and in no time.
How To Convert PDF to HTML
There are few ways of converting PDF to HTML, but the most reliable and straightforward one is to use a PDF file converter—either an offline or online one. Free and paid offline converters can be downloaded and installed on your computer. They offer more features and editing options, but keep in mind they're not as easy to use as online converters.
Online converters are available on various websites. They are the first choice for many people because they don't require installing any additional software and are simple to use. You can find some commonly used online PDF to HTML converters in the table below:
| Converter | Description |
| --- | --- |
| Pdftohtml | Pdftohtml is a website that converts PDF files to HTML ones for free, but it does not convert to any other format |
| CloudConvert | CloudConvert is a website where you can download or convert a whole range of file types, from PDF to MP3 |
| Soda PDF | Soda PDF is a free file conversion website with a user-friendly interface |
| Zamzar | Zamzar is a free file conversion service that supports various file types, including PDF |
What Are the Drawbacks of Using an Online PDF to HTML Converter?
The major drawback of using online PDF to HTML converters is the risk of downloading malware or viruses on your computer together with the converted files. Another issue is that it takes a lot of time to convert a bunch of PDFs. This is because online converters, unlike offline ones, can convert only one file at a time. You should also keep in mind that the quality of the converted files won't be as good as you would like them to be. Lastly, remember that the speed of the conversion usually isn't satisfactory.
To avoid all these issues, make sure you check the Terms and Conditions and read the reviews of previous users.
Why Is DoNotPay the Best Tool for Converting Your PDF Files to HTML?
Our File Converter is the best tool for converting PDF to HTML for several reasons:
It is 100% safe—You won't have to worry about third parties accessing your data. We will delete your files from our database 24 hours after the conversion to protect your privacy
Our product can convert 100+ different file formats
It is browser-based, meaning that you can convert any file regardless of which system you're using (Windows, Mac, or Linux)
The quality of your converted files will be high
Our platform has no annoying ads
The conversion process takes only a few seconds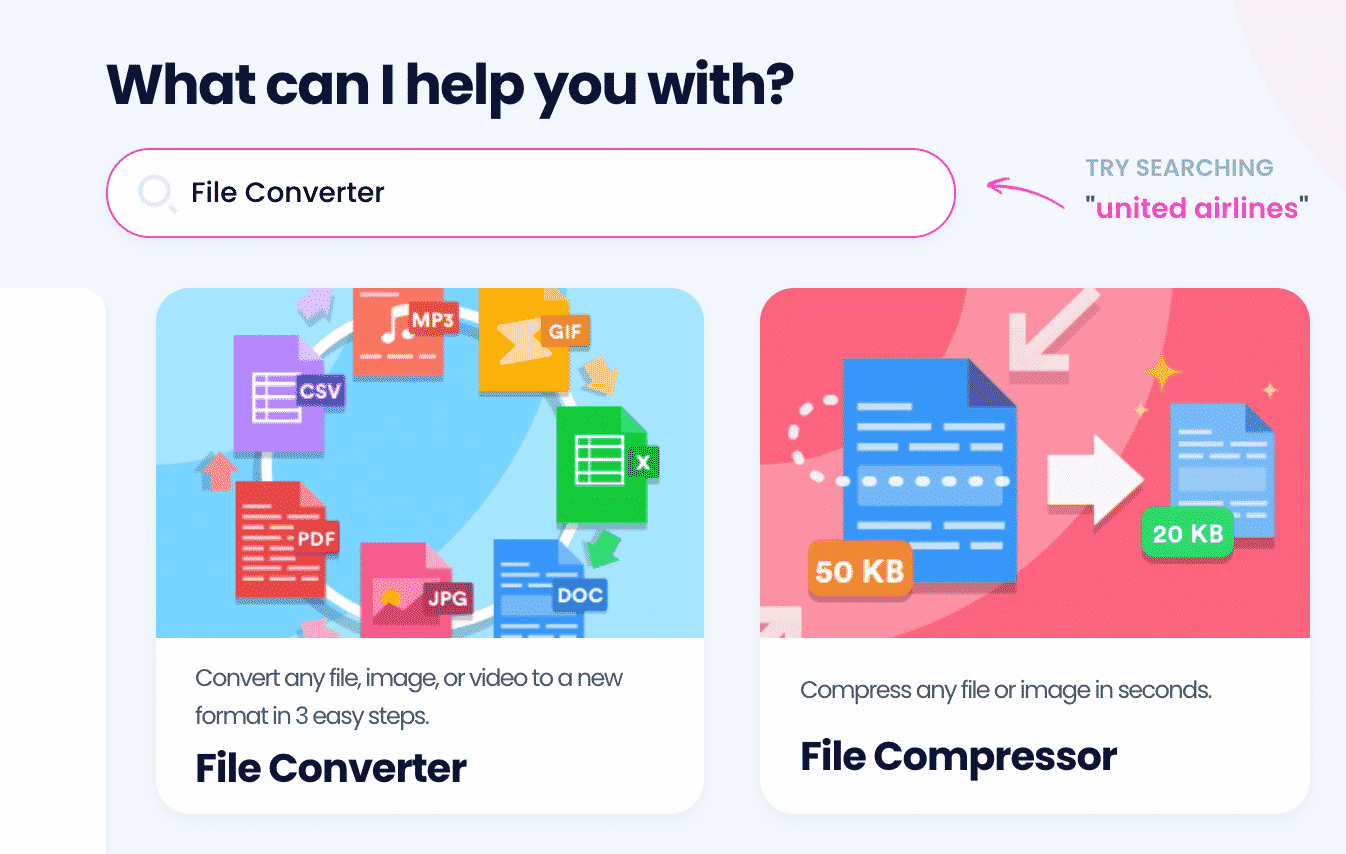 To start converting your files using our award-winning app, you'll need to log in to your account first. Once you've done that, follow the instructions below:
Open the File Converter product
Upload your PDF file
Choose HTML as the format you want to convert it to
Proceed to the My Disputes page to download your file
What Other Files Can You Convert Using DoNotPay?
If you need to convert a few different files, DoNotPay can help you with that as well. Consult the table below to find out what other files you can convert using our nifty File Converter:
Convert, Compress, and Download Anything With DoNotPay
Technology is advancing at a rapid pace, and it can be rather difficult to keep up. But there's no need to worry if you're not particularly tech savvy—DoNotPay got you covered!
With our easy-to-use app, you can compress any file, download videos from the web, and convert online videos to MP3 files, all with a few clicks. There's absolutely no experience needed. Your files are 100% safe, and your privacy is ensured because we delete the converted and compressed files after 24 hours.
Save Time and Money With DoNotPay
On top of file conversion, DoNotPay has hundreds of different products that automate boring tasks and streamline complex processes. And the best part is—you get access to all of them, so you can use our award-winning app to save a ton of time and money.
Here are just a few examples of what DoNotPay can help you with: