How To Convert PDF to Fillable Form In Under a Minute
You probably came across a PDF you wanted to convert into a fillable form at least once before. A PDF in fillable form is also known as a PDF form. It's basically an interactive electronic document that allows you to fill out fields and use different types of data validation.
Fillable PDF documents may be generated from the existing PDF document or made from scratch. They are created for organizations and businesses that need to submit a large number of forms such as medical insurance claim forms or online registration forms. You may also find them useful for invoices, contracts, and other important documents.
This article will show you a few quick and simple ways to convert a PDF into fillable form fast and easy. We'll also introduce you to our award-winning app that you can use to convert hundreds of different file types with a single click. Sign up for DoNotPay today to start using our superb File Converter and gain access to dozens of different useful products!
How Do You Convert a PDF to a Fillable Form?
Fillable forms are created by using special form-design applications which allow users to create editable PDF forms that can be filled, saved, and printed with updated information.
There are several programs you can use to convert PDF to fillable forms:
Adobe Acrobat
Microsoft Word
Nitro
How To Convert PDF Into FIllable Form in Adobe Acrobat
Adobe Acrobat is the most straightforward out of the three. If you already have it installed on your computer, here's how to use Acrobat to convert your PDF into a fillable form:
Open Adobe Acrobat
Click on Tools
Open the Forms panel and click Create
Select the existing PDF file and click Next
Acrobat will analyze the document and add interactive form fields which you can inspect in the Fields panel. You can change the field name and add or edit fields by clicking on Edit Fields in the Task panel. Once you've finished editing, click Preview to test it. If you're happy with the form, save it.
How To Convert a PDF Into a Fillable Form in Microsoft Word
While the task can also be completed in Word, the process is much more complex compared to Adobe Acrobat. On top of that, before you create the "fillable form," you would need to convert the PDF file into a Word document. This means you'll need a program capable of opening and converting the PDF file, such as Adobe Acrobat.
If you're going to download Acrobat, why not use the program itself to make the PDF fillable? If you absolutely have to turn the PDF into a Word document, here's how you would go about it:
Open Adobe Acrobat, navigate to File, choose Save As, and select .DOC from the menu
Open the converted document in Word
Enable the Developer Tab (File > Options > Customize Ribbon; Then, select "Developer" from the checkbox under "Main Tabs")
Click on Developer and select "Design Mode"
Select the area in your Word document where you want to add a fillable element and select "Text Box" or "Rich Text Box"
Customize the text box as you see fit
Can I use an Online Converter to Convert PDF into Fillable Form?
If you don't have Adobe and don't want to spend hours editing a Word document, you can use an online file converter. If you find online converters more convenient, check out the PDF converters in the table below:
| Converter | Description |
| --- | --- |
| pdfFiller | pdfFiller is a website that provides a service to transform PDFs, scanned images of paper documents, and photos into editable text and form data |
| DocFly | DocFly is a free online service that converts your PDF to Word, Excel, PPT, image, and HTML files |
| PDFEscape | PDFEscape is a web-based converter that can convert PDF files into many different formats. Converted PDF files can then be opened in any browser or email application and shared easily with anyone who has an internet connection |
Reasons Why Online File Converters May Prove Problematic
There is a wide range of websites that allow you to upload any PDF and convert it into a fillable form. However, online converters may prove problematic due to the following reasons:
Incompatibility of your PDF file with the site's software—This could cause problems when you try to fill it out, as your answers may not appear or may be misplaced
The risk of malware—By downloading your converted file, you may download malware to your computer
Inability to convert large files—Some online form converters only allow you to upload PDFs that are less than 10 MB in size
If you want to create a fillable PDF for your business or some kind of project, you should think twice about it. Using online converters for converting files that contain confidential info isn't recommended.
How To Know Whether an Online File Converter Is Safe or Not
In order to know whether or not a file converter is safe, you should consider several factors. First of all, make sure that the converter has an SSL certificate (if it doesn't, you shouldn't download any of the files from the site). Secondly, make sure that it has a good rating and that it's been around for a while. Finally, read the Privacy Policy and Terms of Use to find out how the site handles your data.
DoNotPay Lets You Convert Virtually Any File With a Single Click!
Don't put your data at risk by using unreliable online converters because DoNotPay will convert your files in a matter of seconds! What's more, you may convert an unlimited amount of files with our software, and the converted files will be of great quality.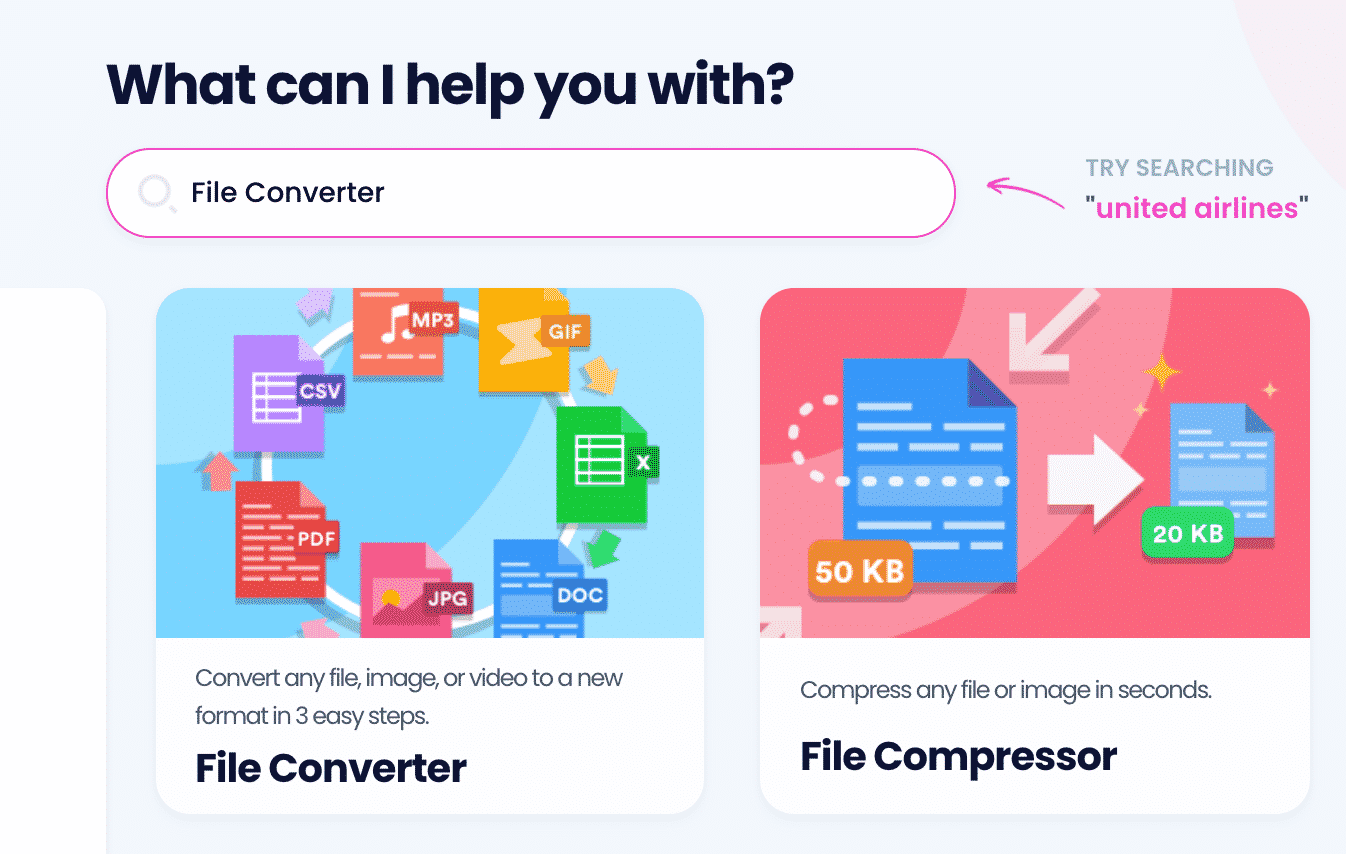 To get started, you need to log in to your DoNotPay account and follow these steps:
Find the File Converter product and open it
Upload your file
Choose the file type for the output
Go to the My Disputes page and download your new file
To protect your privacy, all your files will be automatically deleted from our servers 24 hours after the conversion.
What Other Files Can I Convert With DoNotPay?
If PDFs aren't the only files you need to convert, you'll be happy to find out that our File Converter supports 100+ different file types. Some of them are listed in the table below:
Have All Your Files In One Place
DoNotPay is designed to help you do more with less work. Apart from converting hundreds of different file types, you can also leverage DoNotPay to compress your files to take up less space on your device.
Found a video online that you'd like to save as an mp3 to play it on the go? Whether it's a music video, a guide, a lecture, or a podcast, DoNotPay can convert all manner of online videos to mp3 files with ease! You can also use our award-winning app to download videos from social media and the web so you can enjoy them even when you don't have access to the internet.
DoNotPay Helps You Tackle All Manner of Different Tasks With Ease
Streamlining complex processes and saving you a ton of time and money in the process is what DoNotPay does best!
For instance, we can help you skip the phone queue of any company by waiting on hold in your stead. We can also help you cancel any unwanted subscription or service with a single click, as well as request a chargeback, return an unwanted item, and get a late delivery refund.
You can also use DoNotPay to find unclaimed funds in your name, lower your bills and reduce property taxes, as well as appeal parking tickets and dispute seatbelt tickets. Apart from saving you a ton of money each month, DoNotPay can also give you that much-needed peace of mind by helping you get rid of annoying robocalls and email spam for good!