Learn How To Convert PDF to Excel in No Time
PDF stands for Portable Document Format. In addition to text and photos, this file type can contain interactive buttons, hyperlinks, embedded fonts, videos, and more. It is not intended for editing directly because it doesn't allow for editing commands. The three most common uses for PDFs are to distribute manuals, books, and legal documents.
Excel files are dynamic documents that allow editing commands within their structure. They are created in Microsoft Excel—a spreadsheet application designed for calculations, graphs, charts, and data analysis.
The major advantages of converting PDF files to Excel are the ability to edit and update the document directly and the ability to use advanced features such as charting, filtering, borders, conditional formatting, and grouping.
There are numerous online converters you can use to convert PDF to Excel. Why waste days testing them when you can start converting your files immediately with DoNotPay's reliable, quick, and 100% safe File Converter? All you need to do is sign up for our service.
How To Convert PDF to Excel
You can convert PDF files to Excel in two ways. The first (and the easiest) way is to use a free online service that will allow you to convert PDF to Excel without the need for downloading or installing additional software. With most online converters, you'll need to take a few simple steps:
Upload the file you want to convert
Select the format you want to convert it to
Hit the Convert button or follow further instructions (paying close attention to the licensing agreement)
Download your file
To help you save time, we have made a list of some commonly used PDF to Excel online converters:
| Converters | Description |
| --- | --- |
| Smallpdf | Smallpdf is a web-based application that converts PDFs to various file formats, such as JPG and PNG. There is no charge for the service, which is primarily aimed at making your files more accessible to other people on your computer |
| iLovePDF | iLovePDF is an online service that converts your files to PDF without the need for downloading any software |
| PDF2Go | PDF2Go is a free and easy-to-use service that lets you convert your PDF documents to Adobe PDF, PCL6, DOCX, RTF, HTML, and EPUB formats with just the click of a button |
The second option involves downloading and installing an application on your computer, for example:
Nitro
PDFZilla
PDFElement
The Common Issues With PDF to Excel Online Converters
PDF to Excel online converters are a great way to convert your PDF to Excel. However, there are some issues that you might come across while doing it:
Not having full control over the process—This kind of conversion depends on the internet connection speed
Poor quality of the converted files—Since many online converters are free of charge, they do not care about your document quality and usually don't give you a chance to edit the converted document. PDF to Excel online converters are costly if you want quality document output
Incompatibility with some devices and operating systems—Some files may not work on, for example, Mac or Linux
The risk of malware and viruses—The most important problem with online converters is that you cannot trust them completely. By downloading the converted file, you can also download malware on your computer
Privacy issues—Online converters might give your data to third parties accidentally or intentionally
Inability to handle larger files and convert multiple files at once
How Can I Know if a PDF to Excel Converter Is Safe?
It can be hard to find a reliable tool in a sea of online converters, so we've put together a list of steps you should take to determine whether a PDF to Excel converter is safe or not:
Check out the domain's reputation—It's difficult to know if a PDF to Excel converter is safe unless you look into its reputation
Read user reviews—If a number of people who have used the software complain that it deleted or messed up their work in any other way, you should find another converter
Go through its Terms and Conditions and Privacy Policy—A reliable converter should be transparent about its privacy policy and allow you to check out how your information will be handled
Check whether the website is updated frequently—This means any bugs or issues are identified and fixed in a timely manner
Use DoNotPay To Convert PDF to Excel Safely
Using our nifty File Converter, you won't have to worry about the safety of your data. DoNotPay will make sure all your files are deleted 24 hours after the conversion. To be able to convert your PDF files to Excel with our app, you'll have to log in to your DoNotPay account first. Once you've done that, follow these simple steps:
Open the File Converter product
Upload your PDF file
Choose Excel as the format you want to convert it to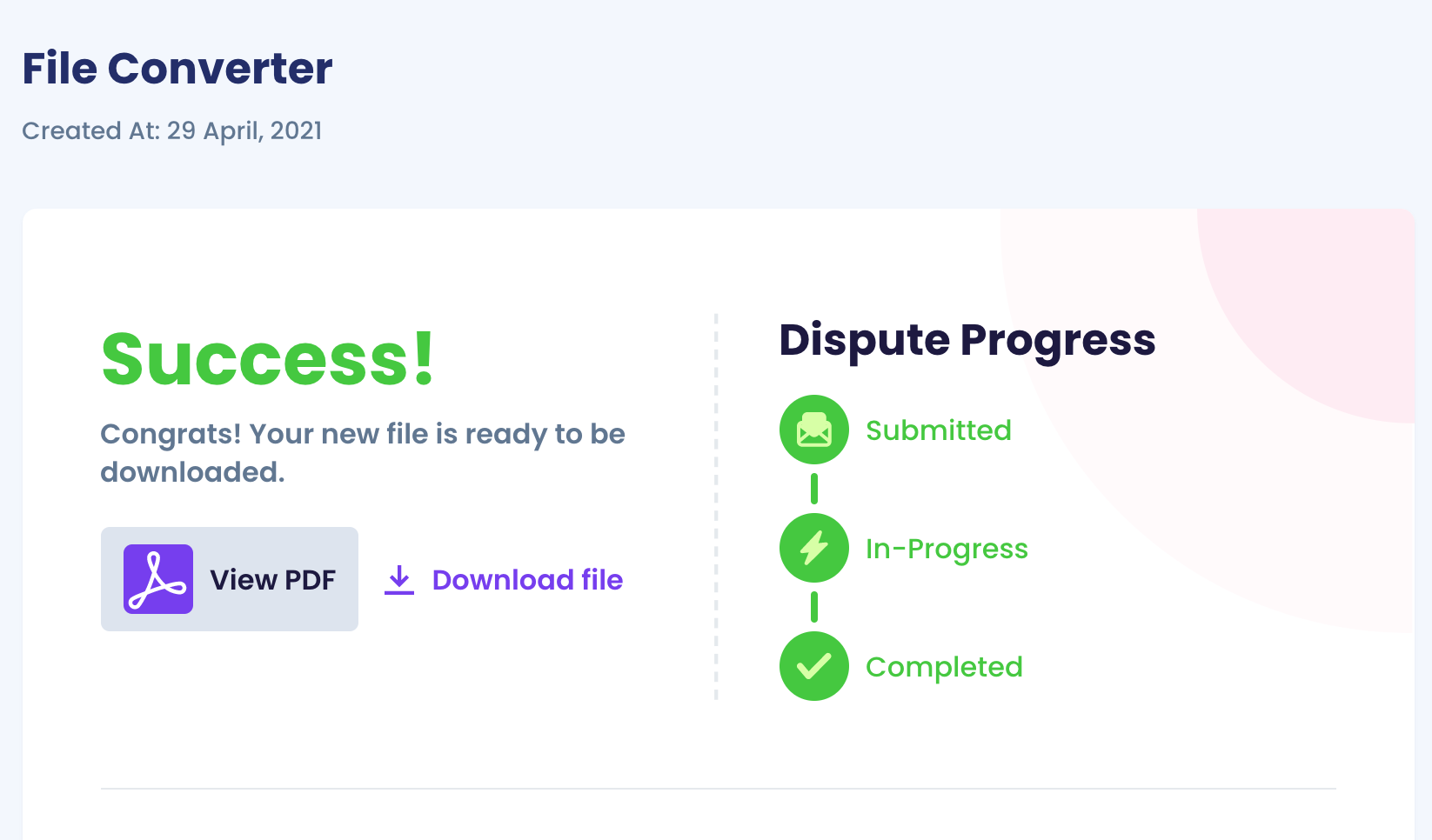 Your new file will be ready in just a few seconds! The last thing you'll have to do is go to the My Disputes page and download it.
What Other File Types Can DoNotPay Convert?
Besides PDF and Excel, our File Converter can convert many different documents. They are listed in the table below:
Have All Your Files in One Place
DoNotPay is designed to help you do more with less work. Apart from converting hundreds of different file types, you can also leverage DoNotPay to compress your files to take up less space on your device.
Found a video online that you'd like to save as an MP3 to play it on the go? Whether it's a music video, a guide, a lecture, or a podcast, DoNotPay can convert all manner of online videos to MP3 files with ease! You can also use our award-winning app to download videos from social media and the web so you can enjoy them even when you don't have access to the internet.
DoNotPay Helps You Tackle All Manner of Different Tasks With Ease
Streamlining complex processes and saving you a ton of time and money in the process is what DoNotPay does best!
For instance, we can help you skip the phone queue of any company by waiting on hold in your stead. We can also help you cancel any unwanted subscription or service with a single click, as well as request a chargeback, return an unwanted item, and get a late delivery refund.
You can also use DoNotPay to find unclaimed funds in your name, lower your bills, reduce property taxes, appeal parking tickets, and dispute seatbelt tickets. Apart from saving you a ton of money each month, DoNotPay can also give you that much-needed peace of mind by helping you get rid of annoying robocalls and email spam for good!