Easy Ways To Convert PDF to EPS
PDF stands for Portable Document Format. It's a file format mostly used to distribute image, video, and other data across various devices.
EPS stands for Encapsulated PostScript. It's a graphics file format developed by Adobe.
If you need to convert PDF to EPS, you came to the right place! We can walk you through converting your PDF files to EPS step by step by using free online converters. There is another way you can choose to convert your files, and that's with a downloadable program.
We'll explain how each of these conversion methods works and mention some of their flaws as well.
In case neither of the previously mentioned methods work for you, you can sign up for DoNotPay and let our app convert your PDF to EPS in a few seconds!
How To Convert PDF to EPS
There are two options you can choose from to convert your PDFs to EPS—with downloadable software or by using free online converters. You can find all the info about how the conversion process works with them and what programs you can use in the table below:
Conversion Tool
Conversion Process
Commonly Used Programs
Downloadable software

Install the software you want to use
Import the file you need to convert
Choose the desired output format
Wait for the conversion process to be finished
Save the converted file on your computer

Free online converters

Visit the website you want to use
Upload or drag and drop the file you want to be converted
Select the output format
Click on Convert
Download the file once converted
Both of these conversion methods come with disadvantages that you should get acquainted with prior to deciding to use one of them, and we're here to break them down for you.
PDF to EPS Converters—Major Disadvantages
When it comes to downloadable software, it's no secret that they're often more trouble than they're worth. You have to complete numerous steps to install them on your computer before using them to convert files, which requires way too much time. The installation process is also not easy. Some downloadable programs require you to pay a fee to use them, so they aren't free.
Free online converters, although easier to navigate, aren't entirely risk-free. There are various security issues you can run into when using these web-based converters since they don't provide a satisfactory level of protection. Your computer can easily get infected with viruses and your personal files shared with other unauthorized parties. The converted files you get can be blurry or pixelated since the quality of files these converters provide isn't super high.
Finding a safe and reliable converter isn't always easy, but luckily, we're here to offer a solution!
DoNotPay Converts PDF to EPS Safely and in Record Time!
Forget about wasting time looking for a safe online converter or downloadable program—you have a more convenient solution at your fingertips! Not only does DoNotPay protect your safety and the safety of your data, but our app also provides you with high-quality converted files!
You can convert an unlimited number of files using our app on any operating system in only a few clicks. We'll even remove your files after 24 hours to ensure your safety and help you keep peace of mind. All that it takes on your part is signing up for DoNotPay and following the next steps:
Open the File Converter product
Upload your PDF file
Select EPS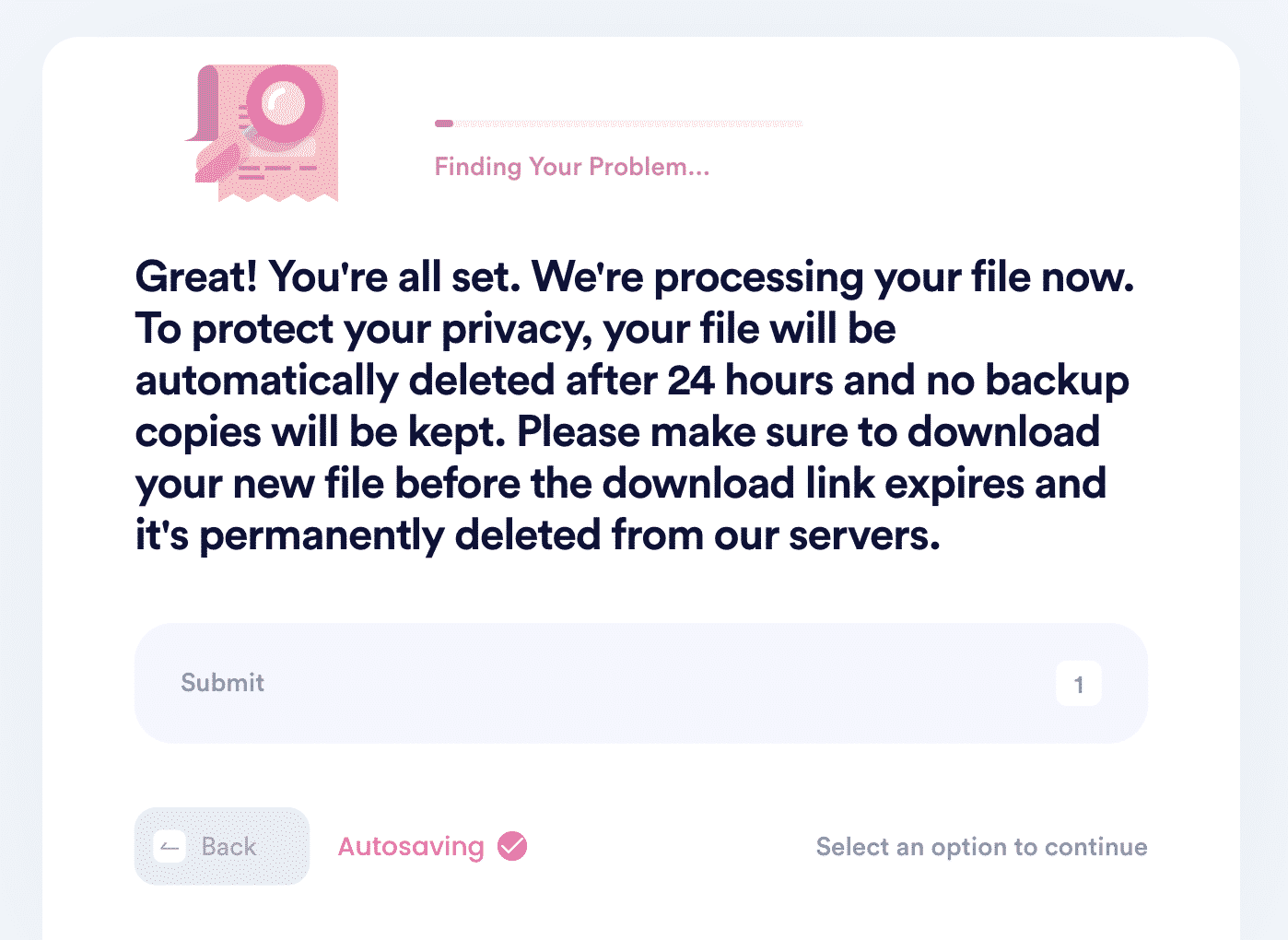 Once we convert your file, you'll be able to download it from the My Disputes page in a snap!
What Other File Types Can DoNotPay Convert?
You can convert a plethora of other file formats using DoNotPay! Check out the table below for more details:
Much More Than a Simple File Converter
When you're converting files, keep in mind you'll need hard disk space for both the original and the converted file. While the HDD space individual files take up is barely noticeable, if you're planning on converting multiple files, it can quickly add up.
Luckily, DoNotPay also lets you compress files to make them easier to store. You can also use our award-winning app to convert online videos to MP3s, as well as download videos from social media and the web and save them on your device.
DoNotPay Offers Unmatched Functionality
DoNotPay offers a lot more functionality than a regular file converter. On top of these file management features, you'll find hundreds of different products within the app that can facilitate, streamline, or automate a wide variety of tasks, saving you time, money, and nerves!
Here are just some of the areas in which you'll find DoNotPay's assistance invaluable:
| Legal | Time-Saving | Money-Saving |
| --- | --- | --- |
| | | |
The possibilities truly are endless with DoNotPay!