Find Out How To Convert PDF to DWG in a Snap
PDF is a file format that can be shared and viewed on different devices without any other software installed. DWG is a CAD drawing file format that is used for most of the AutoCAD software. The reason why DWG files are so important in CAD drawings is that they hold all the information about how to draw the object in layers, many different types of points, line types, and styles.
Most people convert PDF to DWG because DWG files are much easier to edit. They can be edited in many different CAD programs, which allows you to integrate the final design better into the software. While the maximum size of a PDF file is 32MB, there are no limitations regarding the size of DWG files.
DoNotPay will guide you through the process of converting PDF files to DWG. You can choose between different conversion tools, including our nifty File Converter. All you need to do is sign up for our service!
How To Convert PDF to DWG
PDF to DWG conversion tools can be divided into two major categories:
Offline converters
Online converters
Using an Offline Converter To Convert PDF to DWG
Offline converters, unlike online ones, allow you to upload your PDF files in one batch instead of only one file at a time. They use advanced methods that can significantly speed up the conversion process. The downside is that they may require you to take extra steps to achieve this speed and, in most cases, will ask for an additional piece of software called Ghostscript to be installed on your computer before you can start converting your PDF to DWG.
The biggest advantage of using an offline converter is that you'll have more control over the conversion process. Some of the popular offline converters include CorelDRAW XL and CAD Converter.
Using an Online Converter To Convert PDF to DWG
All online converters work by uploading your PDF file to their site and then downloading your converted file to your computer. This allows you to convert your PDF files to DWG files quickly and without any extra steps or software downloads. There are several programs out there that can convert PDF files to DWG and other types of CAD formats, and some of the more popular ones include:
| Converters | Description |
| --- | --- |
| Zamzar | Zamzar is a free online file conversion site. It's a handy way to change photos, convert PDFs and documents, add subtitles, and so much more |
| Easypdf | Easypdf is a website that gives users the ability to easily convert documents, photos, and other media files from one format to another |
| AutoDWG | AutoDWG is a website that allows you to convert your CAD drawings to other formats and vice versa |
What Are the Downsides of Using an Online PDF to DWG Converter?
Online converters aren't the best choice for everyone. There are a few downsides to using an online PDF to DWG converter, such as:
Poor quality of the converter files
Inability to convert multiple files in one go
The risk of downloading malware or viruses together with the converted files
Lack of customer support
Slow conversion process, especially if your internet connection is not great
How To Ensure an Online PDF to DWG Converter Is Safe To Use
The best way to find the right converter is to check its ratings and read reviews from previous users, independent reviewers, and bloggers. Reviews can help you understand what limitations a product has so you know what to expect.
You should also read the Terms of Service and Privacy Policy of the site before even thinking of uploading your files! Make sure that the Policy has a clause about not selling or sharing your information. Do not use a converter that is not reliable as it may damage your documents, which will make editing and merging them impossible.
Lastly, you should check if the site uses SSL encryption—if it doesn't, this is a sign that the people behind the platform can read or modify your information.
Convert PDF to DWG With Zero Effort Using DoNotPay
By signing up for DoNotPay, you'll get access to our nifty File Converter. It is easy to use, reliable, and safe. To protect your privacy, we will delete your files from our database 24 hours after the conversion.
To convert your files successfully, all you have to do is log in to your DoNotPay account and take three simple steps:
Open the File Converter product
Upload your PDF file
Choose DWG as the format you want to convert it to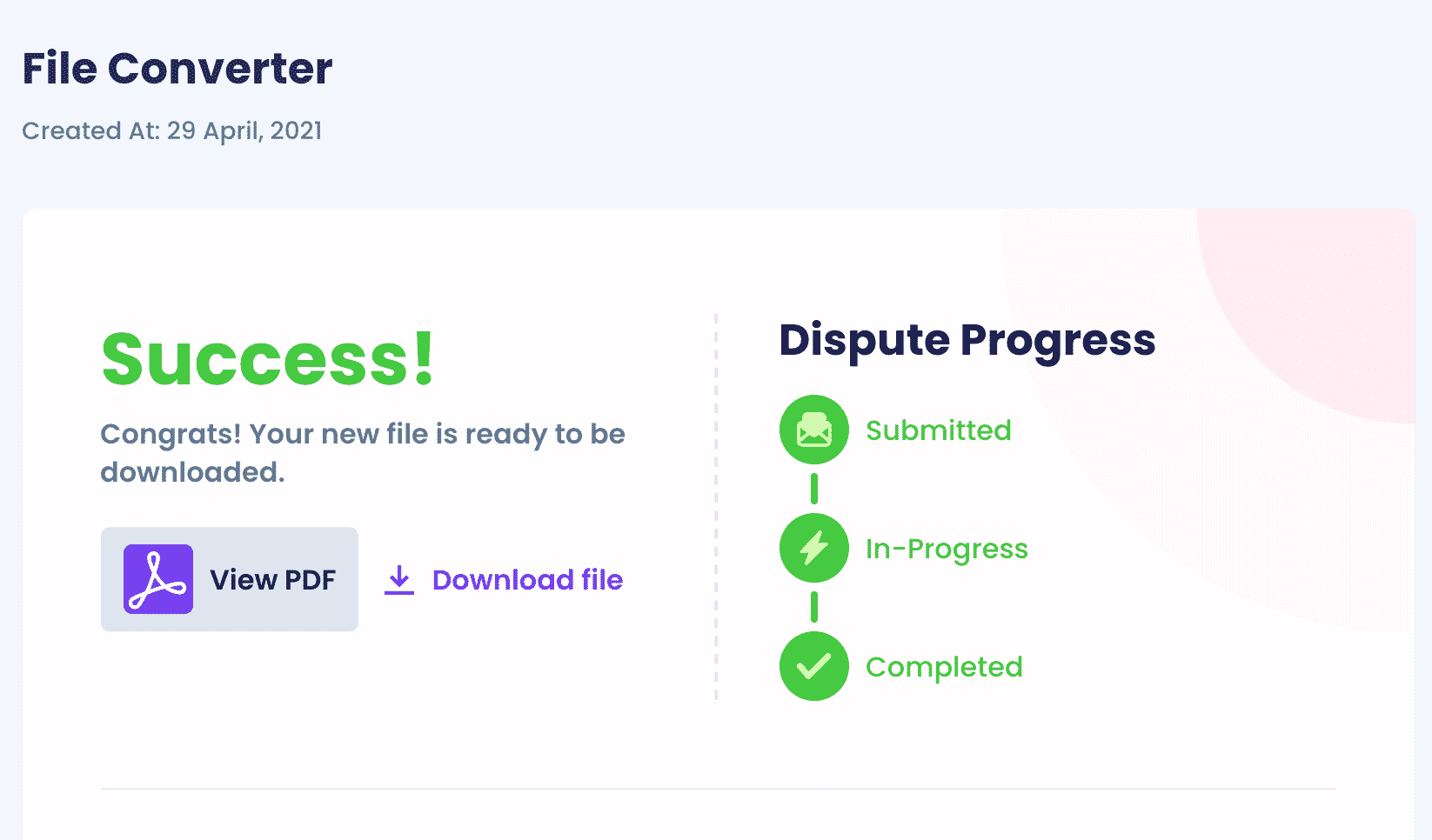 Your file will be ready in a few seconds, and you'll be able to download it from the My Disputes page.
Keep in mind that our DoNotPay can help you with a hundred different tasks on top of converting files, so sign up now to get access to all of our products!
What Other Files Can DoNotPay Convert?
DoNotPay can convert 100+ different files. Some of them are listed in the table below:
Convert, Compress, and Download Anything With DoNotPay
Technology is advancing at a rapid pace, and it can be rather difficult to keep up. But there's no need to worry if you're not particularly tech savvy—DoNotPay got you covered!
With our easy-to-use app, you can compress any file, download videos from the web, and convert online videos to MP3 files, all with a few clicks. There's absolutely no experience needed. Your files are 100% safe, and your privacy is ensured because we delete the converted and compressed files after 24 hours.
Save Time and Money With DoNotPay
On top of file conversion, DoNotPay has hundreds of different products that automate boring tasks and streamline complex processes. And the best part is—you get access to all of them, so you can use our award-winning app to save a ton of time and money.
Here are just a few examples of what DoNotPay can help you with: