Learn How To Convert OXPS to PDF With Ease!
OXPS stands for Open XPS Document File Format. It's an open specification for a page description language created by Microsoft.
PDF stands for Portable Document Format. It's one of the most commonly used file formats for distributing documents across various platforms, and it was developed by Adobe.
Want to convert OXPS to PDF? You can do so online or by installing a downloadable program, and we're here to show you how both conversion methods work.
If you want to convert an unlimited number of files in only a few clicks, DoNotPay is your best bet! Once you register for our app, you can start converting your files in a jiffy!
How To Convert OXPS to PDF
The conversion process and the available programs you can use depend on the conversion method you choose—downloadable software or free online converters. You can consult the table below for details on each one:
Conversion Method
Instructions
Available Programs
Downloadable software

Download and install the software you want to use
Import the file you need to convert
Decide on the output format
Wait for your file to get converted
Save the converted file on your computer

Free online converters

Go to the website you want to use
Upload the document you want to be converted
Choose the output format
Click on Convert
Download your converted file once ready
Although you can use either of these conversion methods to convert your OXPS files to PDFs, don't expect a smooth-sailing experience. There are certain issues that can arise during this process that you should be aware of, and we're here to explain what they are.
The Downsides of Using OXPS to PDF Converters
Both downloadable software and free online converters come with a set of drawbacks that can make the conversion process difficult. To find out what the said drawbacks are, check out the list below:
Downloadable software—Using a free downloadable program can be more difficult and demanding than using a free online converter. The steps needed to install the program and complete the process are numerous and can be complicated for someone who isn't tech-savvy. Another issue is that these programs often require paying a fee to use them, so they aren't free
Free online converters—Converting files with a free online converter comes with various issues, including the lack of protection and security, the risk of getting your computer infected with viruses, and the potential danger of having your personal files shared with other parties. The quality of your files also gets reduced when using a free online converter, and the annoying pop-up ads often prolong the conversion process
Use DoNotPay To Convert Various Files Safely and in No Time!
DoNotPay's File Converter product is here to help you convert over 100 different file types like a pro! You don't have to struggle with downloadable software or free online converters at all—we offer you a completely secure and straightforward conversion service. There will be no ads annoying you through the process, and the quality of your converted files will be high. You can also use our app on any operating system.
All you have to do to get started is sign up for DoNotPay and complete the following instructions:
Open the File Converter product
Upload the document you want to convert
Select the output format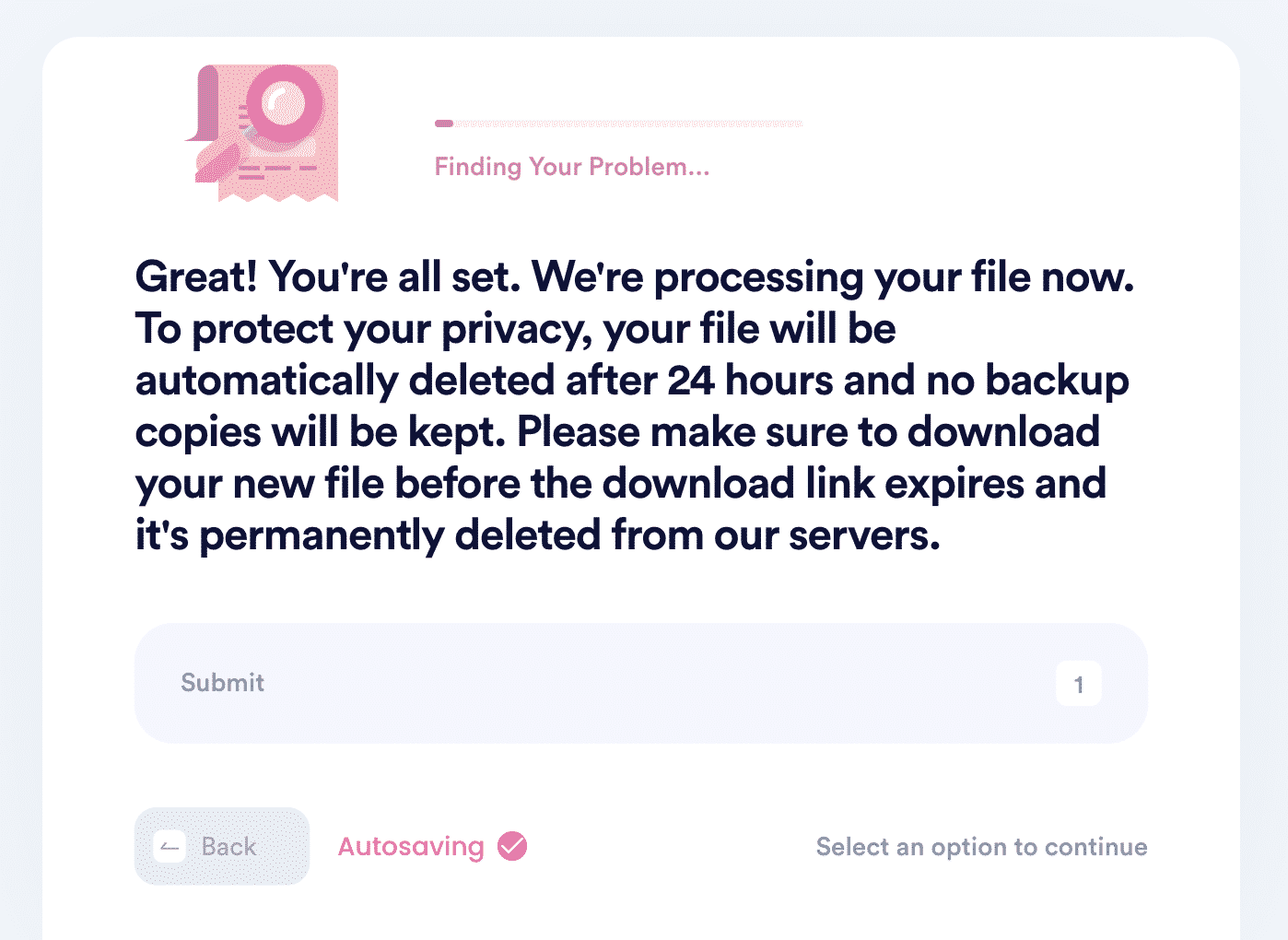 DoNotPay will convert your file right away, after which you can visit the My Disputes page to download it with ease!
What Other File Types Can DoNotPay Convert?
There is no shortage of file types our app lets you convert! Consult the table below to see what some of them are:
Convert, Compress, and Download Anything With DoNotPay
Technology is advancing at a rapid pace, and it can be rather difficult to keep up. But there's no need to worry if you're not particularly tech-savvy—DoNotPay got you covered!
With our easy-to-use app, you can compress any file, download videos from the web, and convert online videos to MP3 files, all with a few clicks. There's absolutely no experience needed. Your files are 100% safe, and your privacy is ensured because we delete the converted and compressed files after 24 hours.
Save Time and Money With DoNotPay
On top of file conversion, DoNotPay has hundreds of different products that automate boring tasks and streamline complex processes. And the best part is—you get access to all of them, so you can use our award-winning app to save a ton of time and money.
Here are just a few examples of what DoNotPay can help you with: