Learn How To Convert ODT to PDF in a Flash
ODT is an abbreviation for OpenDocument Text, which is a standard XML text-based file format for word processing and other uses. It was originally developed by Sun Microsystems for its StarOffice suite of productivity software products, but ODT files are now supported by LibreOffice, Apache OpenOffice, and several other programs that use open document formats. OpenDocument Text files are similar to standard word processing ones but are text-based instead of binary.
If you can't open an ODT file or want to share it with someone who can't open it, you should convert it to PDF, which is the most widely used file format for documents on the internet.
If you are in search of an easy method to convert ODT to PDF, consider signing up for DoNotPay. Our powerful File Converter product is just what you're looking for!
How To Convert ODT to PDF
The easiest way to convert ODT to PDF is by using an online file converter. Most people go for this option because they don't want to download and install third-party software on their computers—especially if they don't plan on converting more files in the future. Online file converters are usually quick and easy to use—all you'll need to do is:
Upload the ODT file you want to convert
Select PDF as the file you want to convert it to
Hit a button to initiate the conversion
Download the converted file
You can find some commonly used online ODT to PDF converters in the table below:
| Converter | Description |
| --- | --- |
| Odt2pdf | Odt2pdf is a free online tool for converting ODT files to PDF. It is simple, quick, and easy to use for beginners who are unfamiliar with file conversion |
| Freepdfconvert | Freepdfconvert is an online tool for converting PDFs to other file formats. It is browser-based and doesn't require registration |
| Convertio | Convertio is another online file converter that can help you turn your ODT file into a PDF document |
Although using an online converter to convert your files might be appealing because the conversion typically takes little time and effort, you should think twice before doing so. There are numerous shady websites out there.
What Are the Disadvantages of Using an Online ODT to PDF Converter?
While the use of online file converters might seem like a great way to avoid paying for conversion software, it also has many disadvantages:
The conversion process can be slow, especially if you have a slow internet connection
Batch conversion is not possible, so if you are looking to convert a number of files, it may take hours
The quality of converted files is often poor
Online converter platforms usually don't have a dedicated support team to help you out if something goes wrong
You won't have the option of editing the converted files
How To Make Sure an Online ODT to PDF Converter Is Safe To Use
There are different steps you take to find a legit and reliable online conversion service. First,
you should take a look at user reviews to get an idea of how reliable a particular file converter is. If it gets negative reviews, it may be best to avoid using it. You should also read the Privacy Policy and Terms and Conditions to find out what the website does with your data after the conversion. Lastly, make sure to check if the website is SSL encrypted—this way, your data will stay protected during conversion.
Using DoNotPay Is the Best Way To Convert ODT to PDF
By opting for our nifty File Converter, you won't have to worry about the safety of your files. One of our priorities is to protect your privacy, and this is why we delete all your files from our database 24 hours after the conversion.
Converting ODT to PDF using our app takes only a few seconds and requires minimum effort on your part. All you need to do is:
Open the File Converter product
Upload your ODT file and choose PDF as the format you want to convert it to
As easy as pie, isn't it? Once you've completed these simple steps, go to the My Disputes page to download your new file.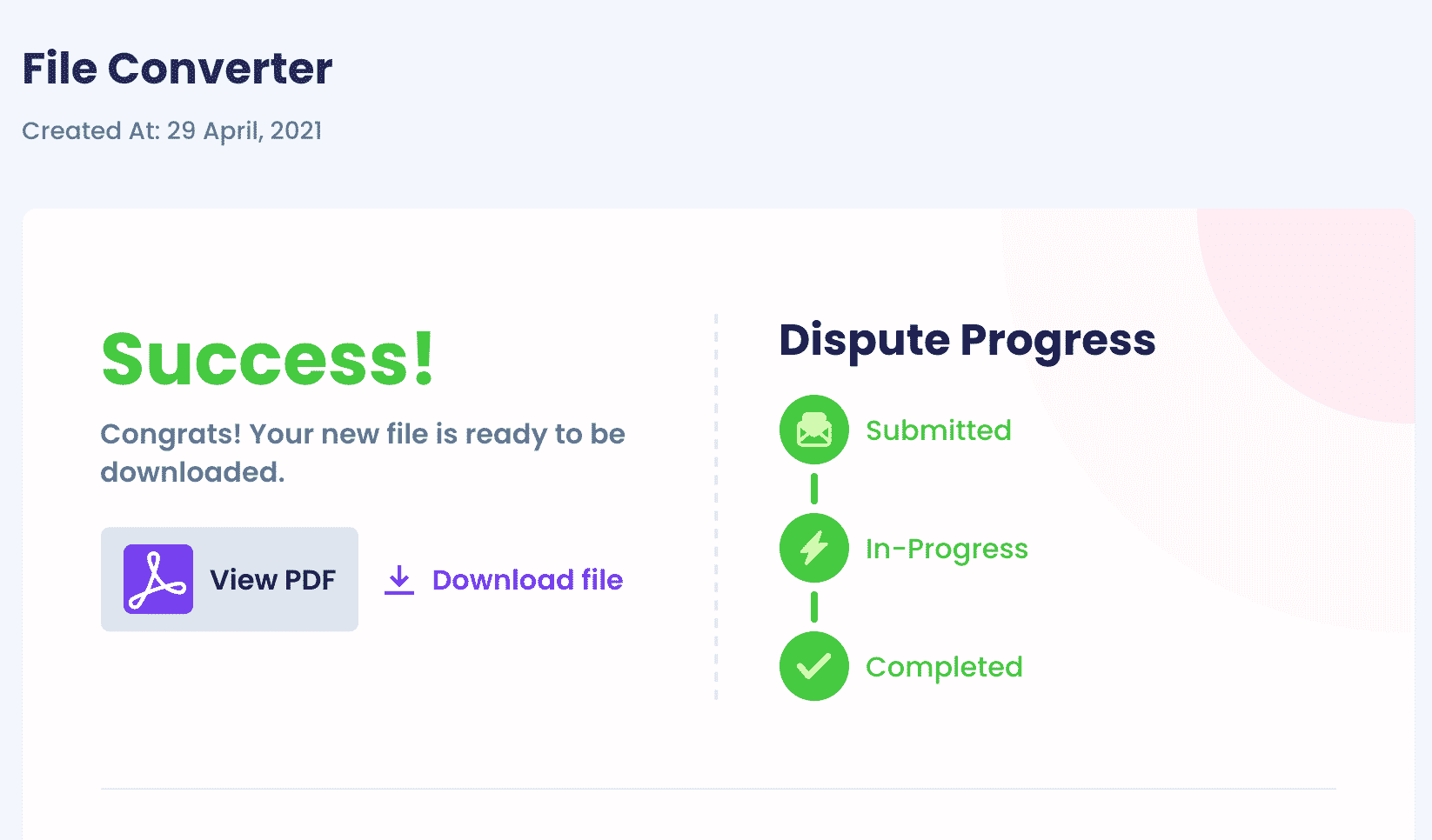 What Other Files Can DoNotPay Convert?
Using our award-winning app, you can convert a wide range of files in only a few clicks. If you want to learn how to convert files other than ODT, consult our guides listed in the table below:
Much More Than a Simple File Converter
When you're converting files, keep in mind you'll need hard disk space for both the original and the converted file. While the HDD space individual files take up is barely noticeable, if you're planning on converting multiple files, it can quickly add up.
Luckily, DoNotPay also lets you compress files to make them easier to store. You can also use our award-winning app to convert online videos to MP3s, as well as download videos from social media and the web and save them on your device.
DoNotPay Offers Unmatched Functionality
DoNotPay offers a lot more functionality than a regular file converter. On top of these file management features, you'll find hundreds of different products within the app that can facilitate, streamline, or automate a wide variety of tasks, saving you time, money, and nerves!
Here are just some of the areas in which you'll find DoNotPay's assistance invaluable:
| Legal | Time-Saving | Money-Saving |
| --- | --- | --- |
| | | |
The possibilities truly are endless with DoNotPay!