Convert ODT to DOCX Without Breaking a Sweat
ODT is an acronym for OpenDocument Text, a text file created by various word processing applications. It is compatible with Microsoft Word and open-source apps like LibreOffice, and OpenOffice. DOCX is a document file format created by Microsoft and it is the newer version of DOC, the original official Microsoft Word file.
ODT and DOCX files are similar because they both use XML-based markup language. Still, DOCX is more widely used.
If you have no experience with file converters, we'll help you understand how they work and show you how to convert your files in seconds. DoNotPay is an easy, quick, and safe way to convert ODT to DOCX. Get access to our nifty File Converter by signing up for our service.
How To Convert ODT to DOCX
It can be frustrating when you can't open an ODT file on your device. Thankfully, there are a couple of ways to convert it into a format that your device supports.
You can convert your ODT files to DOCX by using:
A downloadable app
An online file converter
How To Convert ODT to DOCX With Downloadable Apps
Downloadable apps are a better choice if you want to have control over the conversion process and be able to convert multiple files in one go. They don't depend on the internet connection and produce higher-quality output than online converters. However, some technical knowledge is required for a successful conversion.
How To Convert ODT to DOCX Online
If you don't have time to download and install specialized software, an online file converter is exactly what you're looking for. Online converters are easy to use and don't require much effort, which makes them great for people without any knowledge about file conversion. If you are one of them, try using one of the ODT to DOCX online converters shown in the table below:
| Converters | Description |
| --- | --- |
| Convertio | Convertio is a web-based file converter that supports a wide range of formats. It is quick and easy to use |
| Zamzar | Zamzar is a free online file conversion service. It is easy to use and offers bulk conversion of files up to 50 MB for free |
| AnyConv | AnyConv is a free file conversion website that allows you to convert your files quickly and easily. No downloads are required |
What Are Some Common Issues With Using an Online ODT to DOCX Converter?
Online ODT to DOCX converters may seem like the best solution to most people but in reality, they have many disadvantages. Some of the most common ones are:
Slow downloads
Conversion errors
Inability to convert multiple files at once
Inability to convert large files
A limited number of daily conversions
Lack of customer support
No control over the conversion process
Lack of the preview feature
The risk of downloading malware or viruses
Privacy concerns
To prevent safety and privacy issues, make sure you read the Privacy Policy and Terms and Conditions of the website you plan to use. It is also useful to read the reviews from previous users.
Convert ODT to Word Quickly and Safely Using DoNotPay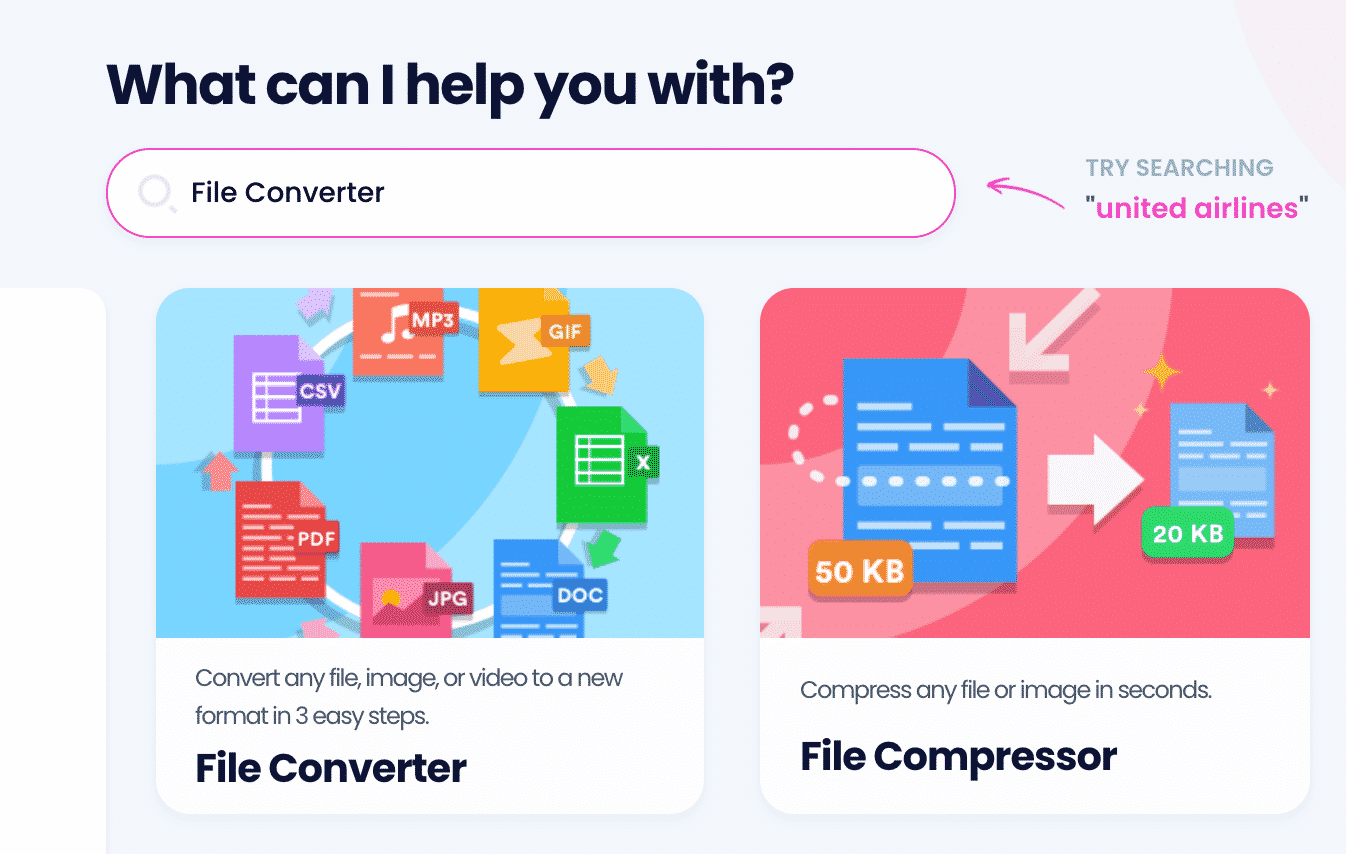 Using DoNotPay, you won't have to worry about the safety of your data. File conversions done within our app are high-quality, 100% secure and take only a few seconds. To get started, log in to your DoNotPay account and take the following steps:
Open the File Converter product
Upload your ODT file
Pick DOCX as the format you want to convert it to
Go to the My Disputes page and download your new file
We will delete your files from our servers 24 hours after the conversion to protect your privacy.
Note that there is no limit to the number of files you can convert using DoNotPay
What Other Files Can DoNotPay Convert?
In addition to converting ODT to DOCX, DoNotPay can convert a variety of text, image, audio, video, and other files. Some of them can be found in the table below:
Hundreds of Useful Features at Your Fingertips
What makes DoNotPay stand out from regular file conversion tools is the array of other features you get access to once you start using our app.
On top of converting hundreds of file types, you can also use DoNotPay to:
Compress your files

so they don't take up too much space
Download videos from social media and the web

Convert all manner of online videos to MP3 files

with a click
DoNotPay isn't just a converter—it's an app designed to make your life easier by automating tedious and complicated tasks. You'll find hundreds of different products inside our award-winning app that will help you save time and money!
Create Legal Documents, Cancel Subscriptions, Appeal Parking Tickets—All With One App!
There's no shortage of tasks DoNotPay can assist you with. For example, the world's first robot lawyer can help you with all manner of legal processes, including:
You can also have DoNotPay handle tedious, time-consuming tasks, like filing complaints, requesting refunds and chargebacks, canceling subscriptions, contesting parking and seatbelt tickets, and fighting email spam for you.
DoNotPay can also save you hundreds of dollars each month by helping you reduce property taxes, lower your bills, and find unclaimed money in your name.