How To Convert Multiple Files to PDF With Ease
PDF stands for Portable Document Format. It's a file format most commonly used for electronic documents that include graphical images, text, and other complex data in a single file that can be navigated with a computer or mobile device. The format was developed by Adobe Systems in 1993.
If you need to convert multiple files to PDF for easy sharing or backup purposes, we're here to show you how it's done. We'll walk you through the entire process of converting your files to PDF, prepare you for some of the common risks you may come across, and offer a safe and reliable way to convert over 100 different file types—DoNotPay. Once you register for our app, you can use it to convert your files in mere seconds!
How To Convert Multiple PDFs Into One Online
You can use various online PDF converters to merge your files into one PDF document. Some of the commonly used ones are:
CombinePDF
Adobe
Smallpdf
These converters are easy to navigate—you upload or drag and drop the files you want to merge, reorder them if necessary, start the merge process, and download your merged file once ready. This goes for the majority of the web-based converters since they all work in the same way. Unfortunately, that is not the only thing they have in common.
Free PDF converters that you can use online are also notorious for being extremely unreliable and buggy, and those are only two in a sea of issues they can cause during the conversion process. We're here to explain other problems and potential dangers you may encounter with these converters.
The Potential Dangers of Using Free Multi PDF Converters
Free file converters are designed for convenience, but they're also rife with serious security risks. They open the door to malicious software that could steal your passwords or install viruses or other malware on your computer. This type of program will be installed by default if you're not paying attention when using the file converter, which means that it would affect your PC without you even knowing about it. So, if you're converting files for free, you have an increased chance of getting adware or malware.
The quality of your files will not be optimal either. The truth is that not only do free file converters fail to retain the quality of your file, but they tend to reduce it significantly, rendering the file useless.
DoNotPay Converts Numerous File Types to PDF Safely!
If you don't want to risk running into the issues we explained, you don't have to use a free file converter online. DoNotPay's File Converter product can help you convert various formats to PDFs securely and in only a few clicks! We protect all of your data during the process and provide you with high-quality files, so you don't have to worry about anything!
All you need to do is subscribe to DoNotPay and complete our quick three-step guide:
Open the File Converter product
Upload the document you want us to convert
Select the output format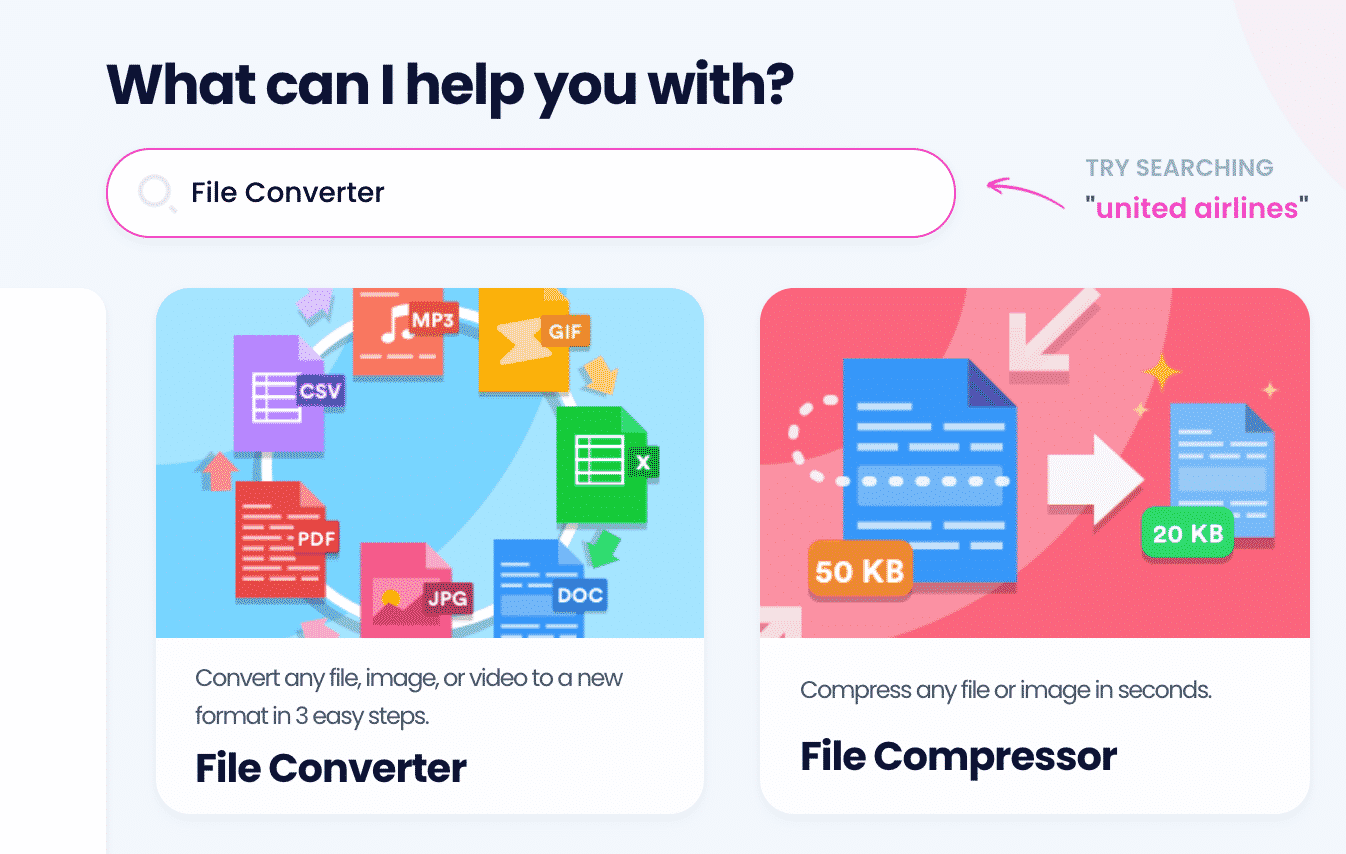 That's all it takes! We'll convert your file right away, and you can go to the My Disputes tab to download it instantly.
We will also delete all of your data after 24 hours, so you don't have to worry about your safety.
What Other File Types Can DoNotPay Convert?
If you want to convert more documents, we got you covered! You can choose from a ton of other file types our app can help you convert with ease! Consult the table below for more details:
Much More Than a Simple File Converter
When you're converting files, keep in mind you'll need hard disk space for both the original and the converted file. While the HDD space individual files take up is barely noticeable, if you're planning on converting multiple files, it can quickly add up.
Luckily, DoNotPay also lets you compress files to make them easier to store. You can also use our award-winning app to convert online videos to MP3s, as well as download videos from social media and the web and save them on your device.
DoNotPay Offers Unmatched Functionality
DoNotPay offers a lot more functionality than a regular file converter. On top of these file management features, you'll find hundreds of different products within the app that can facilitate, streamline, or automate a wide variety of tasks, saving you time, money, and nerves!
Here are just some of the areas in which you'll find DoNotPay's assistance invaluable:
| Legal | Time-Saving | Money-Saving |
| --- | --- | --- |
| | | |
The possibilities truly are endless with DoNotPay!