Easy Ways To Convert MPEG to MP4
MPEG stands for Moving Pictures Expert Group, and it is one of the most popular digital formats in use today. A MPEG file can contain video, audio, and image, and even text data.
MP4 is a digital multimedia container format used to store video, music, still images, and various other forms of data. It was originally developed by the Moving Picture Experts Group as a successor to the standard MPEG-1 format.
To convert MPEG to MP4 without breaking a sweat, sign up for DoNotPay. Our File Converter product is easy to use, reliable, and 100% safe.
How To Convert MPEG to MP4
There are a couple of methods for converting MPEG to MP4. You can do it by using an offline or an online converter. Online video converters are convenient because they are easily accessible and don't require installing additional software. In most cases, you'll need to complete only three simple steps to initiate the conversion process:
Upload the file you want to convert
Choose the output format
Click on the Convert button
Some commonly used MPEG to MP4 converters can be found in the table below:
| Converters | Description |
| --- | --- |
| CloudConvert | CloudConvert is a free online file converter that allows you to convert between a variety of different formats |
| FreeConvert | FreeConvert is an online platform for converting all of your documents free of charge |
| AnyConv | AnyConv is a free service for converting your files from one format to another |
If you want to have more control over the conversion process, opting for a downloadable audio converter may be a better idea. Using it, you won't have to worry about your internet connection not cooperating, but do keep in mind that such downloadable programs come with many disadvantages.
Offline converters offer more features but also require more effort and at least some technical knowledge.
What Are the Drawbacks of Using an Online MPEG to MP4 Converter?
There are several drawbacks you should be aware of before deciding to use an online converter to convert your MPEG files to MP4:
Video quality can be poor, and videos may include watermarks
Conversion of large files is often not possible
Batch conversion isn't available
The conversion speed will depend on how stable the internet connection is
There's a risk of downloading malware together with the converted file
Use DoNotPay To Convert MPEG to MP4 With Minimum Effort
Don't waste your time looking through dozens of websites in quest of a reliable converter because the best one is at your fingertips! DoNotPay is here to convert your MPEG files to MP4 and other formats quickly and hassle-free! We'll make sure your files stay safe from viruses and unauthorized third parties while delivering high-quality results.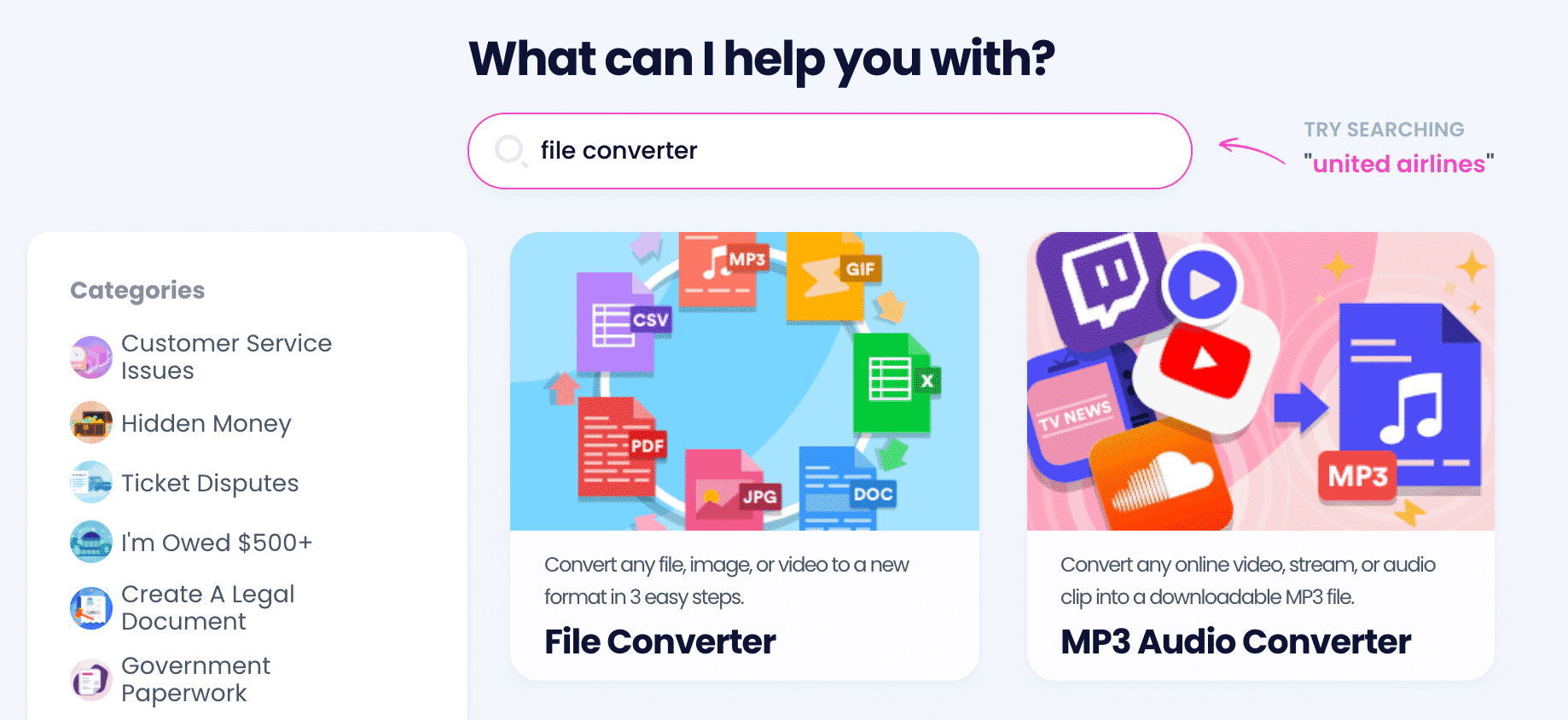 Using our File Converter product couldn't be any easier, and since it's browser-based, you can use it on any operating system. To initiate the conversion process, all you need to do is log in to your DoNotPay account and follow the instructions below:
Open the File Converter product
Upload your MPEG file
Choose MP4 as the format you want to convert it to
Go to the My Disputes page to download your new MP4 file
Keep in mind that, for privacy reasons, we will delete all your files from our servers 24 hours after the conversion.
What Other Files Can You Convert With DoNotPay?
You can convert a wide range of image, spreadsheet, presentation, eBook, video, audio, and other files using our award-winning app. If you want to convert other files to MP4 or vice versa, take a look at the table below to find our other guides:
Hundreds of Useful Features at Your Fingertips
What makes DoNotPay stand out from regular file conversion tools is the array of other features you get access to once you start using our app.
On top of converting hundreds of file types, you can also use DoNotPay to:
DoNotPay isn't just a converter—it's an app designed to make your life easier by automating tedious and complicated tasks. You'll find hundreds of different products inside our award-winning app that will help you save time and money!
Create Legal Documents, Cancel Subscriptions, Appeal Parking Tickets—All With One App!
There's no shortage of tasks DoNotPay can assist you with. For example, the world's first robot lawyer can help you with all manner of legal processes, including:
You can also have DoNotPay handle tedious, time-consuming tasks, like filing complaints, requesting refunds and chargebacks, canceling subscriptions, contesting parking and seatbelt tickets, and fighting email spam for you.
DoNotPay can also save you hundreds of dollars each month by helping you reduce property taxes, lower your bills, and find unclaimed money in your name.