Convert MP4 to MP3 on Windows 10 in 3 Quick Steps
MP4 and MP3 are two of the most commonly used formats for storing video, audio, and other data. If you have a file that's in the MP3 format but need it in MP4, or vice versa, you can convert it from one to another using Windows Media Player or free video and audio converters online. You can also convert MP4 and MP3 files to other formats, including WAV, OGG, and more.
In this article, we'll go over how to convert MP4 to MP3 on Windows 10 step by step. We'll show you two of the most commonly used conversion methods and explain what their pros and cons are but also offer a different and safer solution in case you decide these two methods aren't for you. The alternative is using DoNotPay—the most reliable and secure conversion service on the market!
How To Convert MP4 to MP3 on Windows 10
To convert MP4 files to MP3 on Windows 10, you can choose one of the following methods:
Using Windows Media Player
Using free online converters
How Do I Convert MP4 to MP3 in Windows Media Player?
To convert your MP4 files to MP3 with Windows Media Player, follow the next steps:
Open Windows Media Player
Select the Organize category
Click on Show Menu Bar in Layout
Select File
Choose the Save As option to save your file in the MP3 format
Decide on the saving location
Click on Save
How To Use a Free Online MP4 to MP3 Converter for Windows 10
If you decide to use a free online converter instead, this is what you'll need to do:
Visit the website that you decide to use
Import the file you want to convert
Choose MP3 as the output format
Start the conversion process (usually done by clicking on the Convert button)
Wait for the conversion to be complete
Download the converted file
Some of the most commonly used MP4 to MP3 converters for Windows that you can use are:
Convertio
CloudConvert
Zamzar
Although online converters are convenient and free, they often come with their own set of issues that you should learn about before deciding to use them.
The Common Drawbacks of Free MP4 to MP3 Converters for Windows
The most common issues you may encounter when using free file converters online are:
Malware—Frequent users are commonly warned about the dangers associated with downloading files from certain websites because they may contain malicious software. If you accidentally download malware, it can cause your computer to malfunction and corrupt or remove your important files
Quality—The quality of the content you download may not be what you thought it would be. Most quality issues won't cause any harm to your computer, but getting a low-quality or blurry/pixelated converted file can be quite annoying. Most of the time, you can't even use such files, and the entire conversion process would be in vain
Security—Many free online converters store your information on the internet, potentially using unsecured networks that may be susceptible to hackers. Your sensitive data could be shared with third parties without your knowledge or consent
The Safest Way To Convert MP4 to MP3 on Windows 10 Is With DoNotPay
DoNotPay protects you and your data from cybercriminals and other unauthorized parties. We remove your data from our database 24 hours after the conversion to ensure no one can get their hands on it. You can also rest assured that the converted files will be of high quality, and you can convert them on any operating system you want—Windows or Mac.
Once you access our app, all you need to do is complete our quick guide to convert your file like a pro:
Open the File Converter product
Upload your MP4 file
Choose MP3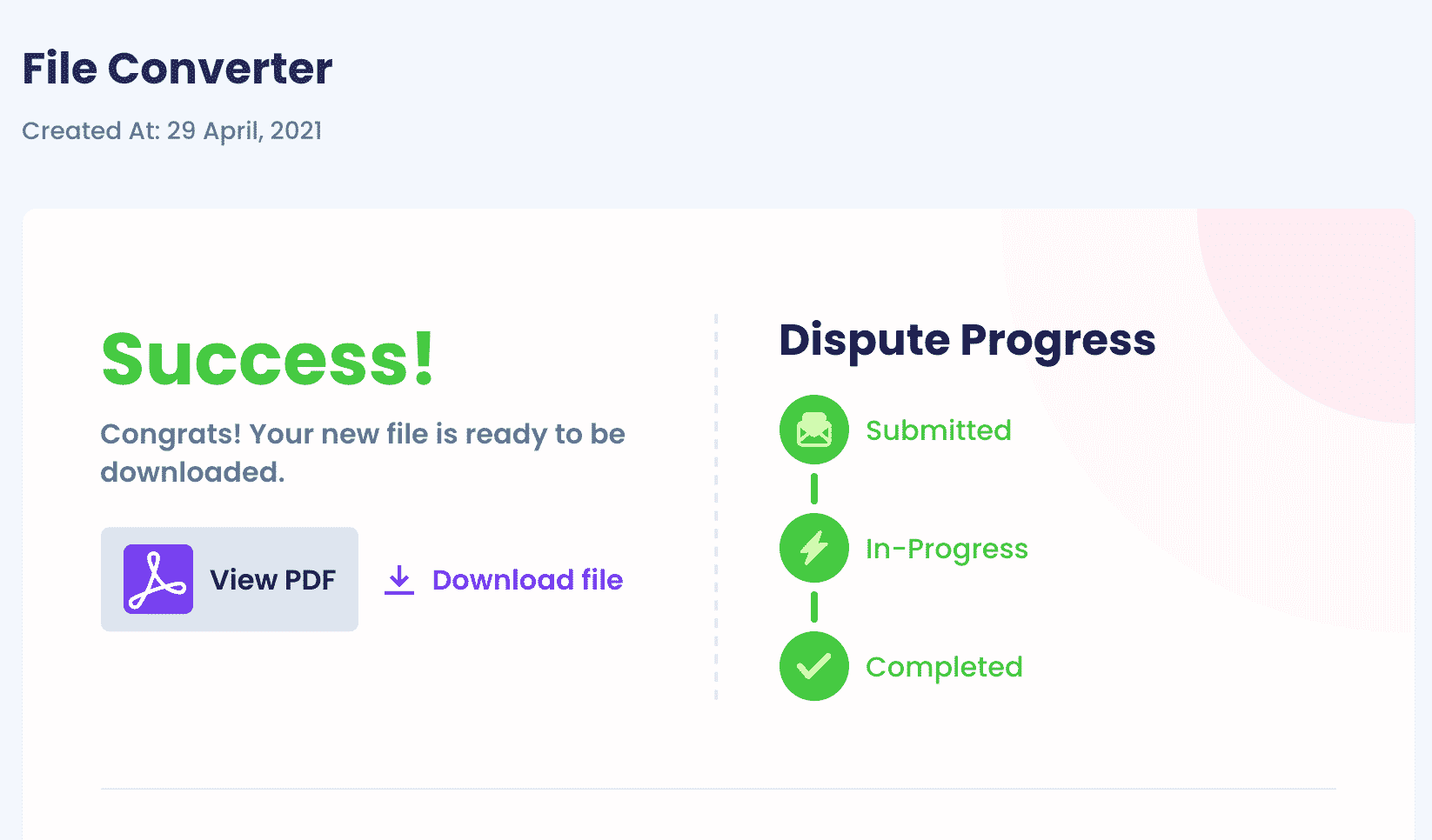 Your file will be converted in a few seconds and waiting to be downloaded from the My Disputes page right away.
What Other File Types Can DoNotPay Convert?
You can convert a ton of different files with our app! Consult the table below for specifics:
Hundreds of Useful Features at Your Fingertips
What makes DoNotPay stand out from regular file conversion tools is the array of other features you get access to once you start using our app.
On top of converting hundreds of file types, you can also use DoNotPay to:
Compress your files

so they don't take up too much space
Download videos from social media and the web

Convert all manner of online videos to MP3 files

with a click
DoNotPay isn't just a converter—it's an app designed to make your life easier by automating tedious and complicated tasks. You'll find hundreds of different products inside our award-winning app that will help you save time and money!
Create Legal Documents, Cancel Subscriptions, Appeal Parking Tickets—All With One App!
There's no shortage of tasks DoNotPay can assist you with. For example, the world's first robot lawyer can help you with all manner of legal processes, including:
You can also have DoNotPay handle tedious, time-consuming tasks, like filing complaints, requesting refunds and chargebacks, canceling subscriptions, contesting parking and seatbelt tickets, and fighting email spam for you.
DoNotPay can also save you hundreds of dollars each month by helping you reduce property taxes, lower your bills, and find unclaimed money in your name.