Learn How To Convert MP4 to AVI in 3 Simple Steps!
MP4 is one of the most popular formats for storing video and audio files. MP4s can be converted to other file types, such as MP3, WAV, FLAC, and more. AVI is also one of the formats people convert their MP3 files to.
AVI is a digital video container that also stores video and audio data. It was developed by Microsoft in 1992 as part of its Video for Windows software.
We're here to show you how to convert MP4 to AVI without wasting time on sketchy websites and unreliable free video and audio converters! Sign up for DoNotPay, and let our app convert your files securely in less than a minute!
How To Convert MP4 to AVI Online
You can choose a free online converter to convert your MP4 files to AVI, but you have to be careful with it. Most of the free online converters come with certain drawbacks and can cause a number of issues, including security and quality ones. If you still want to give this conversion method a try, we'll list some of the commonly used ones you can use and explain how the process works. Check out the list below to see what converters you can try out:
CloudConvert
Zamzar
FreeConvert
The process with these web-based converters is simple—upload the file you need to convert, select the output format for it, and download the converted file once ready. To help you understand the risks you can encounter when using these websites, we'll explain some of the most common disadvantages they come with.
The Common Disadvantages of Free MP4 to AVI Converters
One of the main concerns is that these converters may not be reliable and might corrupt your file in some way. We'll break down the most common issues that can arise so that you can make an informed decision when choosing the software you want to convert with! Some of the common issues you can run into with online converters are:
Viruses and malware—Free online applications may be useful, but there is always a risk of your computer getting infected with some sort of virus or malware when using them. This can get rid of your personal files and prevent you from accessing them
No updates—Free online converters may not be updated as frequently as other programs, which means that they may not function properly. There may be outdated versions that do not support all of the file types you want to convert. This can lead to files not being converted and could potentially break the file
Security risks—Security has been a huge concern for many people, and not using a reliable program can cause problems with your personal files. If you want to be safe from malicious viruses and malware, then it is best not to risk your computer getting infected by using free online converters
DoNotPay Can Convert MP4 to AVI in a Snap!
If you don't want to go through the hassle of using free online converters, you can use DoNotPay to save time and effort! Our app can convert your MP4 file to AVI in a few seconds and protect your data privacy while doing so!
You can also convert your files on any operating system, including Windows and Mac. To get started, you need to sign up for DoNotPay and complete the following instructions:
Open the File Converter product
Upload your MP4 file
Select AVI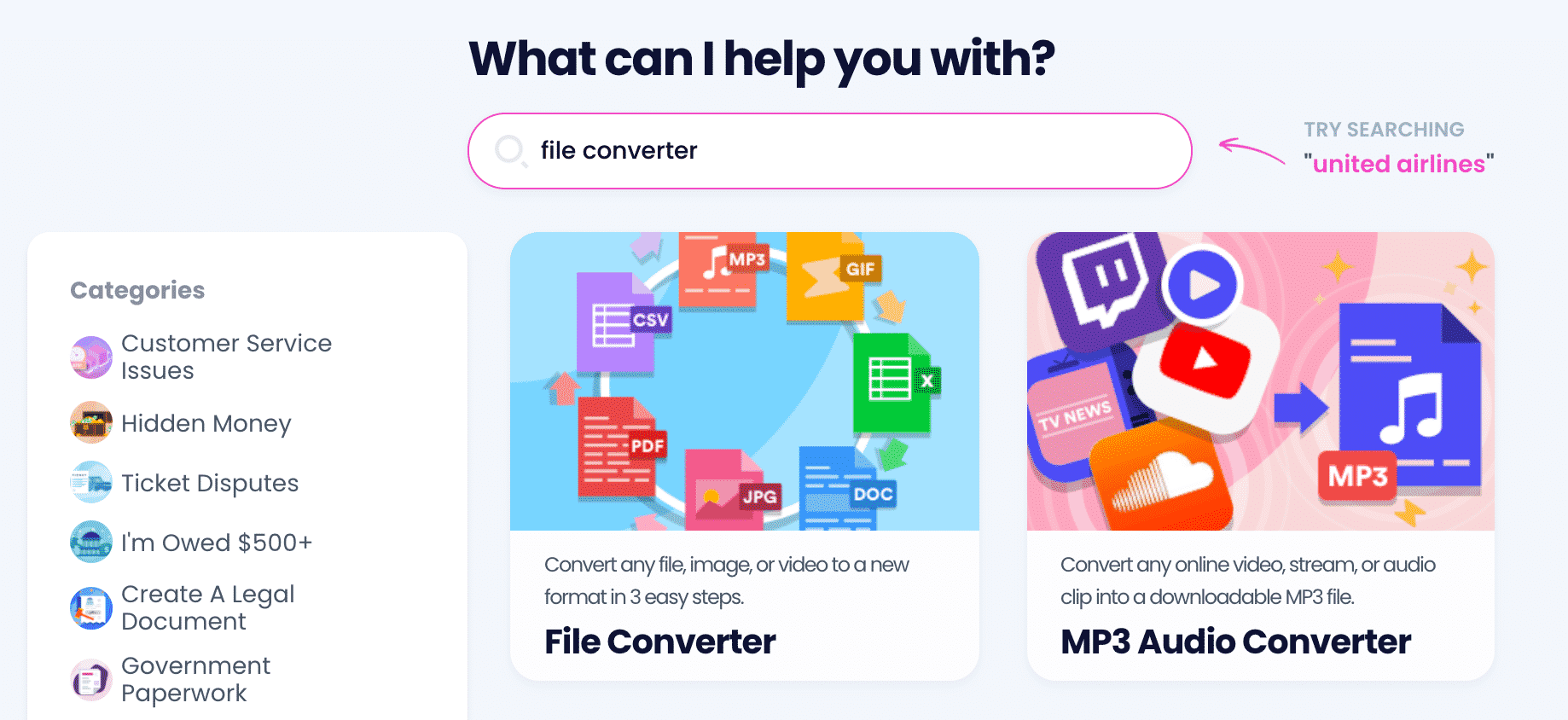 Once we convert your file, you can download it from the My Disputes page.
What Other File Types Can DoNotPay Convert?
You can convert a wide range of files with our app! Check out the table below to see what files you can convert using DoNotPay:
Convert, Compress, and Download Anything With DoNotPay
Technology is advancing at a rapid pace, and it can be rather difficult to keep up. But there's no need to worry if you're not particularly tech-savvy—DoNotPay got you covered!
With our easy-to-use app, you can compress any file, download videos from the web, and convert online videos to MP3 files, all with a few clicks. There's absolutely no experience needed. Your files are 100% safe, and your privacy is ensured because we delete the converted and compressed files after 24 hours.
Save Time and Money With DoNotPay
On top of file conversion, DoNotPay has hundreds of different products that automate boring tasks and streamline complex processes. And the best part is—you get access to all of them, so you can use our award-winning app to save a ton of time and money.
Here are just a few examples of what DoNotPay can help you with: