How To Convert MP3 to MP4 Instantly
First released by the Fraunhofer Society, MP3 is now the most commonly used audio format in computers, portable devices, and music players. It can be compressed with a variety of algorithms to reduce file size without much loss in sound quality.
MP4 stands for MPEG-4 Part 14, which is a digital multimedia format. It was developed in 2001 by the International Organization for Standardization.
MP3 and MP4 are two of the most well-known audio and video formats. You can convert one to another using various video and audio converters online. If you're looking for a 100% secure way to convert MP3 to MP4, DoNotPay is the way to go! We'll convert any number of files you want in no time and safely once you subscribe.
How To Convert MP3 to MP4 Online
There are numerous online converters that you can use to convert your MP3 files to MP4 but also other file formats, such as MOV, FLAC, OGG, and more. Although these converters provide a simple and undemanding service, they aren't the most reliable. That's why you should find as much info as possible before deciding to use a file converter online.
If you want to give an online MP3 to MP4 converter a try but aren't sure which one to use, here are some of the most common choices:
Convertio
Zamzar
FreeConvert
CloudConvert
The conversion process you can expect doesn't take too much time and works similarly for all of the above-listed converters. This is how:
Upload the document that you want to convert
Decide what format you want it to be converted to
Wait for the conversion to be finished
Download your converted file
We will go over the most common negative aspects of using free file converters online, including how they can affect your computer performance and security.
The Common Downsides of Using Free MP3 to MP4 Converters
Some of the top free file converters are supported by advertisements. This might sound like a good thing, but ads are often supported by third parties, which can be dangerous because you won't know what kind of hidden content they might have.
Malicious ads can infect your computer or even turn it into part of a botnet. It's also worth knowing that whatever information you provide to the website will likely be stored somewhere.
Your personal info can be shared and used for malicious purposes since online converters usually don't provide enough protection. You should always check the privacy policies and terms and conditions to find out how the company will protect your data and whether it's trustworthy or not.
Use DoNotPay To Convert MP3 to MP4 Stress-Free!
Since finding a reliable MP3 to MP4 converter online can be challenging, we're here to take some burden off your shoulders! We provide you with a 100% secure way to convert your MP3 files in only a few clicks on both Mac and Windows, and that's not all! The best part is that there will be no pesky ads during the process and no limits on the number of files you can convert! Why struggle when you have a super simple solution at your fingertips?
To initiate the process, register for DoNotPay and follow these steps:
Open the File Converter product
Upload your MP3 file
Choose MP4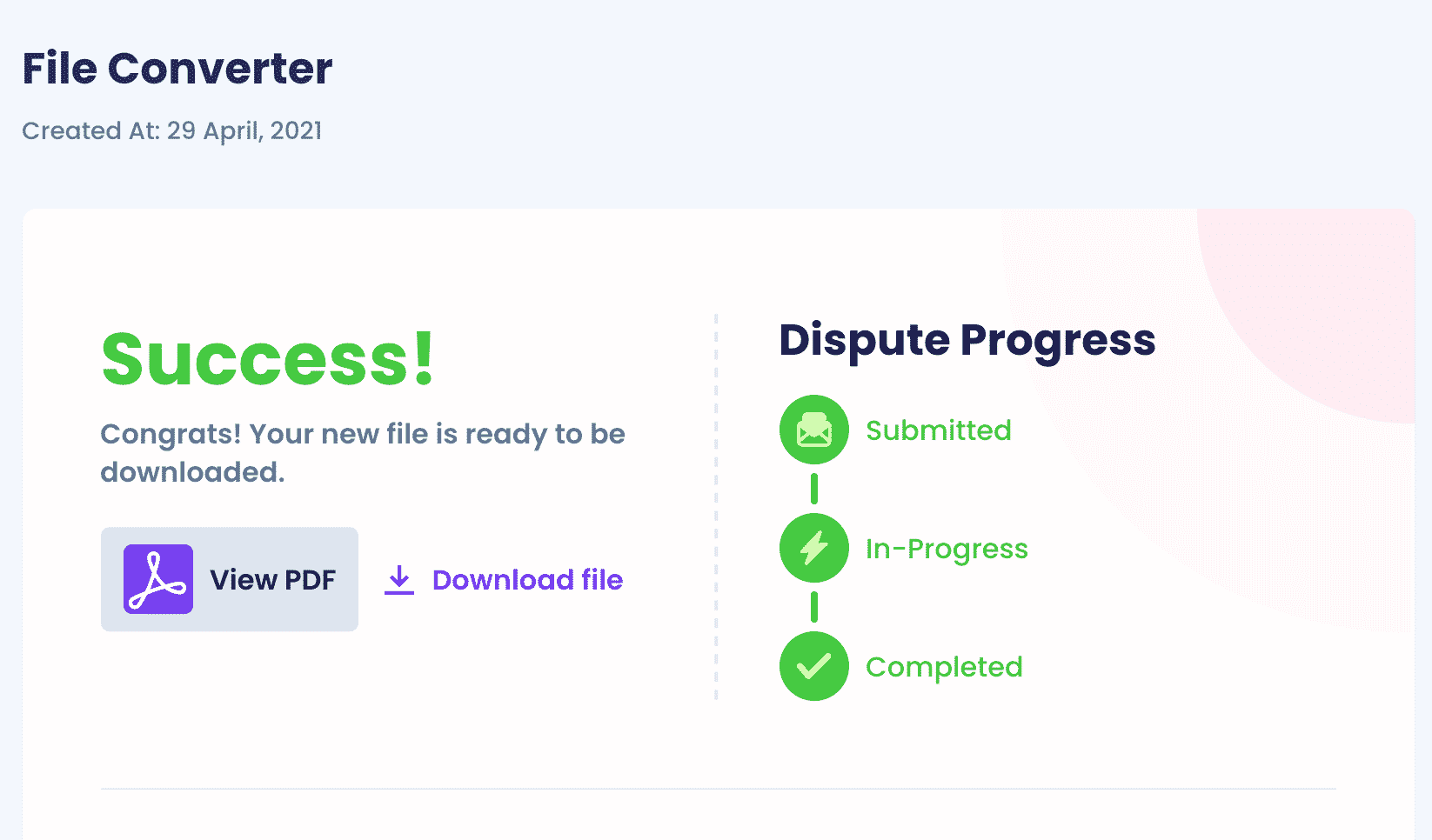 You can go to the My Disputes page to download your converted file right away.
What Other File Types Can DoNotPay Convert?
Need to convert other files besides your MP3 ones? We got you covered! With DoNotPay, you can easily convert any of the files mentioned in the table below and more:
Convert, Compress, and Download Anything With DoNotPay
Technology is advancing at a rapid pace, and it can be rather difficult to keep up. But there's no need to worry if you're not particularly tech savvy—DoNotPay got you covered!
With our easy-to-use app, you can compress any file, download videos from the web, and convert online videos to MP3 files, all with a few clicks. There's absolutely no experience needed. Your files are 100% safe, and your privacy is ensured because we delete the converted and compressed files after 24 hours.
Save Time and Money With DoNotPay
On top of file conversion, DoNotPay has hundreds of different products that automate boring tasks and streamline complex processes. And the best part is—you get access to all of them, so you can use our award-winning app to save a ton of time and money.
Here are just a few examples of what DoNotPay can help you with: