Learn How To Convert MP3 to MIDI Effortlessly
People tend to convert their MP3 files to all sorts of other file types, one of which is MIDI.
MIDI stands for Musical Instrument Digital Interface. It is a file format that can be used to store data related to musical instruments. It allows musicians to create their own songs without having to purchase expensive software because the software is used as a way of playing the sounds that are stored in MIDI files. Music made with guitars or other instruments can be saved as a MIDI file and played through a program of your choice.
If you're looking for a secure and streamlined way to convert MP3 to MIDI, you're in the right place. Forget about wasting time on unreliable online audio converters and use DoNotPay to convert your files like a pro!
How To Convert MP3 to MIDI Online
One of the most frequently used ways to convert MP3 files to MIDI is with free online file converters. These converters are a popular choice because of their inexpensiveness and availability, but they are not always the most secure way to go. Nonetheless, should you decide to try them out, here are some of the commonly used MP3 to MIDI online converters:
All of these free web-based converters work in a similar way—you upload the file you wish to convert and choose the output format. After that, the converter should complete the process, and you should be able to download the converted file from the website.
Despite the convenience of having these free converters around, they come with some flaws as well. You should be extra careful when choosing a free converter you want to use and get informed about it.
The Downsides of Using Free Online MP3 to MIDI Converters
Here are a couple of the common downsides when it comes to using free MP3 converters online:
You can't be sure you're getting the best quality—Online converters do a great job of turning your MP3 files into MIDIs. but they don't necessarily take the time to select the right settings that would give you the best possible output. What happens next is that these programs tend to compress your audio files too much. This results in a lot of distortion and harshness, along with unnecessary artifacts and noise
Some converters may be harmful to your device—You can come across lots of malware and viruses online, and the same goes for MP3 converters. This means you should never download and use them without visiting a trusted website first. There are plenty of free converters out there that claim to do a great job, but instead, they'll install malicious software on your computer or even steal your personal information
How To Convert Your Files With DoNotPay in a Snap
Not only does DoNotPay provide you with the most secure conversion service, but our app also gives you high-quality files, so you won't have to worry about anything! You can convert your MP3 files on both Mac and Windows, and there is no limit on the number of files you can convert! To start the process, sign up for DoNotPay and complete the following instructions:
Open the File Converter product
Upload your MP3 file
Select the file format you want to convert it to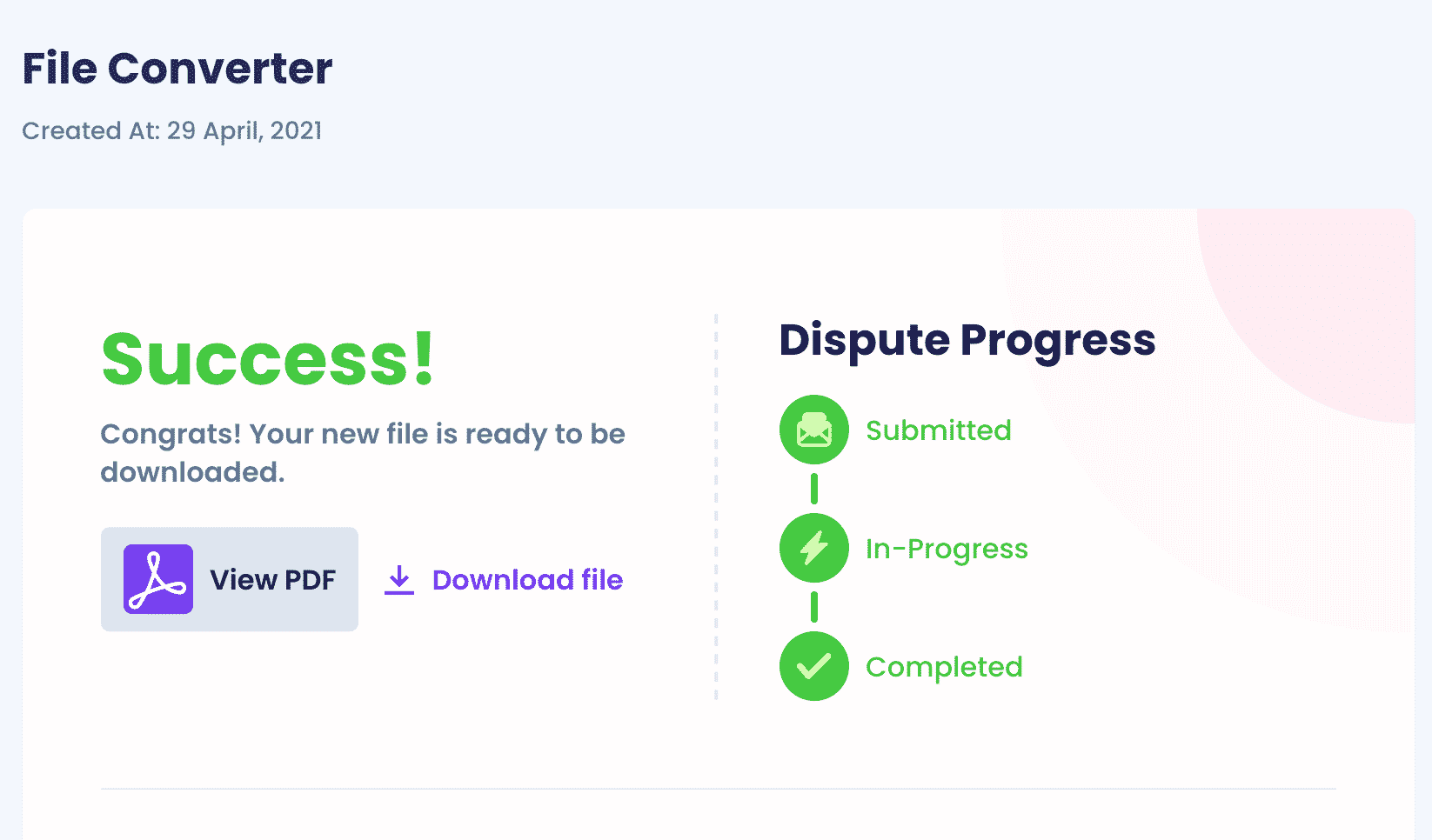 Once we convert your file, you can visit the My Disputes page to download it.
What Other File Types Can DoNotPay Convert?
You can use DoNotPay to convert more than your MP3 files! We provide you with a quick way to convert a number of different file types. Check out the table below for more details:
Much More Than a Simple File Converter
When you're converting files, keep in mind you'll need hard disk space for both the original and the converted file. While the HDD space individual files take up is barely noticeable, if you're planning on converting multiple files, it can quickly add up.
Luckily, DoNotPay also lets you compress files to make them easier to store. You can also use our award-winning app to convert online videos to MP3s, as well as download videos from social media and the web and save them on your device.
DoNotPay Offers Unmatched Functionality
DoNotPay offers a lot more functionality than a regular file converter. On top of these file management features, you'll find hundreds of different products within the app that can facilitate, streamline, or automate a wide variety of tasks, saving you time, money, and nerves!
Here are just some of the areas in which you'll find DoNotPay's assistance invaluable:
| Legal | Time-Saving | Money-Saving |
| --- | --- | --- |
| | | |
The possibilities truly are endless with DoNotPay!