Convert MP3 to M4R in a Few Clicks
MP3 is a digital audio data storage format. It uses lossy data compression to convert the original analog sound waves to a digital sequence. M4R file is another type of digital audio file, which is used for ringtones on Apple iPhones. If you want to set your favorite song as a ringtone on your iPhone, you'll need to convert it to M4R format. DoNotPay is happy to show you how to convert MP3 to M4R in no time. If you are looking for a safe and reliable file converter that requires zero effort on your part, opt for DoNotPay.
How To Convert MP3 to M4R
There are only two ways you can go about converting any type of audio file into a ringtone for your iPhone. You can convert MP3 to M4R by using:
iTunes
An online file converter
Converting MP3 to M4R in iTunes
If you have iTunes installed on your computer, follow the instructions below to convert MP3 to M4R:
Open iTunes and drag and drop the music file you want to convert onto the interface of iTunes
Right-click the file and scroll down until you see Get Info and click on it
Under Options, set up the start and end time of the ringtone (the time limit is 30 seconds) and click OK
Click on File in the top left corner and select Convert
Click Create AAC Version
After the file is created, right-click it and choose Show in Windows Explorer
Change the file extension from .m4a to .m4r
Open iTunes again and delete the original files
Connect your iPhone
Drag and drop the converted M4R file into iTunes and it will be automatically transferred to your iPhone
Converting MP3 to M4R in an Online MP3 to M4R Converter
If you don't want to go through all that trouble, using an online converter to convert MP3 to M4R is a faster option. Online converters are easy to use and work quickly, especially if you have a good internet connection. Most people prefer to use them because additional software installations aren't necessary. That said, there are a few downsides to online converters that you should be aware of.
Why Using an Online MP3 to M4R Converter May Prove Problematic?
Even though there are plenty of legitimate reasons to use an online converter, sometimes it's not the wisest decision. Some drawbacks of online file converters you should be aware of are:
The risk of downloading malware—Many of these sites do not check the file you're about to download and most likely will let it through. This means that you could end up with a virus in your computer that could damage your system and files
Poor quality of the converted files—You can't great from free file conversion sites
Inability to convert multiple files in one go—If you need to convert a bunch of files, this is pretty inconvenient
Privacy concerns—Some websites might sell their users' info to third parties
Before opting for any online converter, be sure to read privacy policies and reviews written by previous users.
Use DoNotPay To Convert MP3 to M4R With Zero Effort!
By choosing DoNotPay, you can rest assured that your files will stay completely safe during and after the conversion. We will delete them from our servers after 24 hours to protect your privacy.
To initiate the conversion, log in to your DoNotPay account and take the following steps:
Open the File Converter product
Upload your MP3 file
Select M4R as the format you want to convert it to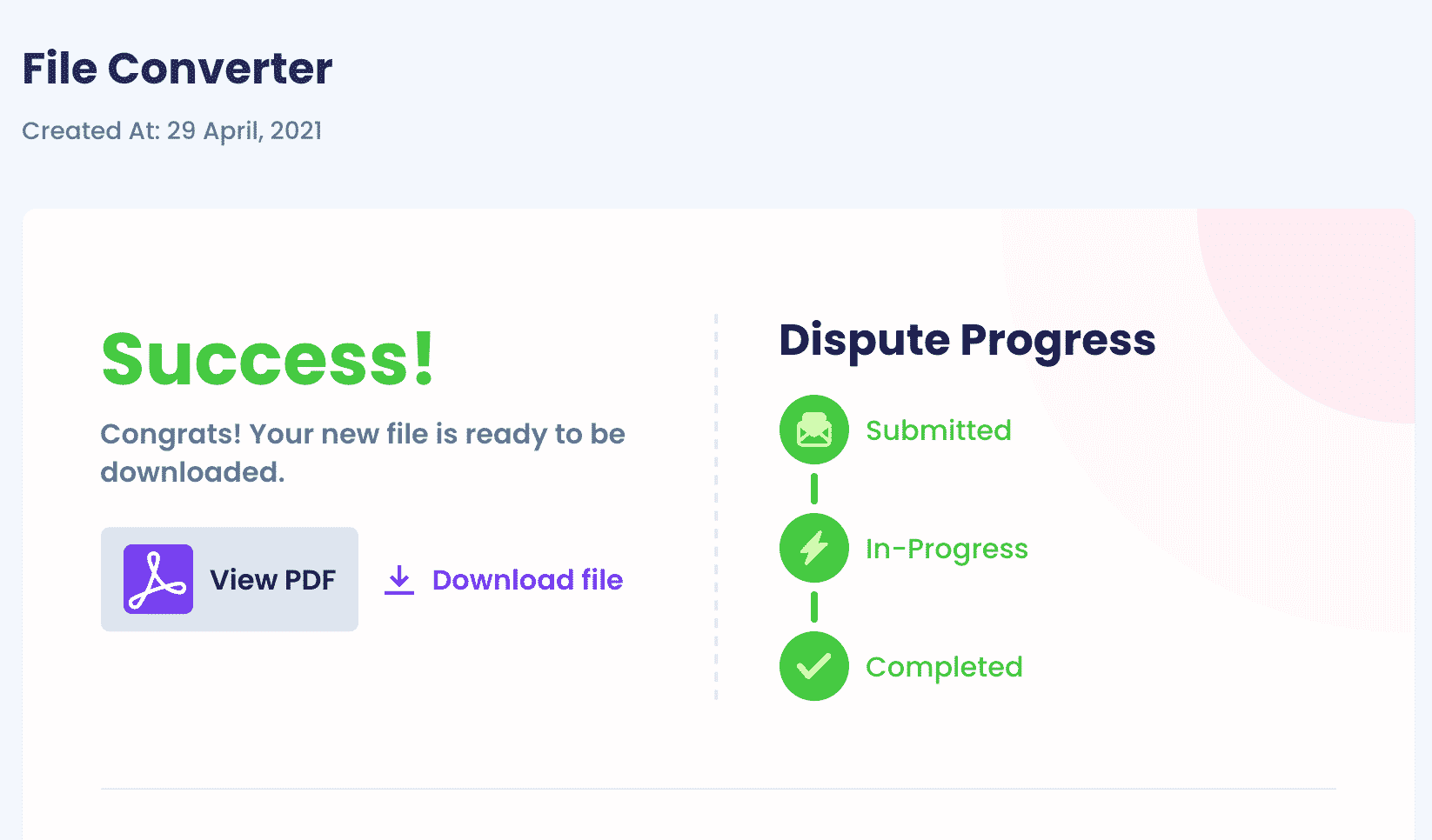 You can expect your file to be ready in a few seconds. To download it, go to the My Disputes page. Keep in mind that you can convert an unlimited number of files using our service.
What Other Files Can DoNotPay Convert?
DoNotPay can convert 100+ files without annoying ads popping up. Some of them can be found in the table below:
Much More Than a Simple File Converter
When you're converting files, keep in mind you'll need hard disk space for both the original and the converted file. While the HDD space individual files take up is barely noticeable, if you're planning on converting multiple files, it can quickly add up.
Luckily, DoNotPay also lets you compress files to make them easier to store. You can also use our award-winning app to convert online videos to MP3s, as well as download videos from social media and the web and save them on your device.
DoNotPay Offers Unmatched Functionality
DoNotPay offers a lot more functionality than a regular file converter. On top of these file management features, you'll find hundreds of different products within the app that can facilitate, streamline, or automate a wide variety of tasks, saving you time, money, and nerves!
Here are just some of the areas in which you'll find DoNotPay's assistance invaluable:
| Legal | Time-Saving | Money-Saving |
| --- | --- | --- |
| | | |
The possibilities truly are endless with DoNotPay!