Convert MP3 to M4B Without Any Hassle
MP3 is a compressed digital audio format commonly used on computers, tablets, and cellphones. It is the most common file extension used for digital media downloads nowadays.
M4B is a file extension that typically refers to a digital audiobook from Apple's iTunes store. The file format has higher-quality audio than MP3, supporting metadata such as artwork and playlists. It is compatible with Apple devices, such as iPhones and iPods.
If you want to convert MP3 to M4B but are not sure how to do it, this short guide has all the answers. By signing up for DoNotPay, you'll get access to our efficient File Converter product that can convert MP3, M4B, and many other files safely and without a hitch!
How To Convert MP3 to Audiobook
Offline converters are a good option if you want to avoid potential security issues. However, using them may require more time and effort than using online converters.
Online converters are a better choice if you do not have a lot of time at your disposal since they don't require additional software installations. They are easy to use, meaning you don't have to be a tech wizard to convert your files successfully. All you need to do is upload the file you want to convert, select the output format, and hit Convert.
Some commonly used MP3 to M4B online converters are listed in the table below:
| Converters | Description |
| --- | --- |
| Video Converter | Video Converter is a website that specializes in converting video files to other formats and vice versa |
| Media.io | Media.io is a free online service that converts a wide range of files to popular video and audio formats |
| MediaShare Free Online M4B Converter | MediaShare Free Online M4B Converter is a file converter website you can use to convert various file types for free |
| FreeConvert | FreeConvert lets you convert documents from one format to another with a single click of the mouse |
The Common Drawbacks of Using an Online MP3 to M4B Converter
Even though they are convenient and easy to use, you should be aware of potential disadvantages associated with online file converters, such as:
Poor quality of the converted files
Inability to convert multiple files in one go
Lack of customer support
Limited number of daily conversions
Inability to convert files larger than 10 or 20 MB
The risk of downloading viruses or malware together with the converted files
Privacy concerns—Some websites may sell your data to third parties without your permission
No control over the conversion process
To protect your data, make sure you read the Privacy Policy of the website before uploading your files.
Use DoNotPay To Convert MP3 to Audiobook in a Snap
Using DoNotPay, you can avoid all security and privacy issues mentioned above. What's more, files converted through our award-winning app are of high quality, and you can convert as many as you want for a low monthly fee.
The conversion process is straightforward—all you need to do is:
Log in to your DoNotPay account and open the File Converter product
Upload your MP3 file
Choose M4B as the format you want to convert it to
Once you've completed all three steps, proceed to the My Disputes page and download your newly converted file.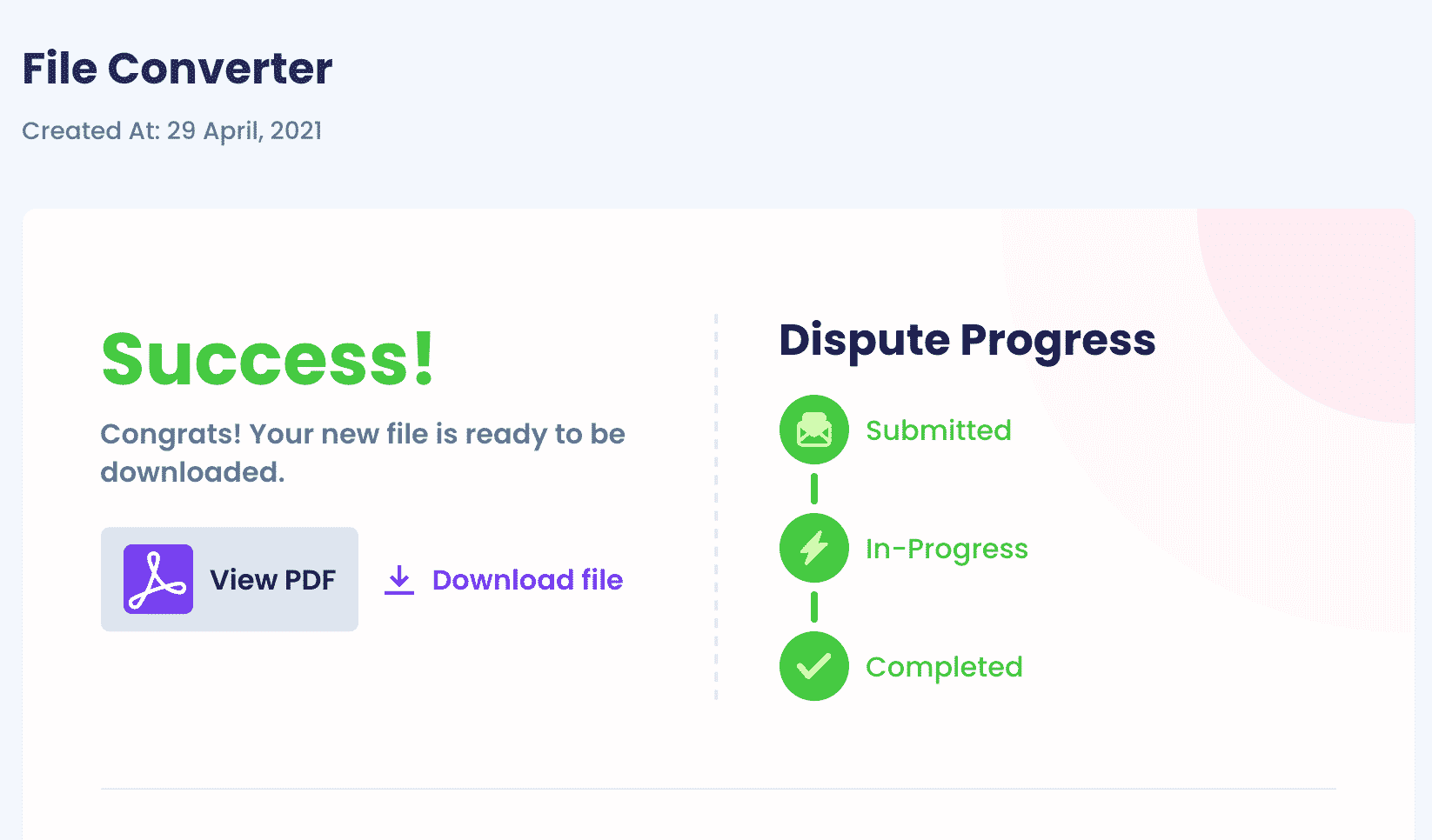 To protect your privacy, we will remove the file from our database after 24 hours.
What Other Files Can DoNotPay Convert?
Converting MP3 to M4B is only one in a sea of tasks DoNotPay can help you with! Check out the table below to see what other formats you can convert with our award-winning app:
Convert, Compress, and Download Anything With DoNotPay
Technology is advancing at a rapid pace, and it can be rather difficult to keep up. But there's no need to worry if you're not particularly tech-savvy—DoNotPay got you covered!
With our easy-to-use app, you can compress any file, download videos from the web, and convert online videos to MP3 files, all with a few clicks. There's absolutely no experience needed. Your files are 100% safe, and your privacy is ensured because we delete the converted and compressed files after 24 hours.
Save Time and Money With DoNotPay
On top of file conversion, DoNotPay has hundreds of different products that automate boring tasks and streamline complex processes. And the best part is—you get access to all of them, so you can use our award-winning app to save a ton of time and money.
Here are just a few examples of what DoNotPay can help you with: