How To Convert MP3 to AAC in a Few Seconds
MP3 is one of the most commonly used coding formats for digital audio. It was developed by the German company Fraunhofer Gesellschaft, and it's mostly used to store digital audio files.
AAC, or Advanced Audio Coding, is a lossy audio coding format. It was developed to be the successor of the MP3 format.
If you have a file in the MP3 format but need it in AAC, you can convert MP3 to AAC with various audio converters online. To save you from the trouble of figuring out how to navigate these converters on your own, we'll provide you with a step-by-step guide on how to get it done.
You can also avoid using sketchy websites and choose to convert your files with a safe and reliable conversion service instead—DoNotPay. Once you sign up for our app, you'll be able to convert your MP3 file to AAC and various other formats in a few clicks!
How To Convert MP3 to AAC
If you choose to convert your MP3 files online, you should gather all the info about how the process works, what converters you can use, and what some of the common drawbacks are beforehand. Luckily, you won't have to waste hours finding that info on your own—we're here to deliver all the details! First, let's see how the process works with web-based MP3 to AAC converters:
Pick the web-based converter you want to use
Upload the file you need to convert
Choose the output format
Wait for the conversion process to be complete
Download the converted document
Not sure what converter to use? Check out the list below to find some of the commonly used ones:
CloudConvert
Zamzar
Convertio
Using these converters is the most popular conversion method since it's easy and doesn't require much time. However, there are certain drawbacks that these converters come with and that shouldn't be ignored.
Free MP3 to AAC Converters—Drawbacks
Online file converters come with many drawbacks. Lack of features, limited accessibility, or incompatibility with your OS are just a few of the downsides to be aware of.
If you're thinking about using an online converter, consider the following before making your decision:
Lack of features—Depending on the converter you're using, there could be certain features missing that you might need for the file you're converting. This is especially common with free file converters, but it can be the case with paid options as well
Limited accessibility—Some converters are blocked because of your location. You might not be able to use the converter because you don't have the right access, which can be frustrating if you need it for an important job or project. There could also be bandwidth limitations, meaning that you won't be able to convert as many files as you'd like
Incompatibility with your operating system—There are many different types of operating systems on the internet, and some of them won't work with file converters
Convert MP3 to AAC With DoNotPay in Three Quick Steps!
You can use DoNotPay to convert your MP3 file to AAC securely in only a few seconds! Our app's File Converter product works on every operating system, including both Windows and Mac. The converted files you'll get are of high quality, and there is no limit on the number of files you'll be able to convert! All you have to do to get started is register for DoNotPay and complete the following three-step guide:
Open the File Converter product
Upload your MP3 file
Select AAC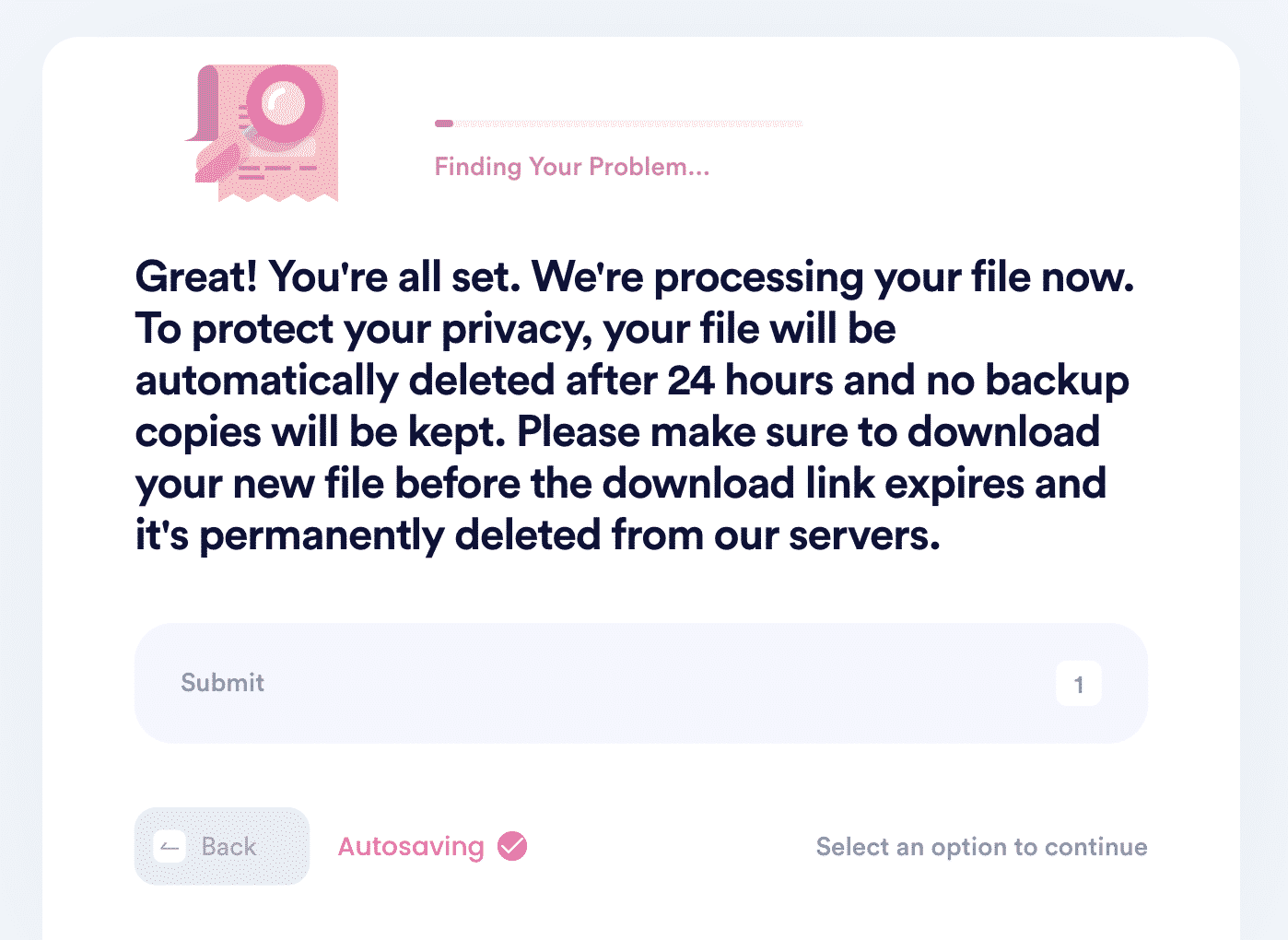 We'll convert your file in a few seconds, and you can download it from the My Disputes page instantly!
What Other File Types Can DoNotPay Convert?
You can convert more audio files with our app! Check out the table below to see some of the other formats you can convert with DoNotPay in a jiffy:
Convert, Compress, and Download Anything With DoNotPay
Technology is advancing at a rapid pace, and it can be rather difficult to keep up. But there's no need to worry if you're not particularly tech-savvy—DoNotPay got you covered!
With our easy-to-use app, you can compress any file, download videos from the web, and convert online videos to MP3 files, all with a few clicks. There's absolutely no experience needed. Your files are 100% safe, and your privacy is ensured because we delete the converted and compressed files after 24 hours.
Save Time and Money With DoNotPay
On top of file conversion, DoNotPay has hundreds of different products that automate boring tasks and streamline complex processes. And the best part is—you get access to all of them, so you can use our award-winning app to save a ton of time and money.
Here are just a few examples of what DoNotPay can help you with: