Easy Ways To Convert MOV to MP4 on Mac
The MOV format is a multimedia container that uses the QuickTime codec to compress video, audio, and other data into a single file. It's used for saving files transferred over the internet or any other type of media streaming protocol/service. It was created by Apple Inc. during its early days of working on multimedia projects before it was publicly announced in 1991.
You can convert MOV to MP4 on Mac by using video and audio converters online or by using a built-in program on your Mac device. We're going to explain how the conversion process works for both of these methods but also provide you with a safer alternative—DoNotPay. If you do not want to use either of the previously mentioned conversion methods, you can sign up for our app and let us convert your MOV file to MP4, MP3, or any other format in a few seconds!
How To Convert MOV to MP4 on Mac
You have two options when it comes to converting your MOV files to MP4 on Mac:
Using iMovie
Using free online converters
How To Convert MOV to MP4 on Mac With iMovie
iMovie is a video editing program that comes preinstalled on your Mac device. You can use it to convert your MOV files to MP4 by following the next steps:
Import the MOV file you want to be converted
Select Share in the File menu
Click on File
Edit the export settings and select Next
Choose where you want your file to be saved
Save your converted file
Note that using this conversion method takes more time and effort than using a free online converter would.
How To Convert an Apple Video to MP4 Online
There are various free online converters that you can use to convert your MOV files, such as:
CloudConvert
Movavi
Zamzar
The conversion process with these converters is a bit simpler than with the previous method—here's how it works:
Upload the MOV file you want to convert
Choose the output format
Wait for the conversion to be complete
Download your converted file
Although this conversion method is easier and takes less time, that doesn't mean you won't encounter any issues with it.
The Issues You Can Encounter With Free MOV to MP4 Online Converters
Converting files is an easy process, but you have to be aware of the risks as well. File converters can be responsible for viruses or malware being downloaded on your device, which could harm your computer or other devices connected to it.
File converters are also known for not being able to complete the conversion process without erroring out midway through downloading the file, meaning that you have no way of knowing if it was completed properly or not.
Many of these converters also ask for access to your computer so they can read the files on your hard drive directly.
Your personal and sensitive info can easily be shared with unauthorized third parties without you knowing about it, which can be extremely dangerous.
Use DoNotPay To Convert MOV to MP4 on Mac or Windows in Seconds!
DoNotPay provides you with the option to convert your MOV files safely on both Mac and Windows—our File Converter product can be used on any operating system. The best part is that your privacy and the safety of your data are completely protected, and the quality of your converted files is high. We'll delete your files 24 hours after the conversion to ensure your safety!
To initiate the conversion process, register for DoNotPay and complete the following instructions:
Open the File Converter product
Upload your MOV file
Choose MP4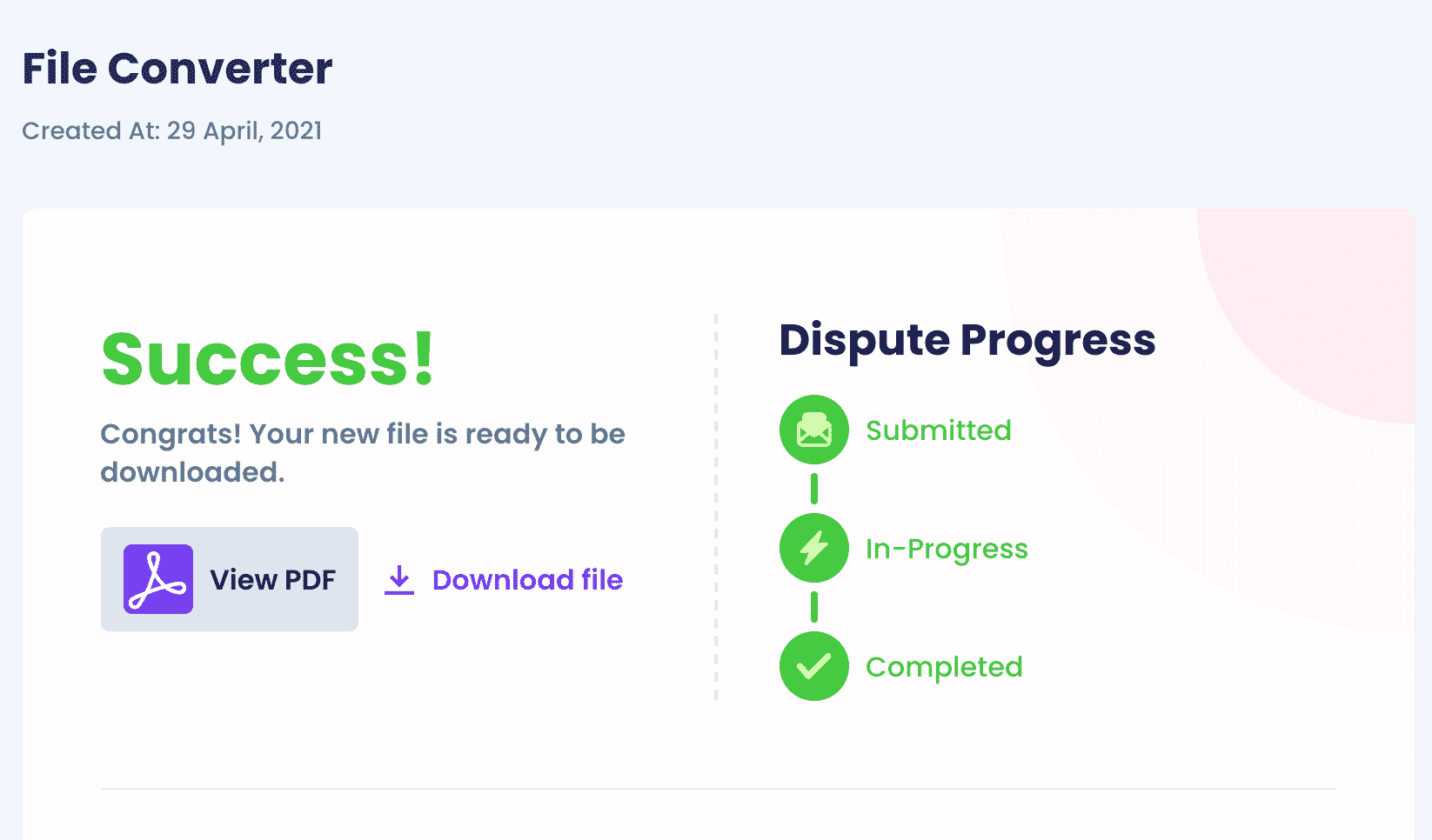 You can visit the My Disputes page right away to download your converted file!
What Other File Types Can DoNotPay Convert?
Other than MOV and MP4, you can convert the following file types with DoNotPay as well:
Download and Compress Anything With DoNotPay
Converting hundreds of different file types is just one of many DoNotPay's file-management capabilities. Once you start using our app, you'll also be able to compress files in seconds, convert online videos to MP3s so you can play your favorite tunes on your PC and phone, as well as download videos from the web with a single click.
Once you understand how convenient and easy to use DoNotPay is, and once you understand how much time and energy it saves you, you'll never do any of these tasks manually again!
What Else Can DoNotPay Do?
DoNotPay is an ever-expanding app. We're constantly adding new products and features that will save you time, money, and energy!
From simplifying complex legal processes like creating a power of attorney and drafting a will to suing companies in small claims court, DoNotPay does everything in its power to improve the quality of life of the average person.
Are you sick and tired of annoying robocalls and email spam? Let us take care of it and enjoy your peace of mind.
Don't want to spend hours waiting on hold or filling out dozens of forms? Use DoNotPay to jump the phone queue, schedule a DMV visit, or cancel an unwanted service or subscription in seconds.
This is just a fraction of what DoNotPay can do for you! Sign up today and see for yourself why over 150,000 people rely on our award-winning app each month.