Find Out How To Convert MOV to MP3 With No Effort
MOV is a multimedia file format used for storing digital video. Also called QuickTime, this file can contain audio and video streams, text tracks, complicated script commands (to be interpreted by movie players), subtitles, and other data. It is playable on any device that has the ability to decode the specific video codec it's using.
MP3 is the most common audio file type for digital music. It is often used to transfer songs or music because it takes up little disk space. Some devices that use this file type are MP3 players, computers, CD players, and mobile phones. Both MOV and MP3 files use MPEG compression, but MP3 uses MPEG-3, while MOV uses MPEG-4 compression.
If you're looking for a reliable tool that will let you convert MOV to MP3 quickly and safely, sign up for DoNotPay. You can use our File Converter product to convert 100+ file types with a single click.
How To Convert MOV to MP3
The most common way to convert MOV to MP3 is by using free online converter programs. What most people find convenient about online file converters is the fact that you don't need to download and install additional software on your computer. They are also easy to use—the only thing you have to do is drag and drop the file you want to convert and select the desired format from the list. If you have a fast internet connection, your file will be ready after a few seconds, in most cases.
What Are the Downsides of Using an Online MOV to MP3 Converter?
Online conversion is perfectly fine for most people, but if you need your converted files to be of higher quality, it is better to use a specialized file conversion app. Using an online MOV to MP3 converter, you will probably decrease the original sound quality. If your internet connection is slow, the conversion may take hours.
You should keep in mind that, by downloading converted files from sketchy converter websites, you could also download malware to your computer. Even though there's no risk of downloading malware on some websites, your privacy still may be at risk. Some websites are known to sell their users' data to third parties.
Useful Tips for a Successful Conversion from MOV to MP3
To prevent unsuccessful conversions and your original file damaging, consider taking the following steps:
Make sure to create an exact copy of your original movie or music file before converting (you can use an application like Total Copy to do so)
Be careful not to change the file name or folder structure when you are saving your converted files. Otherwise, they will be unusable by your media players
Don't convert large MOV files online because the conversion might take a long time and have high-pitched noises when it's done. The resulting MP3 might also be damaged because of the huge file size
How To Ensure an Online MOV to MP3 Converter Is Safe
Many different MOV to MP3 converters can be found online. To make sure a converter you chose is safe, you should follow the instructions below:
Check if the publisher is legitimate—The publisher should be a real company
Find out how long the company has been in business—If there is no information about the establishment of this company, it is best to avoid it. The best converters should have an excellent track record to prove their reliability
Make sure you are not being lured into provide personal information—Read the Privacy Policy to find out what the converter does with your data after the conversion
Make sure the website is SSL encrypted—This way, your data will stay protected during conversion
Scan the downloaded file—There's always a possibility it contains malware or viruses
Read user reviews—If there are too many negative ones, avoid using the converter
Use DoNotPay To Convert MOV to MP3 Within Seconds!
Why waste time searching for a reliable online file converter when you can convert MOV, MP3, and a variety of other files safely and quickly with our nifty File Converter product?
DoNotPay is browser-based, which means you can convert any file regardless of which system you're using.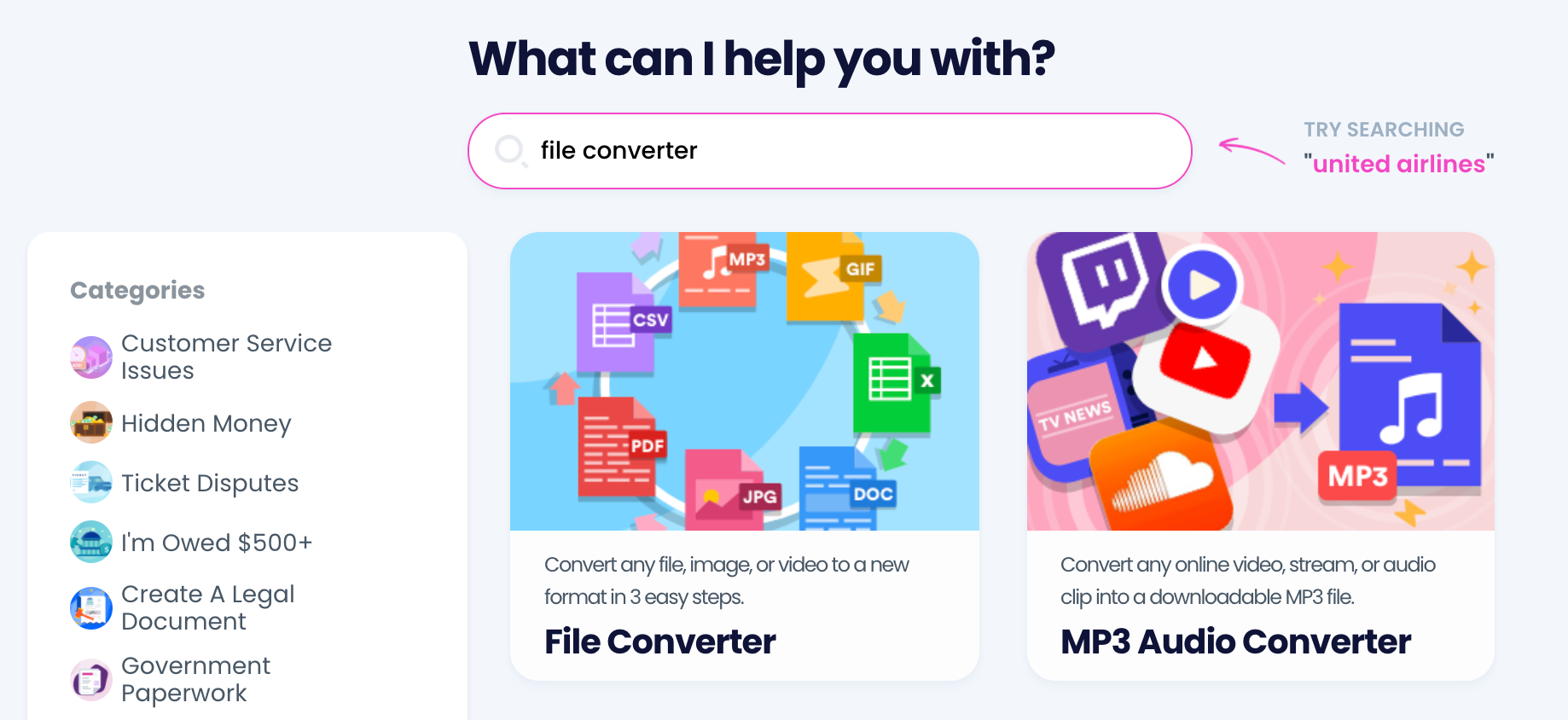 Log in to your DoNotPay account and follow the instructions below to start converting your files with our app:
Open the FIle Converter product
Upload your MOV file
Choose MP3 as the format you want to convert it to
Go to the My Disputes page and download your file
To protect your privacy, we'll also delete your files 24 hours after the conversion.
What Other Files Can DoNotPay Convert?
Other than MOV and MP3, our nifty File Converter can convert a variety of different audio, video, text, and other files. There is no limit to the number of files you can convert using it. Some of the files you can count on converting with DoNotPay are listed in the table below:
Convert, Compress, and Download Anything With DoNotPay
Technology is advancing at a rapid pace, and it can be rather difficult to keep up. But there's no need to worry if you're not particularly tech savvy—DoNotPay got you covered!
With our easy-to-use app, you can compress any file, download videos from the web, and convert online videos to MP3 files, all with a few clicks. There's absolutely no experience needed. Your files are 100% safe, and your privacy is ensured because we delete the converted and compressed files after 24 hours.
Save Time and Money With DoNotPay
On top of file conversion, DoNotPay has hundreds of different products that automate boring tasks and streamline complex processes. And the best part is—you get access to all of them, so you can use our award-winning app to save a ton of time and money.
Here are just a few examples of what DoNotPay can help you with: