Find Out How To Convert MOV to GIF Safely in a Flash!
MOV is a movie file saved in the QuickTime File Format (QTFF)—a multimedia container file format developed by Apple. It stores one or more tracks that store different types of media data, including video, audio, and text. MOV files are most commonly used for saving movies and other video files.
GIF stands for Graphics Interchange Format, and it's a type of digital image that can show a short clip of moving footage that typically lasts up to 15 seconds.
If you want to convert MOV to GIF, you can. Since the conversion process can get confusing if you aren't familiar with it, we're here to lend you a helping hand! With our assistance, you'll learn how to convert MOV to GIF in seconds!
By signing up for DoNotPay, you'll gain access to our File Converter product that converts any number of files you need quickly. The product is also reliable and safe to use!
How To Convert MOV to GIF
The most commonly used conversion method is using a free online converter. This method is valid and it gets the job done, but you must be careful with the converter you choose to use. Some of them can be sketchy and unreliable, so finding one that's safe to use is vital.
You can consult the table below to see some of the commonly used MOV to GIF converters:
Converter
Description
Zamzar
Zamzar is an online converter that you can use to convert your MOV files to GIFs but other file types as well. Some of the other formats you can convert your files to with Zamzar are:

MP3
MIDI
PNG
OGG
FLAC
JPG

Convertio
Convertio is a website that helps you convert different files, including GIFs, MOVs, images, and more. It's a web-based converter, so you won't need to install any additional software
CloudConvert
CloudConvert is a conversion software that takes your files and converts them from one format to another. The software is compatible with most operating systems, tablets, and mobile devices
The Problems You Can Encounter When Using a Free Online MOV to GIF Converter
Before you sign up and convert your files, make sure to do your research because some of these free services can come with a bunch of drawbacks.
For instance, some converters require you to provide an email address, which can be annoying since they'll likely spam you afterward.
Another issue with free online converters is that they may contain viruses and malware. Most of these websites don't provide a satisfactory level of protection, so viruses can easily infect your computer when you download the files.
Your personal information and data are usually also left unprotected, and the risk of your info being shared with other parties is real. Luckily, there are a few ways to prevent encountering these risks.
How To Choose a Safe MOV to GIF Converter
It's important to make sure that the site you are planning to use has not been cited in any cases of copyright infringement or other violations. If it has, it could be a sign that your information will not be safe when you use their services. The best way to find this information is to check user reviews to see what they have to say about the site and whether they had a good or bad experience.
Checking the converter's privacy policy is also a good idea. Some sites keep extensive records of your files, while others only keep the files for a short time. Before you start using a file converter, make sure that you know how much control over your information this service has.
How To Convert MOV to GIF Securely With DoNotPay
Spending an eternity figuring out which website is safe and which one is not is a waste of time, especially when you have a more convenient option at your disposal—DoNotPay. With our app, you'll be able to convert your files in a few clicks and without worrying about whether your files are protected or not! We make sure they are by deleting them from our database after 24 hours.
The process is also super simple and takes almost no time at all! All you need to do is sign up for our app and follow these instructions:
Open the File Converter product
Upload your MOV file
Select GIF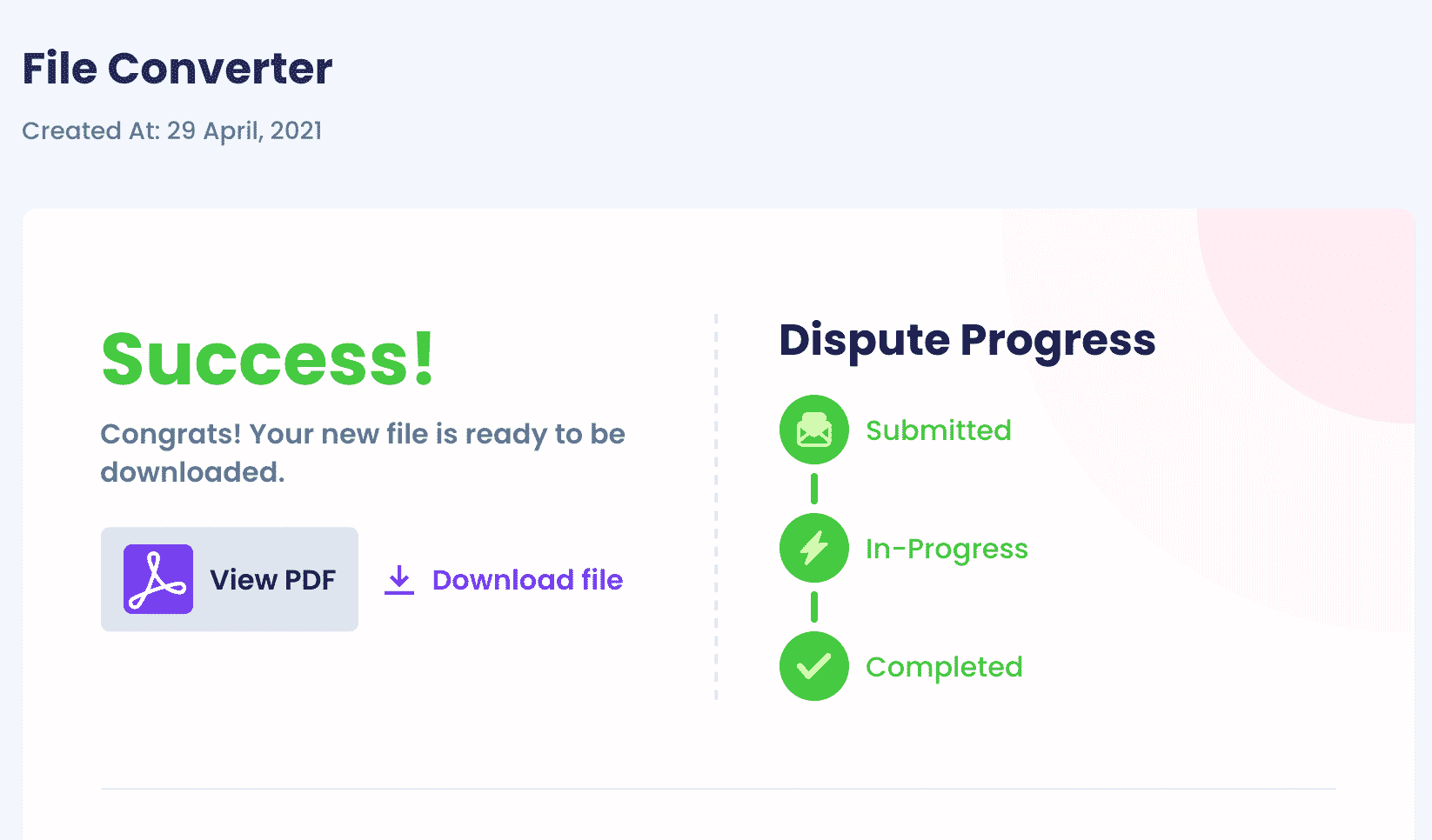 Once we're done, go to the My Disputes page and download your file instantly!
What Other Files Can DoNotPay Convert?
Looking for a way to convert other files besides MOVs and GIFs? Look no further! DoNotPay can help you convert a plethora of different files in a snap! Check out the table below to see what you can convert using our AI-powered app:
DoNotPay Brings the Best Solution to Any Problem
If you want some help canceling subscriptions, requesting refunds, or signing up for free trials without being charged, our app is exactly what you need.
No task is too demanding for DoNotPay, and our product offer keeps on growing. With us, you can lower your property taxes, enter giveaways and sweepstakes, file insurance and warranty claims, and report copyright infringement. In case you also need to apply for scholarships, draft power of attorney documents, or appeal banned accounts, we'll come to the rescue.
In a few clicks, you'll get the assistance that you've been looking for!
Our App Helps You Protect Your Privacy
Keeping your privacy intact is no easy feat since more and more services request your email address, phone number, and other personal details. If you sign up for DoNotPay, that requirement will become a thing of the past!
With our Virtual Credit Card product, you'll get a randomly generated name, email address, and payment details and stay unknown. If a platform asks you to submit your phone number, you can select our Burner Phone feature and get a temporary number.
DoNotPay can also put a stop to spam emails, text messages, and bothersome robocalls. We can even help you conduct a sex offender search for your area, file anonymous HR complaints, generate child travel consent forms, and send demand letters to your noisy neighbors.