How To Convert MKV to MP4 on Mac in Seconds
MKV is a file format that's mostly used to store audio, video, subtitle, and other tracks in one file.
MP4 is one of the most commonly used multimedia container formats. It is mostly used to store video and audio data, but it can also store other data, such as subtitles.
You can convert your MKV files to MP4 if you need to by using different online converters or downloadable programs. We're here to show you how to convert MKV to MP4 on Mac step by step but also offer you a safer and easier alternative—DoNotPay. Once you access our app, you'll be able to convert your MKV files to MP4—and other formats—on any operating system!
How To Convert MKV to MP4 on Mac
You can convert MKV to MP4 on Mac by using:
Downloadable software
Free online converters
We provide you with all the info on how these conversion tools work and what some of the commonly used ones are in the table below:
Conversion Tool
How It Works
The Commonly Used Programs
Downloadable software

Install the software you want to use
Import the document you need to convert
Pick the output format
Initiate the conversion process
Save the converted file on your computer

Free online converters

Visit the website you want to use
Upload the file you want to be converted
Choose what format you need the file to be converted to
Click on Convert
Download your converted file
Both of the above-explained conversion methods are valid and get the job done, but they come with certain drawbacks. You should learn what these drawbacks are before you decide what conversion method you want to use.
Free MKV to MP4 Converters for Mac—Major Drawbacks
Although free online converters can be helpful and convenient, there is a number of downsides that you need to know about. We'll go over a few of those disadvantages so that you can have a better understanding of how they work and what the potential pitfalls are before proceeding with your conversion.
First off, it's important to note that some conversions may not be possible due to format incompatibility issues or even software limitations. For example, if you try to convert a file that is incompatible with the converter that you choose, the site will probably malfunction or crash. This is especially true if you are trying to convert for an Apple device, like an iPhone, iPad, or iPod.
Another major problem lies in the lack of security. These converters aren't known for protecting your sensitive data, so it's possible for your info to be shared with unauthorized third parties that may use it for malicious purposes.
Your computer might get infected with malware, which can further cause issues like your files being corrupted, lost, or removed.
Use DoNotPay To Convert MKV to MP4 on Mac Like a Pro!
Using DoNotPay to avoid all of the previously explained risks is your safest bet! Why waste time and effort trying to find a reliable converter online when you can have our app convert your files safely in seconds? The best part is that you can get high-quality files with us on any operating system, including Mac, Windows, and Linux! To get started, subscribe to DoNotPay and follow the next steps:
Open the File Converter product
Upload your MKV file
Select MP4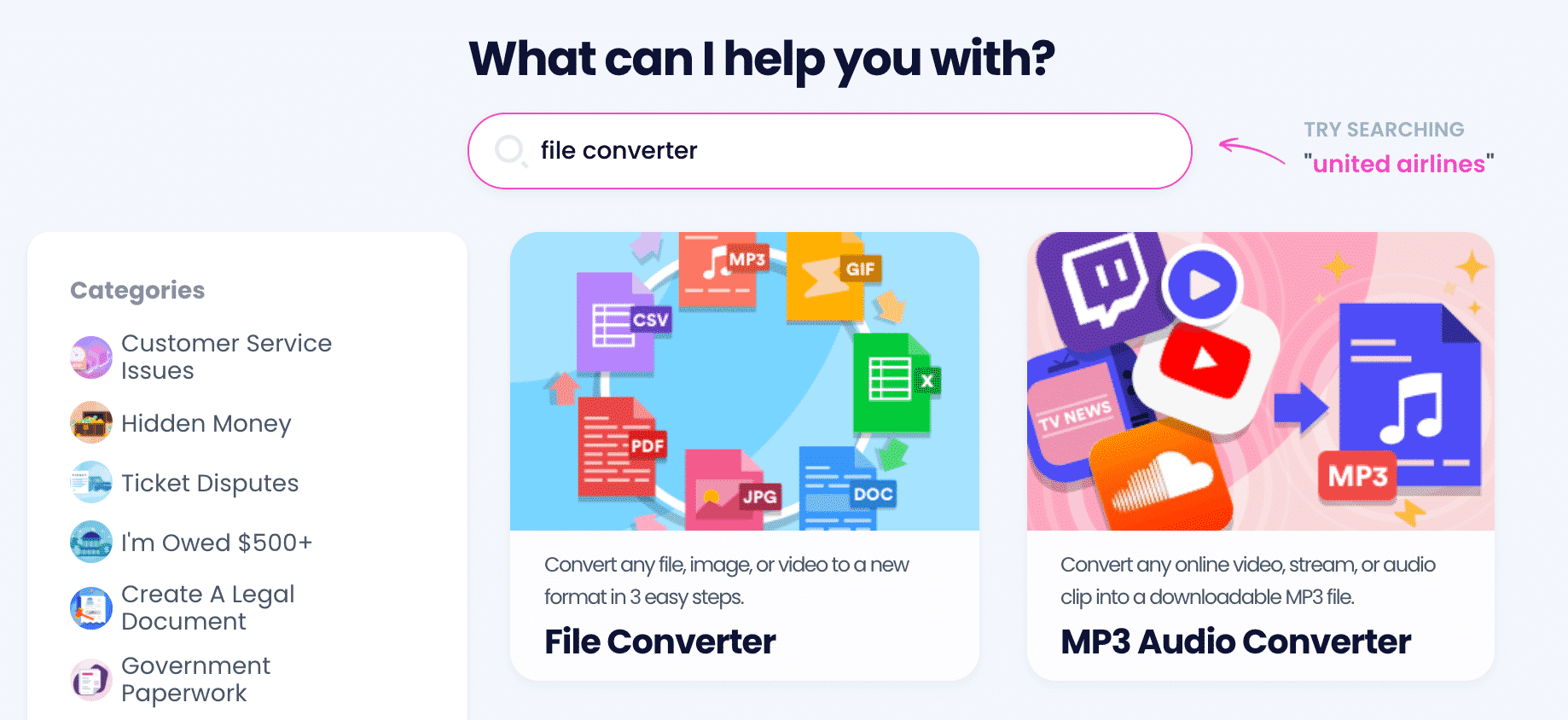 Visit the My Disputes page to download your converted file right away!
What Other File Types Can DoNotPay Convert?
There is no shortage of file types you can convert with us! The table below provides you with all the details:
Much More Than a Simple File Converter
When you're converting files, keep in mind you'll need hard disk space for both the original and the converted file. While the HDD space individual files take up is barely noticeable, if you're planning on converting multiple files, it can quickly add up.
Luckily, DoNotPay also lets you compress files to make them easier to store. You can also use our award-winning app to convert online videos to MP3s, as well as download videos from social media and the web and save them on your device.
DoNotPay Offers Unmatched Functionality
DoNotPay offers a lot more functionality than a regular file converter. On top of these file management features, you'll find hundreds of different products within the app that can facilitate, streamline, or automate a wide variety of tasks, saving you time, money, and nerves!
Here are just some of the areas in which you'll find DoNotPay's assistance invaluable:
| Legal | Time-Saving | Money-Saving |
| --- | --- | --- |
| | | |
The possibilities truly are endless with DoNotPay!