Tips on How To Convert MIDI to MP3 Easily
The MIDI format is a standard that describes how music can be accurately encoded and transmitted over electronic devices. Many people choose to convert MIDI files to more manageable formats, such as MP3. Since searching for the best way to convert MIDI to MP3 can be dull, we're here to provide you with a completely straightforward guide on how to get it done. There's no need to struggle to figure out how to navigate online audio converters all on your own—we'll break it down step by step!
We'll also show you how to convert any number of files on both Mac and Windows once you register for DoNotPay!
How To Convert MIDI to MP3 Online
Using online converters is one of the most common ways to convert any file type. Although the most common, that doesn't mean it's also the best and safest one. Before you decide to use a free online converter, you should get acquainted with how the process works and what the possible issues that may occur are. Check out the list below to see what you have to do to convert your files online:
Upload the document you want to convert
Choose the format you want it to be converted to
Wait for the online conversion to be finished
Download the converted file to your computer
If you can't decide what MIDI to MP3 converter is best for the job, you can check out the list below and see some of the frequently used ones:
Zamzar
Online-Convert
FreeConvert
You could also find a few downloadable programs that you can use to convert your MIDI files, but they usually require you to pay a fee.
Free MIDI to MP3 Converters—The Major Drawbacks
The major drawbacks of free file converters are that they give you low-quality files and can create numerous errors. This means that your final document might not even be good enough to use and all the effort you put in converting the file would be for naught.
Another huge drawback that you should be aware of is that many free file converters are actually malware in disguise. What this means is that you may start downloading something that looks like an innocent program but that, in reality, can infect your computer with viruses or spyware.
Free online converters often don't support all operating systems, so if you try to convert your file using a converter that doesn't support your operating system, it will malfunction and crash.
Your personal info is also at risk of being shared with third parties since these converters don't always protect your data.
You Can Convert Your Files to MP3 Securely With DoNotPay's Help!
The potential risks of using free online converters are no joke, so we developed a product that focuses on protecting your data and privacy—the File Converter product. You can use it to convert any number of files you want without worrying about your data being shared with anyone. We ensure its safety by removing all of your information 24 hours after the conversion.
Converting files with our app also takes almost no effort on your part—all you need to do is sign up and complete our three-step guide:
Open the File Converter product
Upload the file you want us to convert
Choose the output format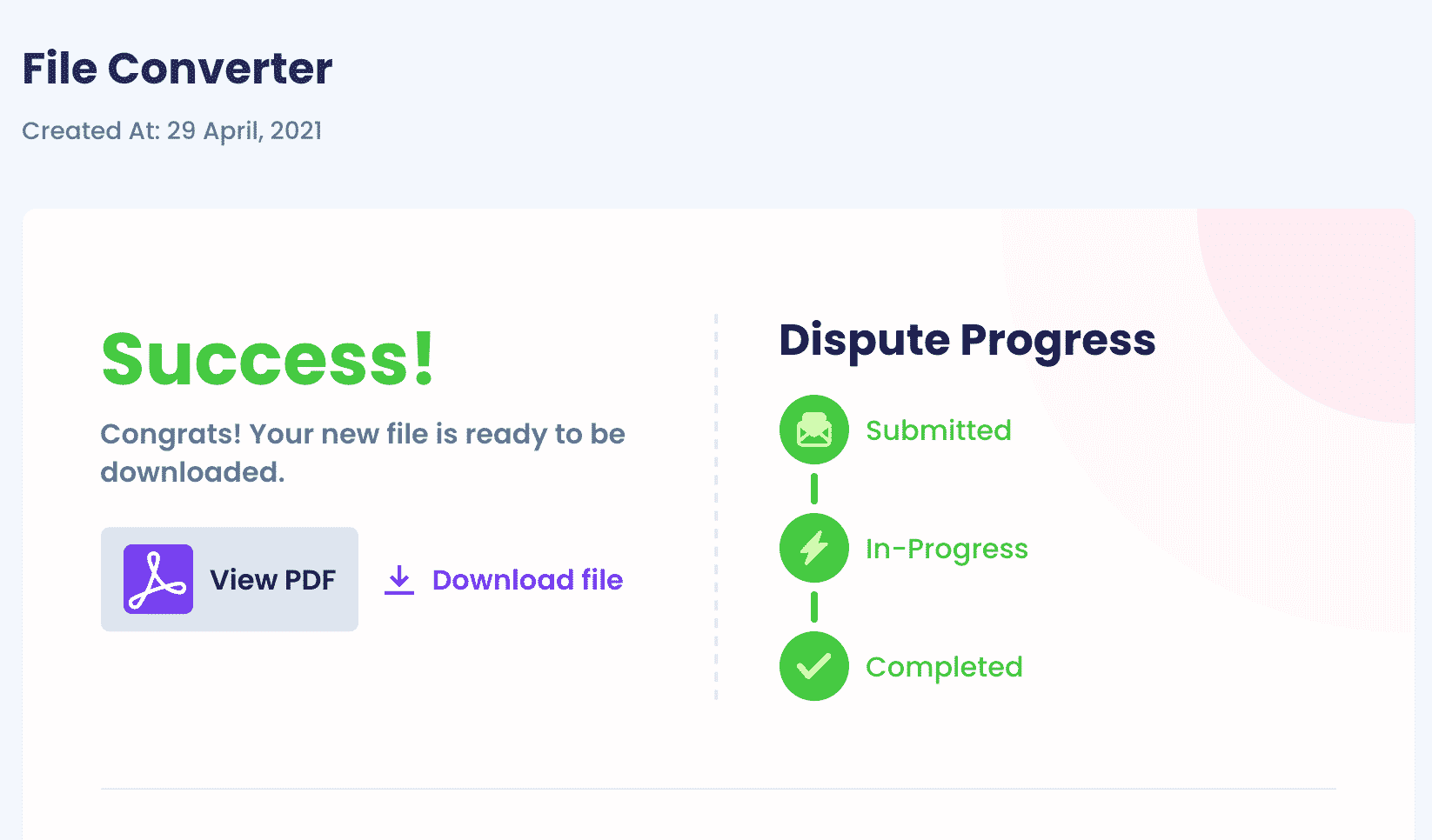 Once converted, your file will be ready for download on the My Disputes page.
What Other File Types Can DoNotPay Convert?
There is no shortage of file types you can convert using our nifty app! Look at the table below to see some of the files you can convert with DoNotPay:
Hundreds of Useful Features at Your Fingertips
What makes DoNotPay stand out from regular file conversion tools is the array of other features you get access to once you start using our app.
On top of converting hundreds of file types, you can also use DoNotPay to:
Compress your files

so they don't take up too much space
Download videos from social media and the web

Convert all manner of online videos to MP3 files

with a click
DoNotPay isn't just a converter—it's an app designed to make your life easier by automating tedious and complicated tasks. You'll find hundreds of different products inside our award-winning app that will help you save time and money!
Create Legal Documents, Cancel Subscriptions, Appeal Parking Tickets—All With One App!
There's no shortage of tasks DoNotPay can assist you with. For example, the world's first robot lawyer can help you with all manner of legal processes, including:
You can also have DoNotPay handle tedious, time-consuming tasks, like filing complaints, requesting refunds and chargebacks, canceling subscriptions, contesting parking and seatbelt tickets, and fighting email spam for you.
DoNotPay can also save you hundreds of dollars each month by helping you reduce property taxes, lower your bills, and find unclaimed money in your name.