Tips on How To Convert M4V to MP4 in a Few Steps
The M4V format is a video container format created by Apple Inc, and it is similar to the MP4 format. It's one of the most popular video formats that can be read by iTunes software, as well as many other media players.
Since users often need to convert M4V to MP4, MOV, and other file formats, we're here to provide you with a step-by-step guide on how to do it online. Although using online video or audio converters is a simple and easy way to convert files, it is not always the safest. That's where DoNotPay comes in! Once you sign up, you can use our app's File Converter product to convert your M4V files in the blink of an eye and without worrying about the safety of your data! You'll also get access to all our app's products as soon as you subscribe.
How To Convert M4V to MP4 Online
Using a free M4V to MP4 online converter is the most common way to convert M4V files. To save you from the trouble of picking one in a sea of converters you'll be able to find online, we provide you with a list of the most commonly used ones:
CloudConvert
Movavi
FreeConvert
The conversion process is the same for the majority of the web-based M4V converters, including the ones listed above. You need to provide the document you want to convert, pick the output format, wait for the conversion to be over, and download or save your converted file once ready.
The process is rarely as simple as it sounds, though. There is a number of problems that can arise when using free online converters, and you should get informed about them before using one.
What Problems Can Arise When Using Free M4V to MP4 Converters?
Free file converters may come with viruses, malware, and other security concerns that could harm your computer or work. Additionally, any personal or confidential information could be stolen if you have your files uploaded onto public cloud storage sites, such as Dropbox.
Check out some of the most common problems you could run into:
Free file converters often crash or fail to work properly
Conversion time takes too long, and files take up too much space on your device
Multiple conversions take way too much time and slow down your computer
The newest versions of certain converters might not work on all devices, which leads to them crashing and malfunctioning during the conversion
How To Convert M4V to MP4 With DoNotPay in Seconds
DoNotPay offers you a 100% secure and streamlined way to convert your M4V files to MP4s! There's no need to waste time trying to find a trustworthy online converter when you have a more convenient option at your disposal.
With our AI-powered app, you can convert any number of files you want on both Windows and Mac in a few clicks. The quality of the files we provide is high, and there is a wide range of available formats you can convert. All you have to do to initiate the process is register for DoNotPay and complete the following instructions:
Open the File Converter product
Upload your M4V file
Select MP4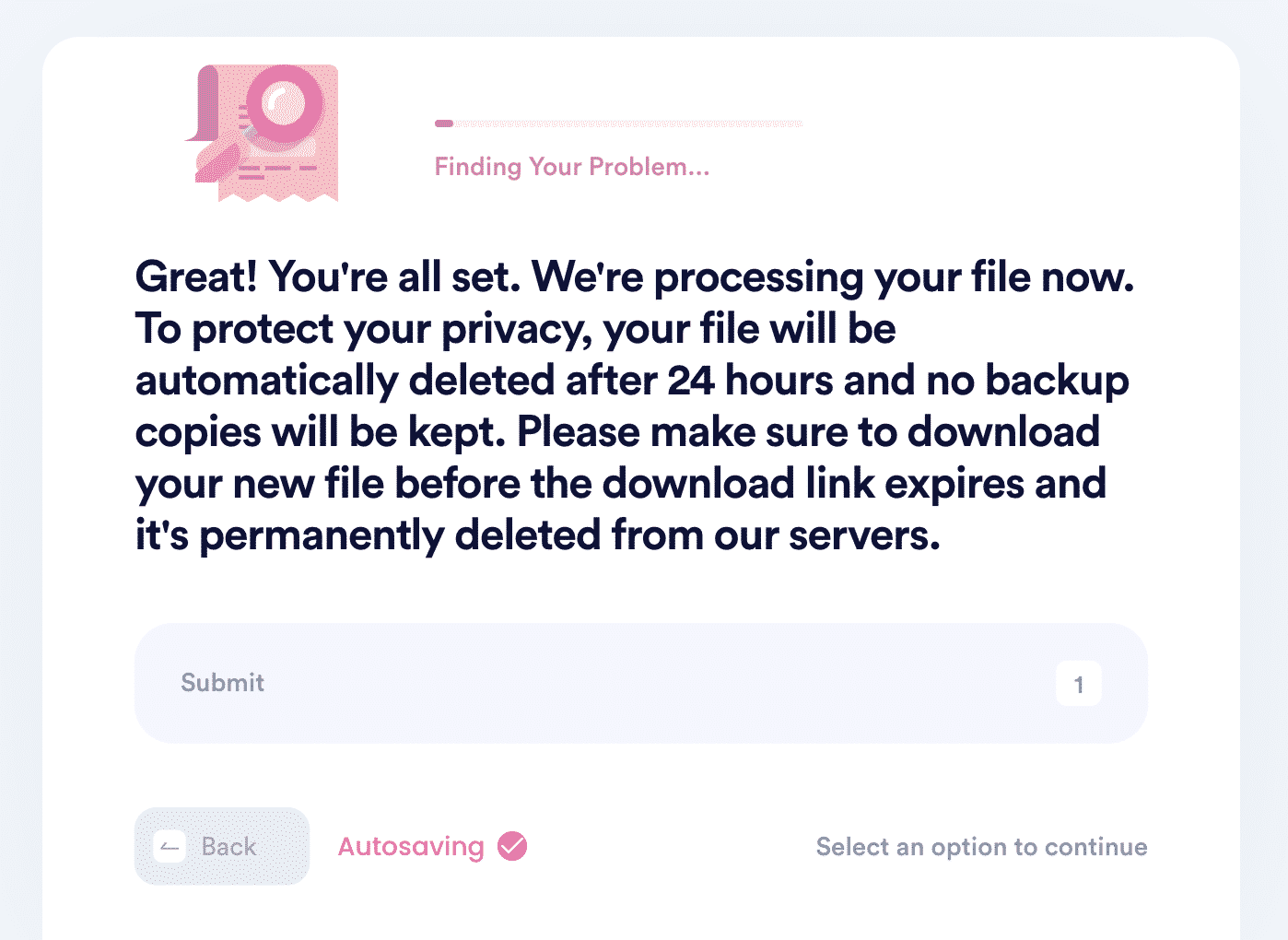 You can visit the My Disputes page to download your converted file right away!
What Other File Types Can DoNotPay Convert?
Looking for a quick way to convert more than your M4V files? You're in the right place! Our app can help you convert a variety of files, including the ones in the table below and more:
Hundreds of Useful Features at Your Fingertips
What makes DoNotPay stand out from regular file conversion tools is the array of other features you get access to once you start using our app.
On top of converting hundreds of file types, you can also use DoNotPay to:
DoNotPay isn't just a converter—it's an app designed to make your life easier by automating tedious and complicated tasks. You'll find hundreds of different products inside our award-winning app that will help you save time and money!
Create Legal Documents, Cancel Subscriptions, Appeal Parking Tickets—All With One App!
There's no shortage of tasks DoNotPay can assist you with. For example, the world's first robot lawyer can help you with all manner of legal processes, including:
You can also have DoNotPay handle tedious, time-consuming tasks, like filing complaints, requesting refunds and chargebacks, canceling subscriptions, contesting parking and seatbelt tickets, and fighting email spam for you.
DoNotPay can also save you hundreds of dollars each month by helping you reduce property taxes, lower your bills, and find unclaimed money in your name.