The Easiest Way To Convert M4P to MP3 Stress-Free
Since the MP3 file format is the most commonly used one for storing and sharing audio data, it's not uncommon for other file types to be converted to MP3. There is no shortage of file formats that you can convert to MP3, including AMR, AAX, MP4, M4P, and more.
We can save you from the trouble of figuring out how to convert M4P to MP3 by providing you with a completely streamlined step-by-step guide. We'll also list some of the common downsides of using free online audio converters and offer you a safer alternative—DoNotPay. Once you sign up for our award-winning app, you'll be able to convert a wide range of file types in just a few clicks!
How To Convert M4P to MP3 Online
Free online M4P to MP3 converters often come in handy when you're looking for a quick way to convert your files. If you're wondering what M4P to MP3 online converter to choose, here are some of the commonly used ones:
FreeConvert
AnyConv
M4PConvert
They all work similarly—you upload the file you want to be converted, decide what format you want it to be converted to, and wait for the process to be complete. After that, you should be able to download the file.
These web-based file converters can prove efficient and convenient, but that doesn't necessarily mean they are perfect. Their convenience isn't the only aspect that should be emphasized. There are various downsides when it comes to using these converters as well, and you should learn all about them prior to using them.
What Issues Can I Come Across When Using Free M4P to MP3 Converters Online?
M4P converters have been growing in popularity because of their low cost and high efficiency. There are some issues that need to be addressed before you decide to use one. Check out the list below to see a couple of the common ones:
Information theft—These online converters usually aren't secure and are a perfect place for a Trojan horse that steals information from your computer or infects it with malware. A good converter should have a simple interface, with no sneaky features
Conversion quality—There is a big chance that the converted files will be of poor quality and will require further editing before they sound as intended. With some music files, you might be able to adjust the volume and frequency range without messing with the quality, but that's not the case with every online converter
DoNotPay Can Convert M4P to MP3 for You in Seconds!
Don't want to waste time and effort making sure a converter is reliable? You don't have to! DoNotPay makes sure all of your files are protected during the conversion and offers you high-quality results as well! You can rest assured the entire process will go without a hitch, and you won't have to worry about the operating system you're using—our product works on both Windows and Mac! Once you sign up for DoNotPay, follow the next steps to convert your files safely in a snap:
Open the File Converter product
Upload your M4P file
Select MP3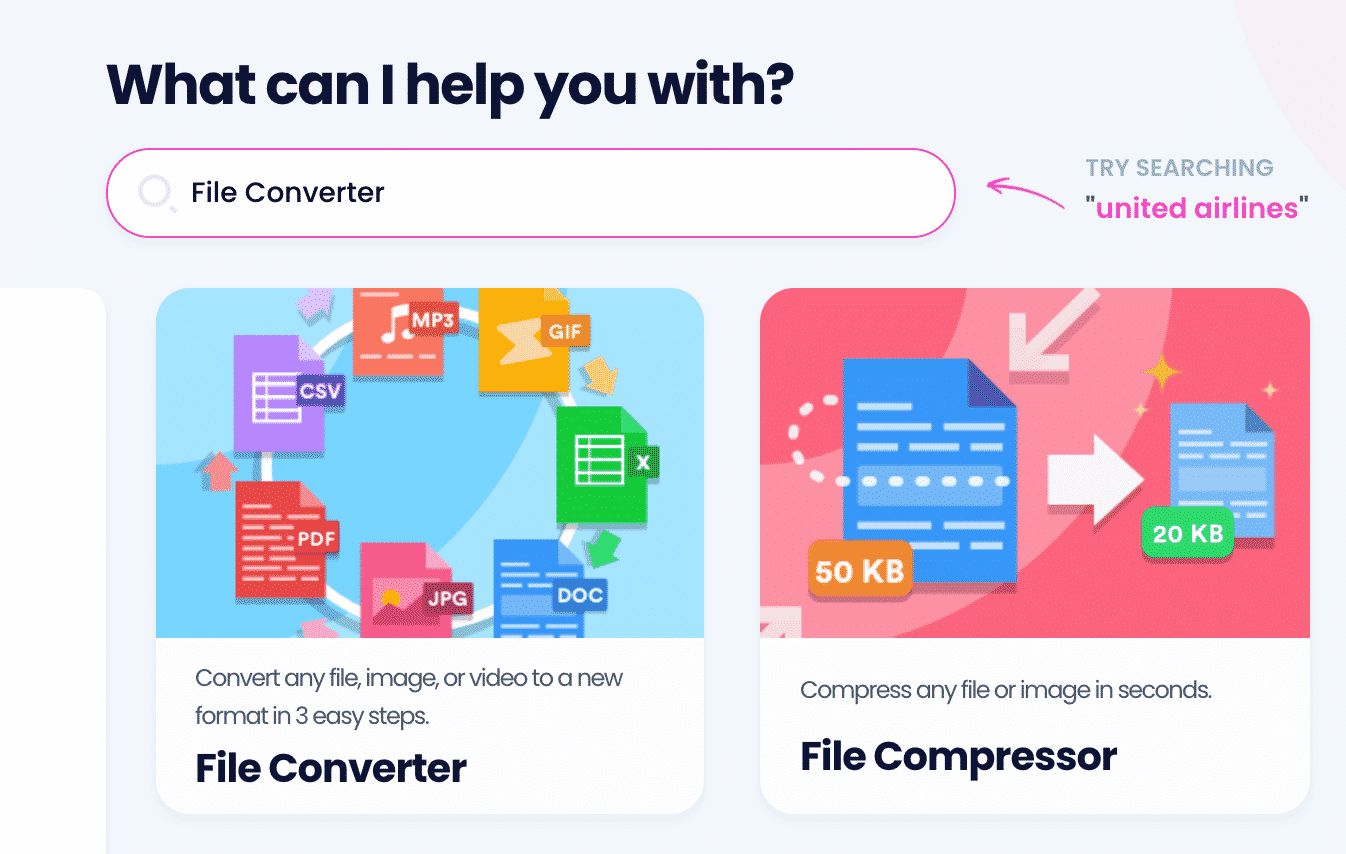 Our AI-powered app converts your file right away, and you can visit the My Disputes page to download your MP3 file instantly!
What Other File Types Can DoNotPay Convert?
Although converting your M4P files to MP3s is what we do best, that is not all we got in store for you! Aside from M4P and MP3, we can help you convert a ton of other file types as well. Consult the table below to see a fragment of other formats DoNotPay converts for you:
Much More Than a Simple File Converter
When you're converting files, keep in mind you'll need hard disk space for both the original and the converted file. While the HDD space individual files take up is barely noticeable, if you're planning on converting multiple files, it can quickly add up.
Luckily, DoNotPay also lets you compress files to make them easier to store. You can also use our award-winning app to convert online videos to MP3s, as well as download videos from social media and the web and save them on your device.
DoNotPay Offers Unmatched Functionality
DoNotPay offers a lot more functionality than a regular file converter. On top of these file management features, you'll find hundreds of different products within the app that can facilitate, streamline, or automate a wide variety of tasks, saving you time, money, and nerves!
Here are just some of the areas in which you'll find DoNotPay's assistance invaluable:
| Legal | Time-Saving | Money-Saving |
| --- | --- | --- |
| | | |
The possibilities truly are endless with DoNotPay!