Learn How To Convert M4A to WAV Hassle-Free!
The M4A format is a file extension of the AAC compression codec. It is used for compressed digital music files that are intended to be played on Apple devices.
The WAV file format was developed by Microsoft and IBM in the early 1990s, and it's used to store digital audio data.
If you want to convert your M4A files to WAV, you can do it by using different online converters or by signing up for DoNotPay. We're here to show you how to use an M4A to WAV file converter online, explain its pros and cons, and offer you a safe alternative for converting various formats, including MP3, M4A, and more.
How To Convert M4A to WAV Online
If you want to convert your M4A files online, you can do it by using one of the following online converters:
Zamzar
CloudConvert
FreeConvert
Convertio
AnyConv
All of these converters are web-based and don't require installing additional software. Here's how the conversion process works on these websites:
Upload the file you want to convert
Decide what format you want to convert it to
Wait for the conversion to be complete
Download your converted file
There is another option when it comes to converting files, and that's using downloadable programs. The issue with these programs is that they require more effort and money than they're worth.
Although converting your files online using different video and audio converters seems super simple, that doesn't mean the process doesn't have certain drawbacks. We'll explain what these drawbacks are so that you can recognize and resolve them.
The Major Drawbacks of Using Free M4A to WAV Converters
There are many drawbacks to using free file converters. For one, they're often difficult to use and don't have all the features you need to get the file you want hassle-free. Also, many of them are sketchy or filled with annoying ads that constantly pop up and prolong the process.
With a lot of free file converters, the quality of the output is not as good as it could be. Some of them also cause files to become corrupted during the conversion process, meaning that data is lost and can no longer be used.
Free file converters are also limited in what formats they can convert to, which makes it harder to open them on certain devices or software that don't support those formats.
The biggest issue regarding free online converters lies in the lack of security. Your sensitive info and files are usually not protected as well as they should be, which makes it easy for other parties to gain access to and use them for malicious purposes.
You Can Convert From M4A to WAV Securely With DoNotPay
Forget about wasting time and effort trying to find a reliable and trustworthy online converter! DoNotPay is here to convert your files in seconds without risking the safety of your data. We ensure the process is entirely secure by removing your data 24 hours after the conversion. You can also use our app on both Mac and Windows and convert any number of files that you want! Here's how to start converting your files safely once you access DoNotPay:
Open the File Converter product
Upload your M4A file
Select WAV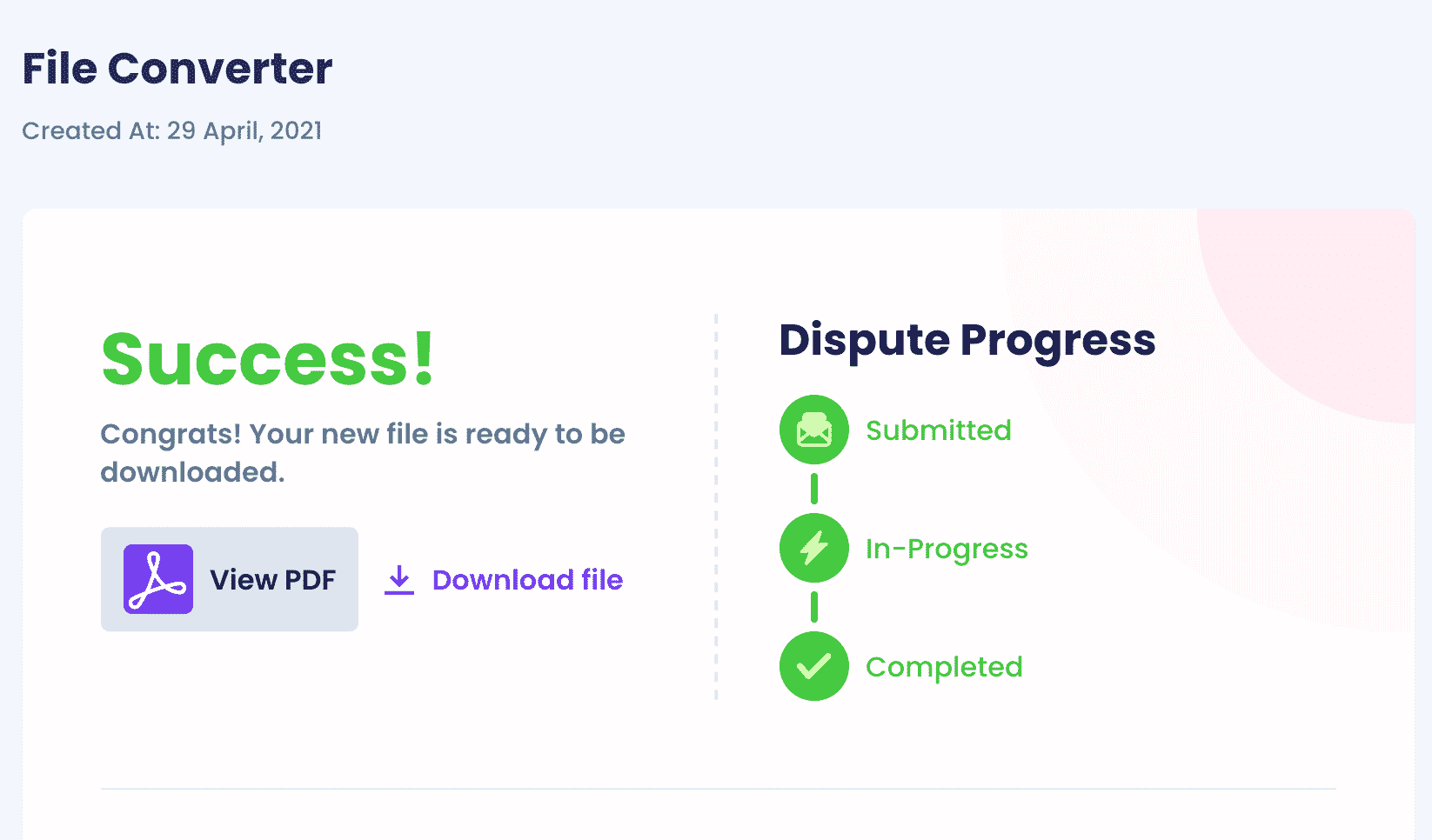 Your file will be converted in a few seconds, and you'll be able to download it from the My Disputes page easily.
What Other File Types Can DoNotPay Convert?
Converting your M4A files to WAV isn't everything we can do for you! With DoNotPay's File Converter product, you can convert a variety of other file types as well! Check out the table below to see some of the other files you'll be able to convert using our app:
Hundreds of Useful Features At Your Fingertips
What makes DoNotPay stand out from regular file conversion tools is the array of other features you get access to once you start using our app.
On top of converting hundreds of file types, you can also use DoNotPay to:
Compress your files

so they don't take up too much space
Download videos from social media and the web

Convert all manner of online videos into mp3 files

with a click
DoNotPay isn't just a converter, it's an app designed to make your life easier by automating tedious and complicated tasks. You'll find hundreds of different products inside our award-winning app that will help you save valuable time and money!
Create Legal Documents, Cancel Subscriptions, Appeal Parking Tickets—All With One App!
There's no shortage of tasks DoNotPay can assist you with. For example, the world's first robot lawyer can help you with all manner of legal processes, including:
You can also have DoNotPay handle tedious, time-consuming tasks like filing complaints, requesting refunds and chargebacks, canceling subscriptions, contesting parking tickets and seatbelt tickets, and fighting email spam for you.
DoNotPay can also save you hundreds of dollars each month by helping you reduce property taxes, lower your bills, and find unclaimed money in your name.