How To Convert M4A to MP3 on Macintosh in Seconds
M4A is a file format that's most commonly used to hold audio files in an AAC (Advanced Audio Coding) container format.
MP3 is one of the most widely used audio formats. It's generally used to compress and encode audio files.
If you're looking for an easy way to convert M4A to MP3 on Macintosh, you came to the right place! We'll walk you through converting your M4A files to MP3 by using a free online audio converter or iTunes, but that's not all! We'll also show you how to use DoNotPay to avoid sketchy websites and convert your files safely in only a few clicks!
How To Convert M4A to MP3 on Mac
You can convert your M4A files to MP3s in the following two ways:
By using iTunes
With free online converters
Converting M4A to MP3 via iTunes
To convert your M4A files in iTunes, follow the next steps:
Open iTunes
Select Preferences
Go to Files, then Import Settings
Change Import Using to MP3 Encoder and click on OK
Drag and drop the M4A file that you want to convert
Go to File
Select Convert
Choose Create MP3 Version
Converting M4A to MP3 Online
If you choose to convert your files with a free M4A to MP3 online converter instead, you will need to complete the following instructions:
Visit the website you want to use
Upload your M4A file
Choose MP3 as the output format
Click on Convert
Download the converted file
Although online converters are simple and easy to use, they come with their own set of disadvantages that you should learn about before deciding to use one. We're here to help you understand what issues you can run into when using a free M4A to MP3 converter online.
The Issues You Can Run Into When Using Free M4A to MP3 Converters
The issues you might run into when using a free file converter online can vary from downloading a virus to corrupting your data. Some of the most common issues that can arise when using a free file converter online are:
You may download a virus
Your data may be corrupt or deleted
The file converter automatically updates itself without giving you any options to stop or cancel the update process
Your computer keeps giving you errors because the file converter may be using more memory than it should
The conversion process is prolonged and made difficult by incessant pop-up ads
The free file converter slows down your computer by consuming too much RAM and CPU power (especially if you are accessing and opening large files)
The safety of your data isn't guaranteed. Your files can be shared with unauthorized third parties without your knowledge
DoNotPay Lets You Convert M4A to MP3 on Mac Safely and in Record Time!
With DoNotPay, you can convert your M4A files to MP3 completely safely! We make sure the entire process is safeguarded and that there are no ads annoying you during the process. You can convert your file on both Mac and Windows and expect high-quality converted files at that.
The process is streamlined to a tee as well—all you have to do is sign up for DoNotPay and follow the next three steps:
Open the File Converter product
Upload your M4A file
Select MP3 as the output format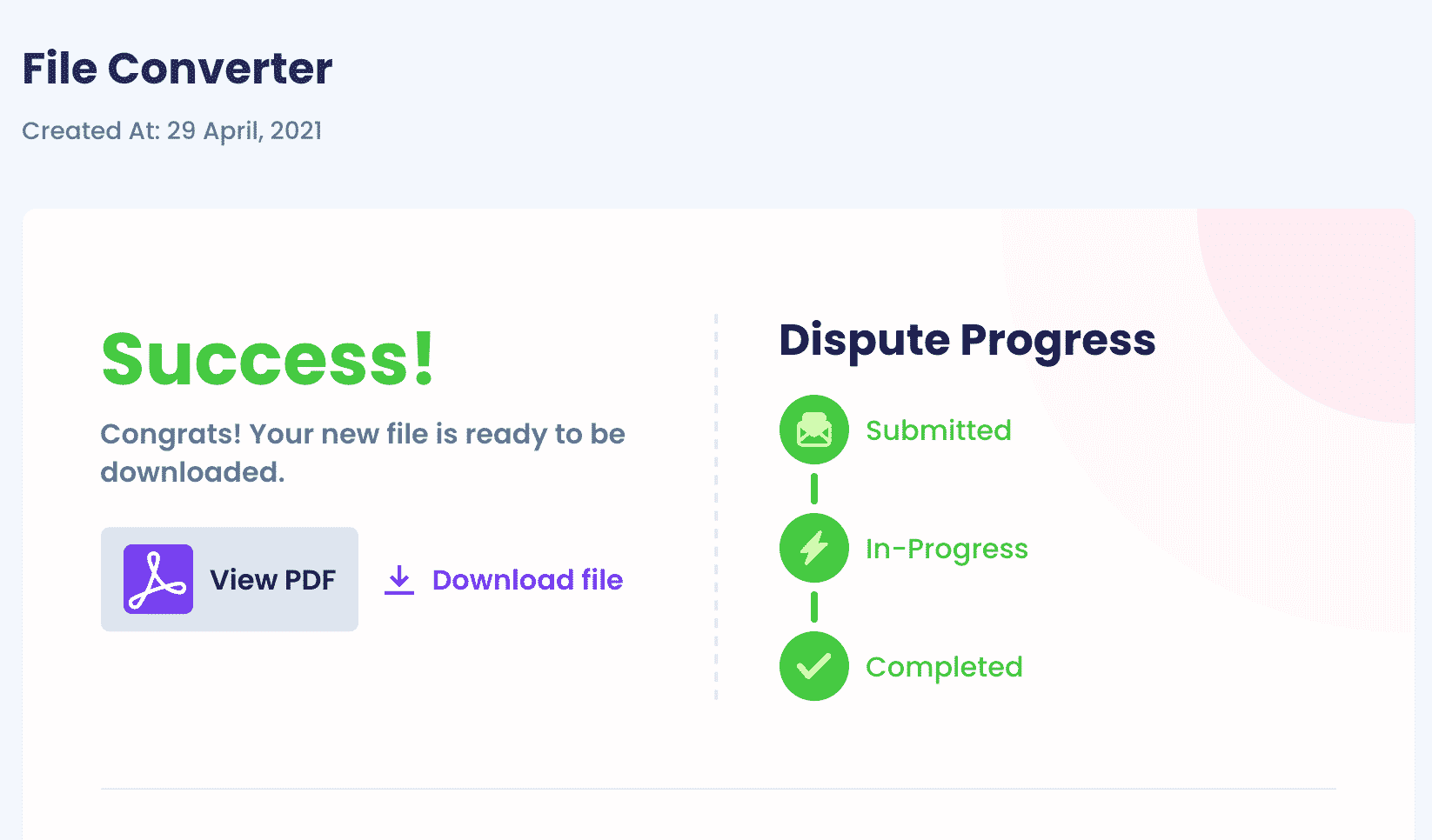 Our AI-powered app converts your file instantly, and you can download it from the My Disputes page right away.
What Other File Types Can DoNotPay Convert?
You can convert other files besides M4A to MP3 with DoNotPay! Check out the table below to see what other file types you can convert with our app easily:
Convert, Compress, and Download Anything With DoNotPay
Technology is advancing at a rapid pace, and it can be rather difficult to keep up. But there's no need to worry if you're not particularly tech-savvy—DoNotPay got you covered!
With our easy-to-use app, you can compress any file, download videos from the web, and convert online videos to MP3 files, all with a few clicks. There's absolutely no experience needed. Your files are 100% safe, and your privacy is ensured because we delete the converted and compressed files after 24 hours.
Save Time and Money With DoNotPay
On top of file conversion, DoNotPay has hundreds of different products that automate boring tasks and streamline complex processes. And the best part is—you get access to all of them, so you can use our award-winning app to save a ton of time and money.
Here are just a few examples of what DoNotPay can help you with: