Find Out How To Convert Kindle to PDF in a Flash
PDF or Portable Document Format is a file type created by Adobe Systems. Over the years, it has become one of the most widely-used document formats, and as a result, it can be viewed on many different devices, including PCs and cell phones. Kindle or AZW files are specific to Kindle devices and apps, and can't be used externally if you don't convert them into a PDF first.
The most obvious reasons why people convert Kindle to PDF are:
The ability to read Kindle books on any platform or device
A wish to keep a copy of your book on your computer
The possibility to share their books with friends who don't use Kindle
If you're looking for a reliable tool that will let you convert your favorite Kindle books into PDF files, sign up for DoNotPay. Our File Converter is fast and 100% secure, and you can use it to convert 100+ file types with a single click!
How To Convert Kindle to PDF
The first thing you should do is download an application that can convert Kindle files into PDFs. There are both free and paid options, and these applications differ greatly when it comes to customization options and output quality, so figuring out which one you want to download is the first step. Keep in mind that you may also need to install additional drivers in order for the third-party app to function properly.
Keep in mind that converting your files using an application on your computer is very different from converting it online—it involves having a little bit of skill and technical knowledge about file conversion.
Another way to convert Kindle to PDF—which is deemed more convenient by most people—is using an online file converter. This way, you won't need to install any additional software, and online converters are generally easier to use. You can check out some commonly used Kindle to PDF online converters in the table below:
| Converters | Description |
| --- | --- |
| Zamzar | Zamzar is a website that can convert dozens of different file formats. The service is free to use and the conversion process takes only a few seconds |
| CloudConvert | CloudConvert is a simple and easy-to-use tool that lets you convert almost any kind of file just by uploading it on the site and selecting the right format from the drop-down menu |
| Aconvert | AConvert is a browser-based file converter that allows you to convert files between many different formats, such as DOCX, PPT, images, and more |
Is There a Difference in Quality Between Kindle and PDF Books?
The quality of a PDF file will depend on the tool you use for the conversion. If you use a program that is designed specifically for converting Kindle files into PDFs then the files will have superior quality, but if you use other types of programs, you may notice a difference in quality. It's important to check out each app individually if you'd like to get the best results from your conversions.
What Are the Downsides of Using an Online Kindle to PDF Converter?
The biggest downside of using an online Kindle to PDF converter is that you won't be able to see what the converted PDF file looks like. This will make it difficult for you to decide if you want to download it or not. Other downsides include the fact that you won't be able to control the quality of the PDF that is created, so you might be stuck with a few blurry, unreadable, or missing pages. Also, keep in mind that any of these converters will take time to download, depending on how long your Kindle book is. The more pages there are, the longer it takes for your AZW file to be converted to PDF.
Another big issue with online converters is that they're often hosted on shady websites that might bombard you with ads, ask for personal information and then spam your inbox, or even infect your device with malware or viruses. If a site the online converter is hosted on looks sketchy, it's best not to take any chances.
How To Make Sure an Online Kindle to PDF Converter Converter I Chose Is Safe To Use?
The best way to make sure your files are in good hands is to do a little research. Consider taking the following steps to ensure the safety of your data:
Look at customer testimonials, and check out the company's contact information. Do not use sites with empty Contact Us pages
Check if the website is SSL encrypted—Legitimate websites will go to great lengths to ensure the safety of their visitors' data. Look for websites whose URL begins with https
Read the site's Terms and Conditions and Privacy Policy—If there are no links to either, you can be sure that something's nothing right. The same goes for terms and policies that are either vague or don't explain how your data is handled and stored
Use DoNotPay to Convert Kindle to PDF Without Any Hassle!
With DoNotPay, you will get a high-quality PDF every time, without having to worry about the safety of your data! All files are automatically deleted from our servers 24 hours after conversion to ensure your privacy, and our award-winning app relies on the latest encryption standards.
To start converting your Kindle files to PDF, you'll need to sign up for DoNotPay and complete the following steps:
Open the File Converter product
Upload your Kindle file
Select DoNotPay as the format you want to convert it into
That's all you need to do! Your new file will be ready in a few seconds and you will be able to download it on the My Disputes page.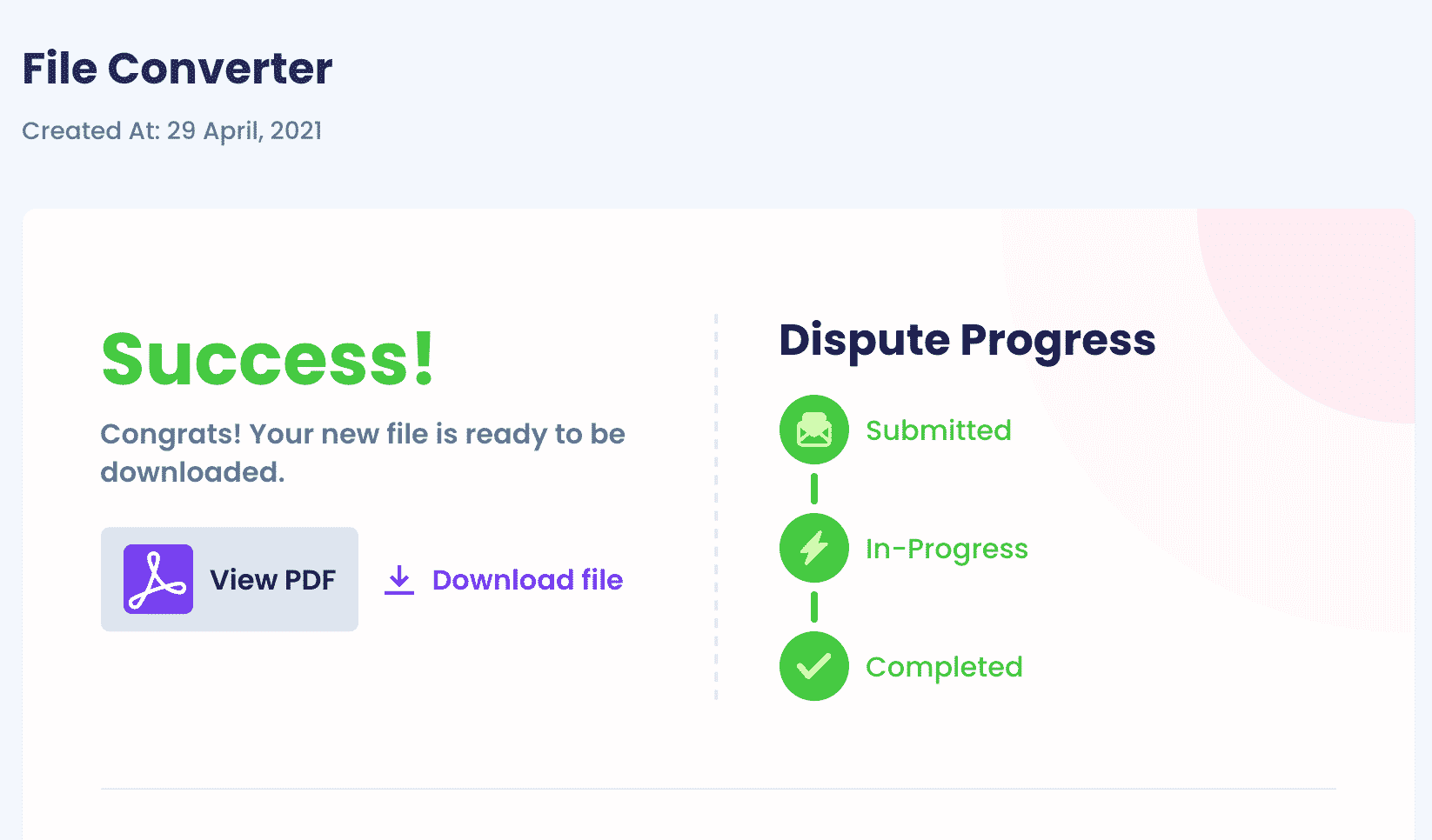 Keep in mind that you may convert any amount of files using our software. DoNotPay is browser-based, so you can convert any file regardless of which system you're using.
What Other Files Can I Convert Using DoNotPay?
Do you want to convert other files besides AZW and PDF? We got you! Take a look at the table below to find out what other types you can convert using our nifty File Converter:
Much More Than a Simple File Converter
When you're converting files, keep in mind you'll need hard disk space for both the original and the converted file. While the HDD space individual files take up is barely noticeable, if you're planning on converting multiple files, it can quickly add up.
Luckily, DoNotPay also lets you compress files to make them easier to store. You can also use our award-winning app to convert online videos to mp3s, as well as download videos from social media and the web and save them on your device.
DoNotPay Offers Unmatched Functionality
DoNotPay offers a lot more functionality than a regular file converter. What's more, on top of these file management features, you'll find hundreds of different products within the app that can facilitate, streamline, or automate a wide variety of tasks, saving you time, money, and nerves!
Here are just some of the areas in which you'll find DoNotPay's assistance invaluable:
| Legal | Time-Saving Hacks | Money-Saving |
| --- | --- | --- |
| | | |
The possibilities truly are endless with DoNotPay!