Convert JPG to SVG In Inkscape
Converting a JPG image into an SVG file can be a nightmare, but don't fret. We will give you some useful tips on how to convert JPG to SVG using Inkscape—one of the most popular vector designing apps that is free for all users and runs on Linux, Windows, and Mac.
We'll also show you a fast, easy, simple way to convert images into scalable vector graphics—With DoNotPay!
Most people convert JPG files to SVG so that they can use their images in printable, interactive web pages. Unlike raster formats seen in JPG, GIF, and PNG, an SVG image remains crisp and clear at any resolution or size. JPG files lose sharpness when they are magnified to larger sizes.
If you want to get access to DoNotPay's File Converter and convert over a hundred different file types with a single click, sign up for our service today!
How To Convert JPG to SVG Using Inkscape
Unlike bitmap graphics editors such as Gimp and Photoshop, Inkscape stores and displays vector images that contain mathematical descriptions of the shapes and objects that make up the image rather than containing actual rasterized pixels.
You should take the following steps to convert JPG files to SVG using Inkscape:
Launch Inkscape and start a new project
Import the JPG file you want to convert
Resize the image to fit your page—Holding down Ctrl while changing the size will retain the aspect ratio
Click on Path on the top toolbar and select Trace Bitmap
Select specific settings after the Trace Bitmap box pops up
Check the box next to Live Preview to check your image
Select OK if you are happy with the image and close the pop-up window
Your new SVG image will be placed on top of the old one, so drag it off the original and then delete the old JPG image. Once you do this, click File, then Save As, name the file and save it as Inkscape SVG.
If the whole process seems too complicated, you can always opt for one of the online file converters.
Online JPG to SVG Converters
JPG to SVG converters available online are easier to use for people who don't have any experience with programs like Inkscape. Some free online converters you may use to convert JPG to SVG are listed in the table below:
| Online JPG to SVG Converters | Description |
| --- | --- |
| Convertio | Convertio is a website that provides an accurate and easy-to-use file converter. It offers a variety of options if you need finer control over the conversion process |
| FreeConvert | FreeConvert is an easy-to-use utility that allows users to convert files of various types into formats that are compatible with other software or devices |
| Vector Magic | Vector Magic is a free image file converter that supports a wide range of image formats |
What Are the Disadvantages of Using an Online JPG to SVG Converter?
While free online converters are simpler than a tool like Inscape, they're both limited in capability, and come with various hidden dangers and drawbacks.
Some of the disadvantages of using an online JPG to SVG converter are:
Inconsistent image quality
Inability to edit the SVG file afterward
Loss of all transparency information from JPG
Size limitations
The risk of downloading malware or viruses is the most serious issue with online converters. A free online file converter can sound like a good deal, but skilled cybercriminals are using this as an opportunity to distribute malware and steal your data.
How To Make Sure a JPG to SVG Converter Is Safe
Before using any online file converter, it is important to verify the safety of the website. This can be done by checking for security certificates, confirming that encryption is used on all data transmissions, and/or looking at the site's privacy policy.
It is also recommended to use a reputable company or service instead of relying on free services or converter tools found in search engine results pages because they may not provide adequate security measures to protect your files from hackers.
Use DoNotPay To Convert JPG to SVG in No Time!
Avoid wasting hours trying to figure out whether an online file converter is safe to use or not. Use DoNotPay's file converter because we can convert your JPG files to SVG in just a few clicks! What's more, we'll delete them after 24 hours, so you don't have to worry about your data privacy.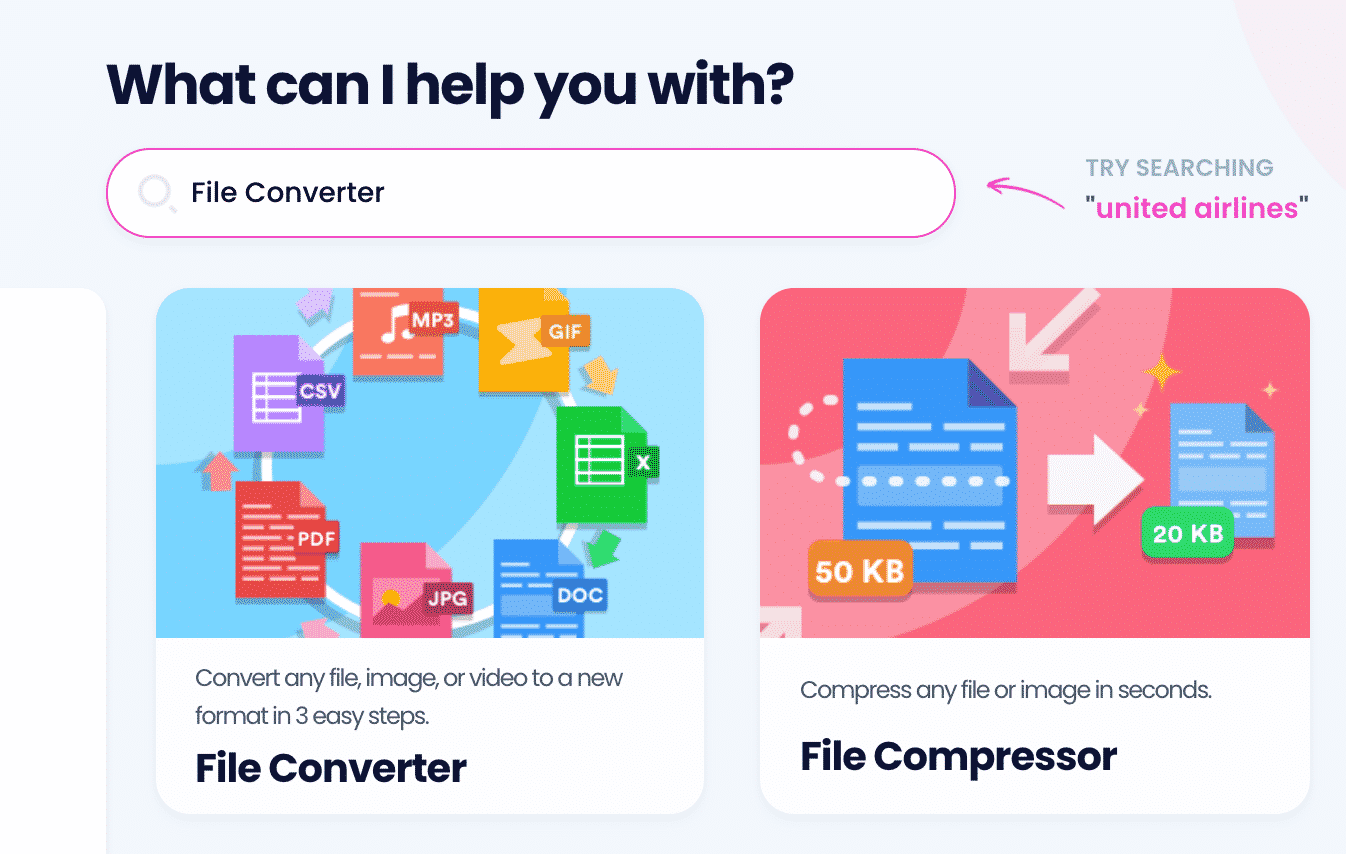 The conversion process is simple and quick. Here's what you'll need to do after logging in to your DoNotPay account:
Choose the File Converter product
Upload the file you want to convert
Select the format you want to convert it to
Download your file from the My Disputes page
What Other Files Can DoNotPay Convert?
Other than JPG and SVG files, DoNotPay can convert a variety of other files. They are listed in the table below:
Put Greedy Companies in Their Place
If being on hold with customer service and requesting refunds and cancellations is your idea of the worst nightmare, we come to the rescue!
When you create a DoNotPay account, you'll be able to do the following with ease:
If worse comes to worst, we can guide you through suing any company in small claims court.
Use DoNotPay To Resolve Numerous Issues
The number of products we offer keeps growing. From simple chores to bureaucratic tasks and serious issues, there's not much DoNotPay won't be able to handle in a few clicks.
Would you like to search for unclaimed money you may not know about? Are you trying to save your work from copyright violations? Do you want to contact government representatives? Once you have a DoNotPay account, you will get everything done in a flash.
Even if you are a victim of stalking or harassment, violent crimes, or workplace discrimination, we can help you out! DoNotPay can also perform a sex offender search in your area and give you weekly updates.
If robocalls and spam are what's bothering you, our app will free you from such annoyances for good. Whether the spam is coming via email or text, we'll know what to do.