Discover How To Convert an Image to an Embroidery File for Free
Embroidery files are used to drive embroidery machines. The files give machines the coordinates and sequence of each stitch in a design and indicate when to change colors.
If you want to embroider a design and know nothing about this process, you came to the right place. This article will go through how to convert an image to an embroidery file so that it can be sewed on a commercial machine, as well as what software is needed for this process.
We'll show you how to use a couple of programs online to convert an image to an embroidery file for free, but that's not all! If you ever need to convert your documents to more than embroidery files, DoNotPay is the perfect solution! We offer you simplified guides on how to convert your image to JPG or 3D without breaking a sweat!
Sign up now to convert any file type stress-free.
How To Convert JPG to Embroidery File
Converting your images to embroidery files can get confusing, especially if you aren't familiar with the process. We found a couple of online converters that you can use to get the job done. Check out the table below for more details:
Online Converters
Description
OnlineConvertFree.com
This is a free online converter that will let you convert your images to embroidery files. It supports a variety of formats and allows you to convert embroidery files to:

BMP
CGM
GIF
HDR
ICO
JPG
PBM
PNG
SVG
TIFF
PDF

AnyConv
AnyConv is a website that you can use to convert your images to embroidery files on Windows, Mac, iOS, or Android. The converter doesn't require you to install any additional programs, and it supports various file formats
The Common Drawbacks of Using a Free Online Embroidery File Converter
File converters are meant to simplify the conversion of different file formats, but this convenience comes with certain risks. We'll break down the dangers of using free online file converters—here are the three main categories:
Quality—Most of these online converters will mess up the quality of your files, especially if you save them numerous times
Security—If your computer isn't protected against viruses and malware, it's possible for it to get infected when using an unreliable converter
Privacy—These websites usually don't protect your privacy, so your personal info and sensitive data can be shared with third parties without you even knowing about it
How To Find a Trustworthy Embroidery File Converter Online
It's important to be careful about what tool you use and who your data goes to. That's why we've put together a list of tips on how to find a safe converter. Below are some guidelines that will help you find the best software for your needs:
Do your diligent research to make sure the service you're using is a safe source. Look for a company that has been around for a while and is well known. This can be done by finding reviews from other users. If they have been around long enough, they will have plenty of positive feedback to back them up as a safe tool
Make sure that your information is going to be safe. You don't want your work or personal files to be sold or left vulnerable because the company won't respect your privacy rights, so look up the service's privacy policy and find out how they protect your personal info
Be wary of free converters. Many companies claim to offer free converters, but there are often hidden fees involved with the software and services
Convert a Variety of Files With DoNotPay in a Snap!
If you need to convert other files but you don't want to spend an eternity looking for an easy way to do so, we got you covered! With DoNotPay, you can easily convert a plethora of different files, including:
JPG
PNG
SVG
NEF
VECTOR
ICO
The above-listed file types are only some in a sea of files we can help you with! The best part is that you won't have to worry about the safety of your files at all since we make sure your privacy is completely protected. There won't be any annoying ads popping up, and the converted files will be high quality and ready for download in a few seconds! Sign up for DoNotPay, and complete our quick three-step guide to get started:
Open the File Converter product
Upload the file you want to convert
Choose the file format you want to convert it to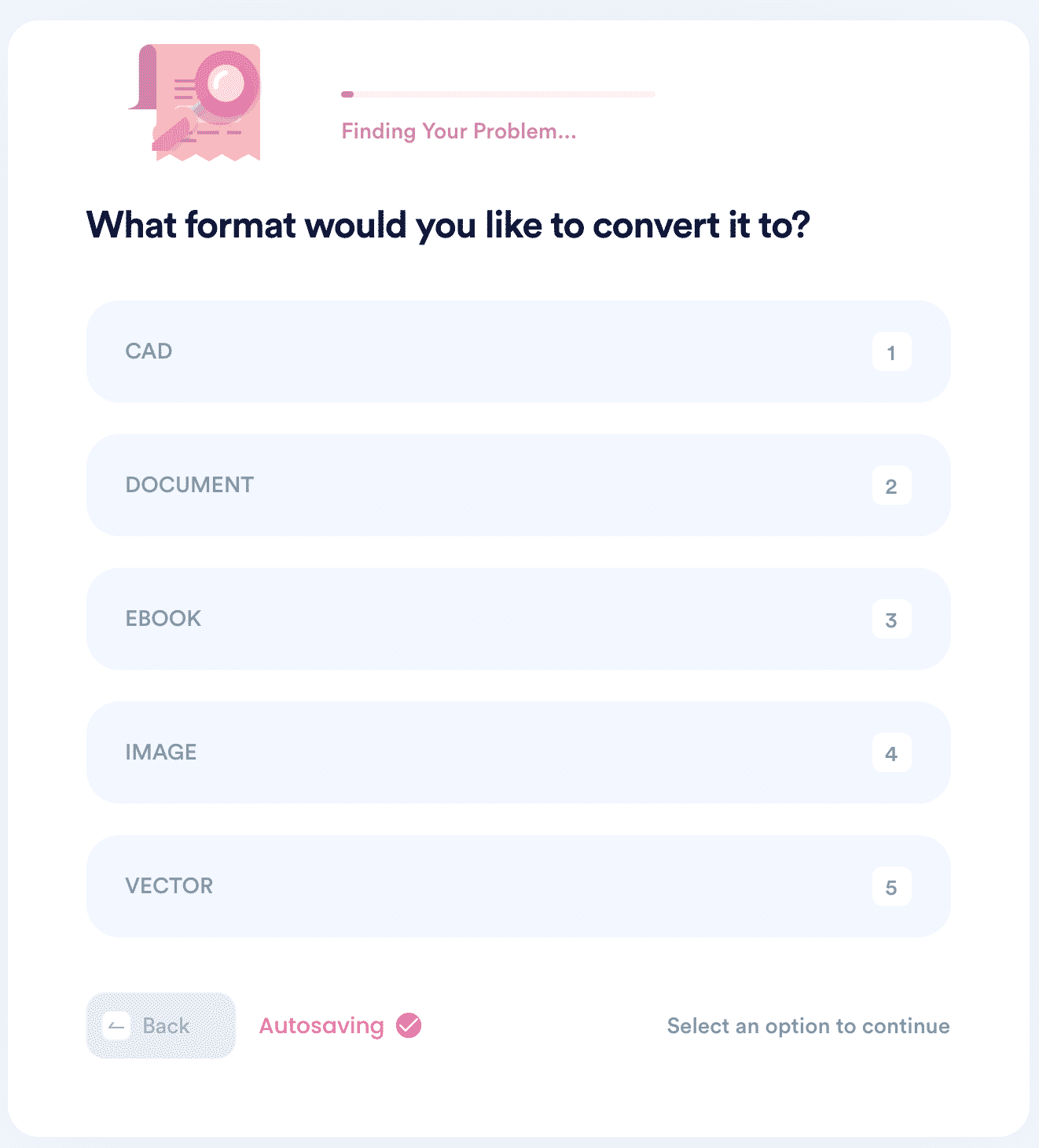 Once your files are converted, you'll be able to download them from the My Disputes page.
What Other Files Can DoNotPay Convert?
Wondering what files you can convert using DoNotPay? There is a wide range of available options to choose from! Check out the table below to find out what you can convert with our app:
DoNotPay Brings the Best Solution to Any Problem
If you want some help canceling subscriptions, requesting refunds, or signing up for free trials without being charged, our app is exactly what you need.
No task is too demanding for DoNotPay, and our product offer keeps on growing. With us, you can lower your property taxes, enter giveaways and sweepstakes, file insurance and warranty claims, and report copyright infringement. In case you also need to apply for scholarships, draft power of attorney documents, or appeal banned accounts, we'll come to the rescue.
In a few clicks, you'll get the assistance that you've been looking for!
Our App Helps You Protect Your Privacy
Keeping your privacy intact is no easy feat since more and more services request your email address, phone number, and other personal details. If you sign up for DoNotPay, that requirement will become a thing of the past!
With our Virtual Credit Card product, you'll get a randomly generated name, email address, and payment details and stay unknown. If a platform asks you to submit your phone number, you can select our Burner Phone feature and get a temporary number.
DoNotPay can also put a stop to spam emails, text messages, and bothersome robocalls. We can even help you conduct a sex offender search for your area, file anonymous HR complaints, generate child travel consent forms, and send demand letters to your noisy neighbors.