Convert Image to Base64 in a Few Clicks!
Base64 is an encoding algorithm that converts text, binary data, images, and even sound files into a readable string—which can then be saved or transferred through a network without losing data. The great thing about this file type is that a Base64 string can be easily converted back to its original binary form.
By encoding the data, you can improve the chances of it being processed correctly by different systems. One important use of Base64 is in the context of email, where some character sets are not supported. Another use is in the context of URLs, to encode data that might otherwise cause confusion with URL-interpretation schemes (HTTP, FTP), such as spaces and dots. A Base64 file contains only the letters A-Z, numbers 0-9, and the characters + (plus) and / (forward slash). This guide will show you how to convert an image to Base64 quickly, safely, and without any hassle. To start converting your files straight away, sign up for DoNotPay! Our File Converter supports over a hundred different file types and converts them in seconds, with a single click!
How To Convert Image to Base64
Using an online converter is the simplest and most common way to convert any type of file, including image-specific file types (JPG, JPEG, PNG, TIFF, etc.) and Base64. All you need is to upload your image and click on the Convert button. In most cases, your files will be ready in less than a minute.
Since finding the right file converter for your needs can be difficult, we've made a list of the commonly used image to Base64 converters:
| Converter | Description |
| --- | --- |
| Base64 Guru | Base64 Guru can convert different files into Base64 encoded text. This free online converter supports batch conversion so you can convert many files quickly |
| Code Beautify | Code Beautify allows for fast and easy conversion of files to more than 50 different formats, including Base64, HTML, PHP, JPEG, GIF, and more |
| Image2Base64 | Image2Base64 is a website that converts images into base64 encoded text |
Another way to convert image to Base64 is using third-party software, such as:
Base64Encoder
Image2HtmlLite
Base64 File Converter
Binary Image File Base64 Translator
All these programs can be downloaded from the internet for free. Some of them are based on command-line and don't have a graphical user interface. To perform the conversion through such software, you'll need to use specific commands.
Why You Should Be Careful When Using an Online Base64 Image Converter
You can never be too careful when using an online file converter. Some common issues with using one to convert your files are the following:
Low quality of converted files—Some online file converters are not well-made, which can result in bad fonts or even missing text within your converted files
The security risk posed by uploading files to a third-party online service—Some online file converters do not upload your files to a secure server which makes them easy to steal by hackers
The risk of downloading viruses—Files downloaded through the website could contain malicious code, which could then be used to attack your computer.
How To Make Sure A File Converter You Chose Is Safe
It is important to make sure you are not putting sensitive information at risk, so consider taking the following measures when using an online file converter:
Check the About section for an email address or contact form—If the site doesn't have contact info, that's a good sign that they're not actively looking for feedback or input from their customer base
Double-check the language used on the website—If the English is bad, it's a clear sign that the devs haven't put too much thought into the site, or the converter, for that matter.
Find customer reviews on Google—See what other users have to say about the tool
Find information on software updates—If the site isn't updated for a while, that's a good sign that they're not making safety a priority
Read Terms of Service and Privacy Policy—Look for information about how the websites stores and protects your data, and if they share it with third parties
Using DoNotPay Is the Best Way To Convert Your Files
DoNotPay's File Converter is the best solution for converting your files. It is 100% safe and converts all kinds of files in a matter of seconds! Your files will be automatically deleted 24 hours after conversion and no copies will be kept. You also won't have to deal with annoying ads.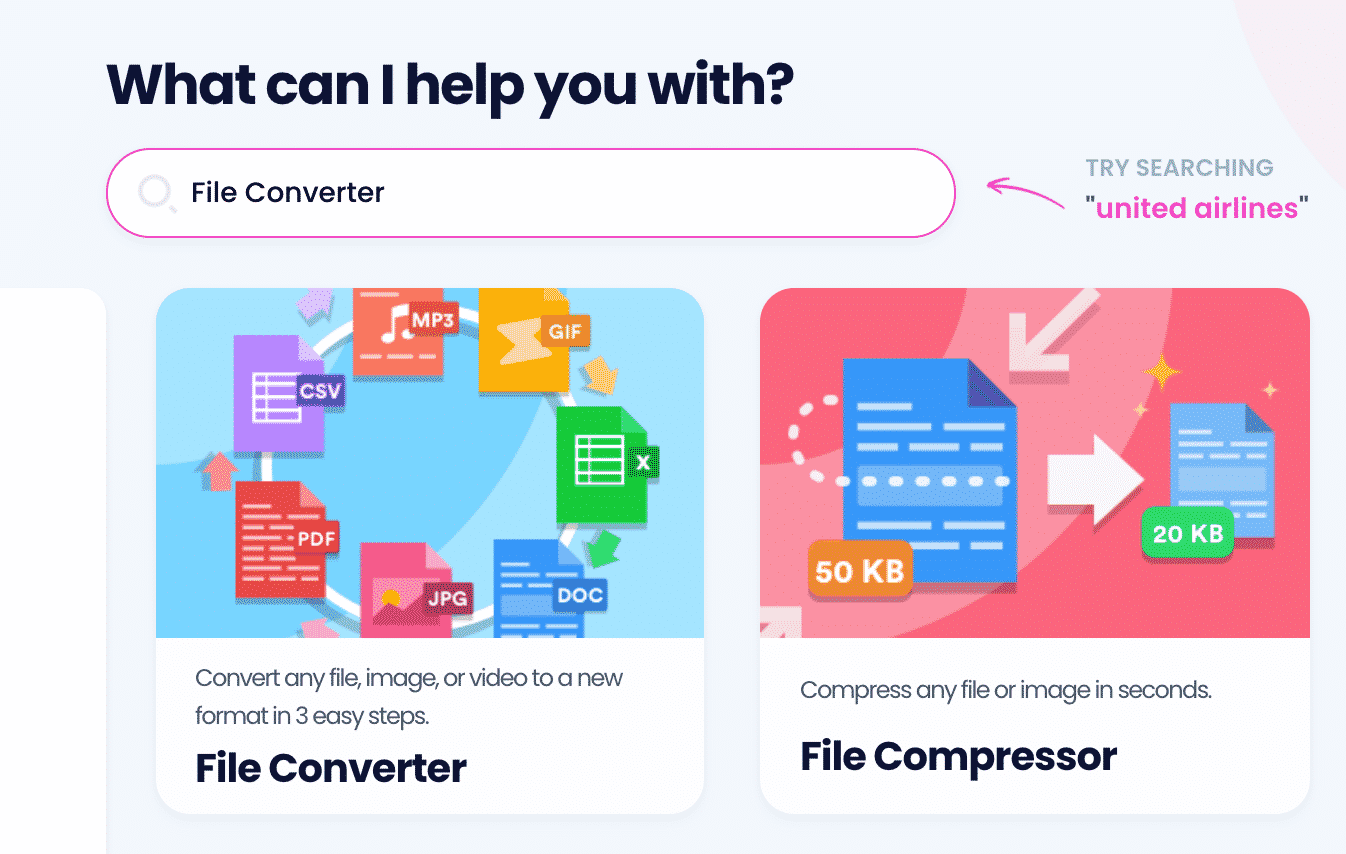 You can convert your files by logging in to your DoNotPay account and completing four simple steps:
Open the File Converter product
Upload your image file
Pick the file format you want to convert it to
Go to the My Disputes page and download your new file
We don't support Base64 conversion as of yet, but we're constantly updating our tool and will likely include this capability in the future. That said, there are over 100 different file types to choose from, so if you need to convert anything else, DoNotPay is the perfect tool for the job!
Also, there is no limit to the number of files you can convert!
What Other Files Can DoNotPay Convert?
Are you looking for an easy-to-use file converter that supports many different file formats? You've come to the right place because our File Converter is capable of converting 100+ different file types! Consult the table below to find out what other files you can convert with DoNotPay:
Much More Than a Simple File Converter
When you're converting files, keep in mind you'll need hard disk space for both the original and the converted file. While the HDD space individual files take up is barely noticeable, if you're planning on converting multiple files, it can quickly add up.
Luckily, DoNotPay also lets you compress files to make them easier to store. You can also use our award-winning app to convert online videos to mp3s, as well as download videos from social media and the web and save them on your device.
DoNotPay Offers Unmatched Functionality
DoNotPay offers a lot more functionality than a regular file converter. What's more, on top of these file management features, you'll find hundreds of different products within the app that can facilitate, streamline, or automate a wide variety of tasks, saving you time, money, and nerves!
Here are just some of the areas in which you'll find DoNotPay's assistance invaluable:
| Legal | Time-Saving Hacks | Money-Saving |
| --- | --- | --- |
| | | |
The possibilities truly are endless with DoNotPay!