Learn How To Convert an Image to 3D Online for Free
Two-dimensional (2D) data can be manipulated into a three-dimensional format, thus creating the illusion of depth. A three-dimensional (3D) image became increasingly popular for adding a third dimension—depth of field. It became a beneficial factor for industrial applications to assist in quality control processes.
Converting your 2D data into 3D can often get confusing, especially if you're not familiar with the process. We're here to help you make the transition from 2D to 3D by using online tools easily. By following our guide, you'll learn how to convert an image to 3D online even if you have absolutely no editing experience. You'll also learn about the major drawbacks of using free online converters and an alternative way to convert your files with ease. Once you register for DoNotPay, you'll gain access to our File Converter product that makes converting your image to 3D, JPG, and embroidery file a piece of cake!
How To Convert JPG to 3D Image Online
If you're looking for software to convert a 2d image into a 3d model, here are two online converters that can help you get the job done:
| Online Converters | Description |
| --- | --- |
| Selva3D | Selva3D is a website that allows you to transform 2D images into 3D models. You can use it to convert images, drawings, and logos into 3D STL files for 3D printing or CNC-ing |
| Embossify | Embossify is an online converter that you can use to convert 2D pictures and drawings into 3D STL files suitable for 3D printing or CNC routing. The converter allows you to turn JPEGs into lithophanes, reliefs, and other 3D design elements |
The Major Drawbacks of Using a Free Online 2D to 3D Image Converter
When it comes to using 2D content in 3D, there are lots of other tools available, but there are also lots of issues you can run into when using them. Here's a list of the common drawbacks you may encounter when using 2D to 3D online converters:
Conversion quality—The conversion quality is often very poor, and the converter doesn't provide a way to improve the quality in any way
Lack of tools—Adding 3D content to a 2D article is usually not very straightforward and easy, and these converters often don't offer the necessary tools to make the process any less difficult
Conversion time—You'll have to spend time both finding the appropriate website and waiting for it to convert your file, which is not too bad if you only want to convert one document. If you want to convert more than that, be prepared to spend quite some time since these sites usually don't let you convert your files in batches. Most online converters also limit the number of files you can convert daily for free
Security—The safety of your files usually isn't guaranteed when using free online converters. That means that your sensitive info can be shared with other unauthorized parties without you knowing about it
Protection—Your computer won't always be protected against viruses that you can accidentally download when converting your files online for free
How To Know If an Online 2D to 3D Image Converter Is Safe
It's not always easy searching for a safe and reliable file converter online. Some file converters may require that you download and install two or more programs, and some may be difficult or even impossible to install.
To find one that will work for you, it is important to go online to view reviews about file converters, find free demos, and compare the file converters.
If you're not quite sure whether or not the file converter you want to use is safe, it's always a good idea to check out the free trial period. If there is a free trial, do some research about the company and read up on how they compare to other companies in order to determine if it truly is safe. Also, check the company's privacy policy and terms and conditions. A safe and trustworthy company will provide you with all the security and protection info. If you can't find such details on a website, don't risk using it and try to find a different one. It's always better to be safe than sorry.
DoNotPay Helps You Convert Your Files Safely and Effortlessly!
DoNotPay can convert a wide range of files for you in seconds, and you don't have to stress about whether your data will be protected or not! We provide you with a completely secure and straightforward conversion product that you can use whenever you want. The best part is that there are no annoying ads incessantly popping up and no limits to the number of files you can convert! All you have to do is sign up for our app and complete the next steps to start converting your files easily:
Open the File Converter product
Upload the file you want to convert
Choose the file format you want to convert it to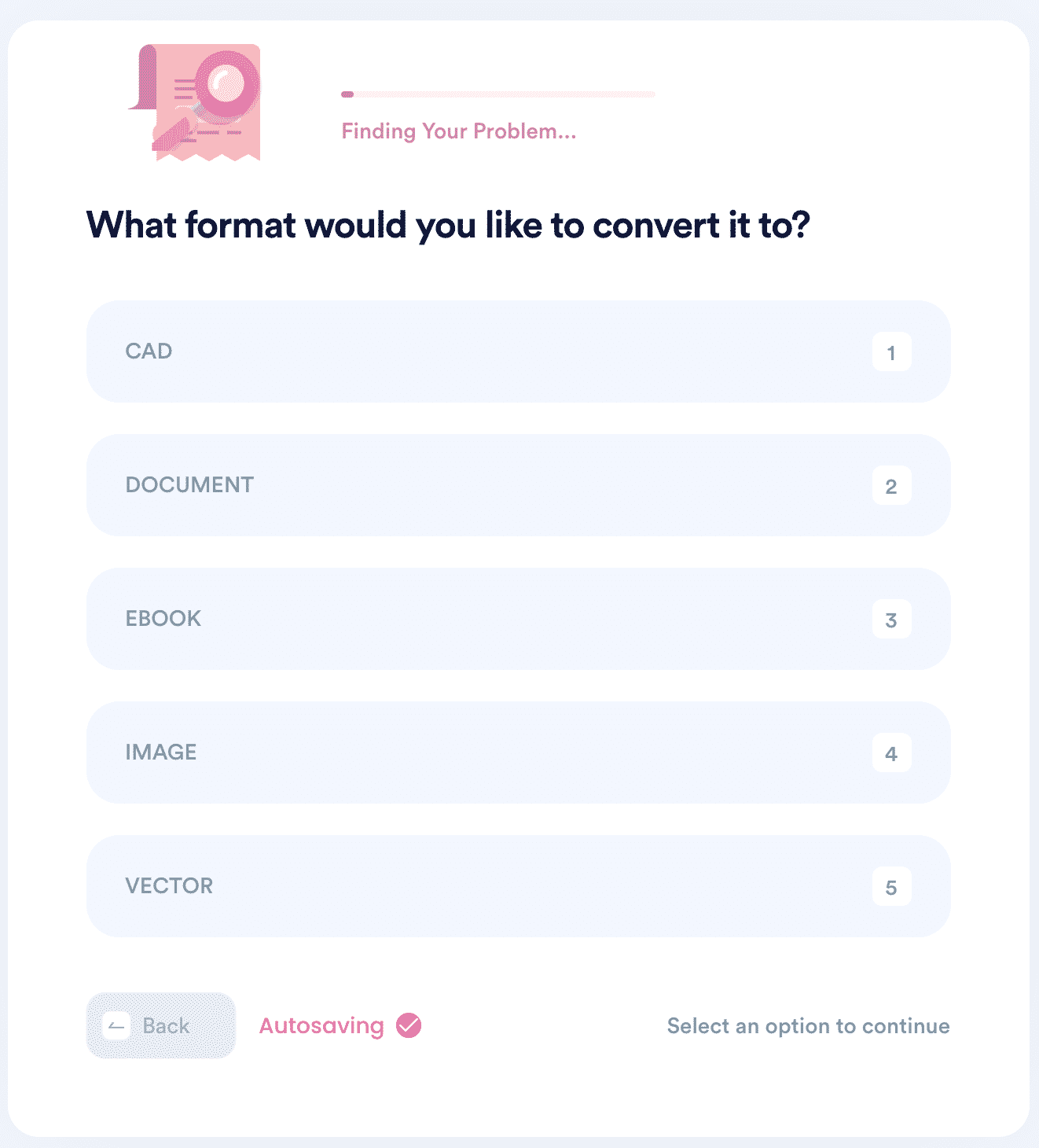 DoNotPay converts your file right away, and you can go to the My Disputes page to download it in a snap!
What Other Files Can DoNotPay Convert?
Wondering what files you can convert using our app? Check out the table below to find out:
Solve Many Annoying Issues Using Our App
Nobody likes dealing with bureaucracy. This is where our app comes in! We can help you complete the following tasks:
As soon as you sign up for DoNotPay, you will be able to handle all these chores and many more with ease.
What Else Can You Use DoNotPay For?
Aside from streamlining numerous tasks for you, our app can be of more assistance. You can rely on DoNotPay when you need to:
With our help, you can also connect with a loved one in jail, send online faxes, or create passport photos in the blink of an eye. Explore our learning center, and you'll see that there's not much DoNotPay can't do!