A Three-Step Guide on How To Convert HTML to Word With Ease
HTML is a standard markup language used to create a visual representation of textual content on web pages. It defines the structure and presentation of web documents or web pages.
Word is word processing software that was developed by Microsoft.
There are a couple of ways you could try to convert your HTML documents to Word, but the most commonly used one is with a free online converter. In this article, we'll focus on explaining how using a free online converter to convert HTML to Word works, what potential dangers you can run into when using one, and what the alternatives you can use are.
If you want to convert various formats in only a few clicks, you can sign up for DoNotPay and use our app for the safest conversion process!
How To Convert HTML to Word Online
If you decide to convert your HTML files to Word using a free online converter, you should first get all the info about the process. Check out the list below to see how the conversion process with free online converters works:
Go to the website you want to use
Upload your HTML file
Pick Word as the output format
Click on the Convert button
Download your converted file once it's ready
In case you can't decide what HTML to Word converter to use, here are some of the commonly used ones:
CloudConvert
Convertio
FreeConvert
Once you are acquainted with the conversion process and the commonly used programs, you should also learn about the common disadvantages these converters come with.
What Are the Major Disadvantages of Free HTML to Word Converters?
Many people use free file converters without knowing they are not always reliable and that they come with a number of disadvantages. Some of the common drawbacks are:
Files may be corrupted during the conversion process, so it's important to back up your files before you upload them to any online file converter
You may not know who has access to the files on these sites, so it is possible that they could be obtained by third parties without you knowing
It is also possible that free file converters will sell your information to advertisers without your consent—this means that even if you delete what you uploaded, it can still show up elsewhere
These sites may require you to subscribe before you can use them, and as they aren't as well-known as other file conversion sites, they might not be as secure
Sites that demand payment for using their services could be scams, so it's important to research the platform you're about to use before uploading your files
DoNotPay Helps You Convert HTML to Word Safely
Forget about struggling with unreliable online converters and go with a safe option instead—DoNotPay! Once you start using our app, you'll be able to convert an unlimited number of files, including HTML and Word, in a few clicks! The process is completely safeguarded, so you don't have to worry about the safety of your data at all. You can also use our app's File Converter product on any operating system.
All that it takes on your part is subscribing to DoNotPay and following the next steps:
Open the File Converter product
Upload your HTML file
Choose the output format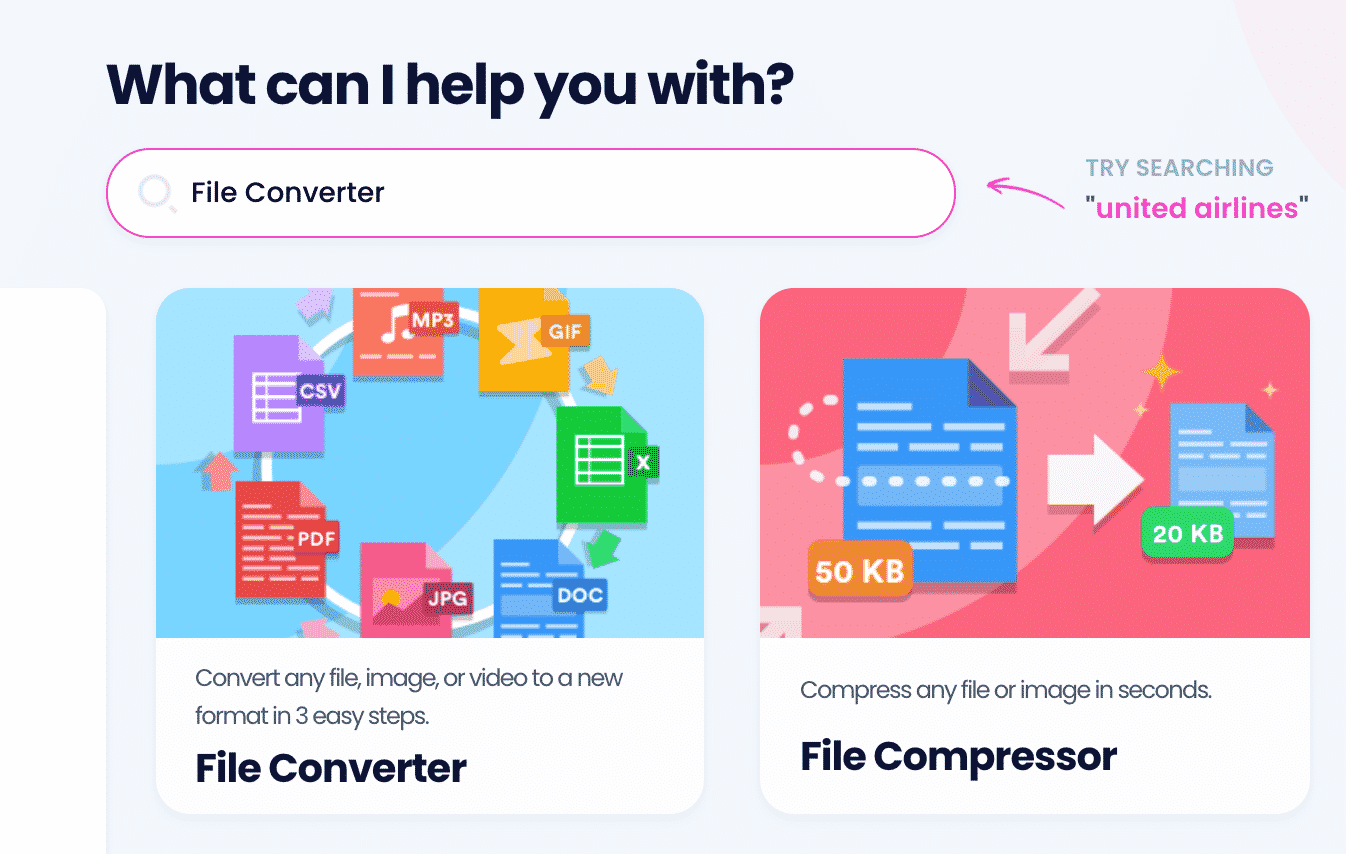 DoNotPay makes sure your file is converted safely in the next few seconds, and you can download it from the My Disputes page right away!
What Other File Types Can DoNotPay Convert?
You can convert a plethora of other file formats besides HTML and Word with DoNotPay! Check out the table below to see what else you can convert using our app:
Have All Your Files in One Place
DoNotPay is designed to help you do more with less work. Apart from converting hundreds of different file types, you can also leverage DoNotPay to compress your files to take up less space on your device.
Found a video online that you'd like to save as an MP3 to play it on the go? Whether it's a music video, a guide, a lecture, or a podcast, DoNotPay can convert all manner of online videos to MP3 files with ease! You can also use our award-winning app to download videos from social media and the web so you can enjoy them even when you don't have access to the internet.
DoNotPay Helps You Tackle All Manner of Different Tasks With Ease
Streamlining complex processes and saving you a ton of time and money in the process is what DoNotPay does best!
For instance, we can help you skip the phone queue of any company by waiting on hold in your stead. We can also help you cancel any unwanted subscription or service with a single click, as well as request a chargeback, return an unwanted item, and get a late delivery refund.
You can also use DoNotPay to find unclaimed funds in your name, lower your bills, reduce property taxes, appeal parking tickets, and dispute seatbelt tickets. Apart from saving you a ton of money each month, DoNotPay can also give you that much-needed peace of mind by helping you get rid of annoying robocalls and email spam for good!