Best Ways To Convert HTML to PDF
HTML stands for HyperText Markup Language, and is essentially the language used to create structured documents that are displayed on web pages. It uses conventions to define the structure of the document tree, specifying where elements are placed relative to each other and how their content should be presented.
Due to incompatibility across different browsers, sharing HTML files is error-prone and time-consuming. By converting your HTML file into a PDF, you'll be able to share the data in a much simpler format.
Converting HTML pages to PDF has another major benefit—it makes printing much easier. If you've ever tried to print an HTML document, you'll know that the printout usually isn't properly formatted.
If you are not exactly sure how to convert HTML to PDF, this article is a good starting point. We will describe different methods you can use to convert your files and provide step-by-step instructions that will guide you through the process smoothly. If you want to start converting your files straight away, sign up for DoNotPay. Our file converter is fast, efficient, and 100% secure!
How To Convert HTML to PDF
The quickest and easiest way to convert HTML to PDF is using an online file converter. The conversion process looks pretty much the same no matter which online converter you opt for. You'll need to upload the HTML file, choose PDF as the output file, and hit the Convert button. In a few seconds, your new PDF file will be available for download.
If you have Adobe Acrobat or Google Chrome installed on your computer, you can also use them to convert your HTML files to PDF.
Using Adobe Acrobat to Convert HTML to PDF
If you don't have Acrobat on your computer, you should download and install it on your device. Once you've done that, take the following steps:
Open the program
From the menu, choose Tools, Create PDF, and select Web Page
Enter the URL of the page or, if you have the HTML file, click browse and locate it on your device
Click Create
There are other options you could play around with in the Advanced Settings, and you can choose which levels of the website you would like to capture by selecting either the Capture Multiple Levels or the Get Entire Site option.
If you opt for Get Only (Number) Levels, you can choose to Stay on the same path or to Stay on the same server.
Adobe Acrobat is the best choice if you need to leverage these advanced features, but all the different settings can be quite confusing if you have no previous experience with the program.
Using Google Chrome to Convert HTML to PDF
If you use Google Chrome, you won't need other software, online tools, or an extension to convert HTML to PDF. The conversion process is simple and requires little effort on your side—all you need to do is:
Open your Chrome Browser and open the webpage you'd like to convert to PDF
Hit Cmd+P if you use Mac or Ctrl+P on PC
This will open the print dialog box that will offer a variety of options for customizing your document before converting it (for example, layout, color, scale, margins, etc.). Once you're happy with how your document looks, click on the dropdown menu next to Destination and select Save as PDF
Why Using an Online HTML to PDF Converter Is Not the Smartest Idea
There are also numerous online HTML to PDF file converters on the internet but not all of them are safe or reliable.
If you use an online converter to convert your HTML files to PDF, you should keep in mind that the quality of the converted file may not be as good as the original. You might also have to wait for a while for your conversion to be done if the file is large.
It's also possible that some files will not convert at all, in which case you'll be back to square one. This can happen if your internet connection has glitches during your conversion process.
Other major issues with online file converters are the following:
Inability to edit your file once it's converted
Annoying advertisements and spam
Risk of malware and viruses
How To Make Sure a Converter From HTML to PDF is Secure?
While some online converters may be a complete scam, others may share your personal information with third-party websites without your approval.
Here are some simple rules you should follow when using an online HTML to PDF file converter to protect your safety:
Never give your personal information to any third parties—Do not provide your phone number, mailing address, or email address
Check if the website encrypts all data—look for HTTPS:// at the beginning of the URL
Read the Privacy Policy—If you find that a website has no privacy policy or the existing one makes you feel uncomfortable, avoid using the service
Read through the Terms and Conditions—If there are things you don't understand or don't agree with, find another converter
Check the company's reputation—You can do it by reading user reviews
Use DoNotPay To Convert Your Files Safely!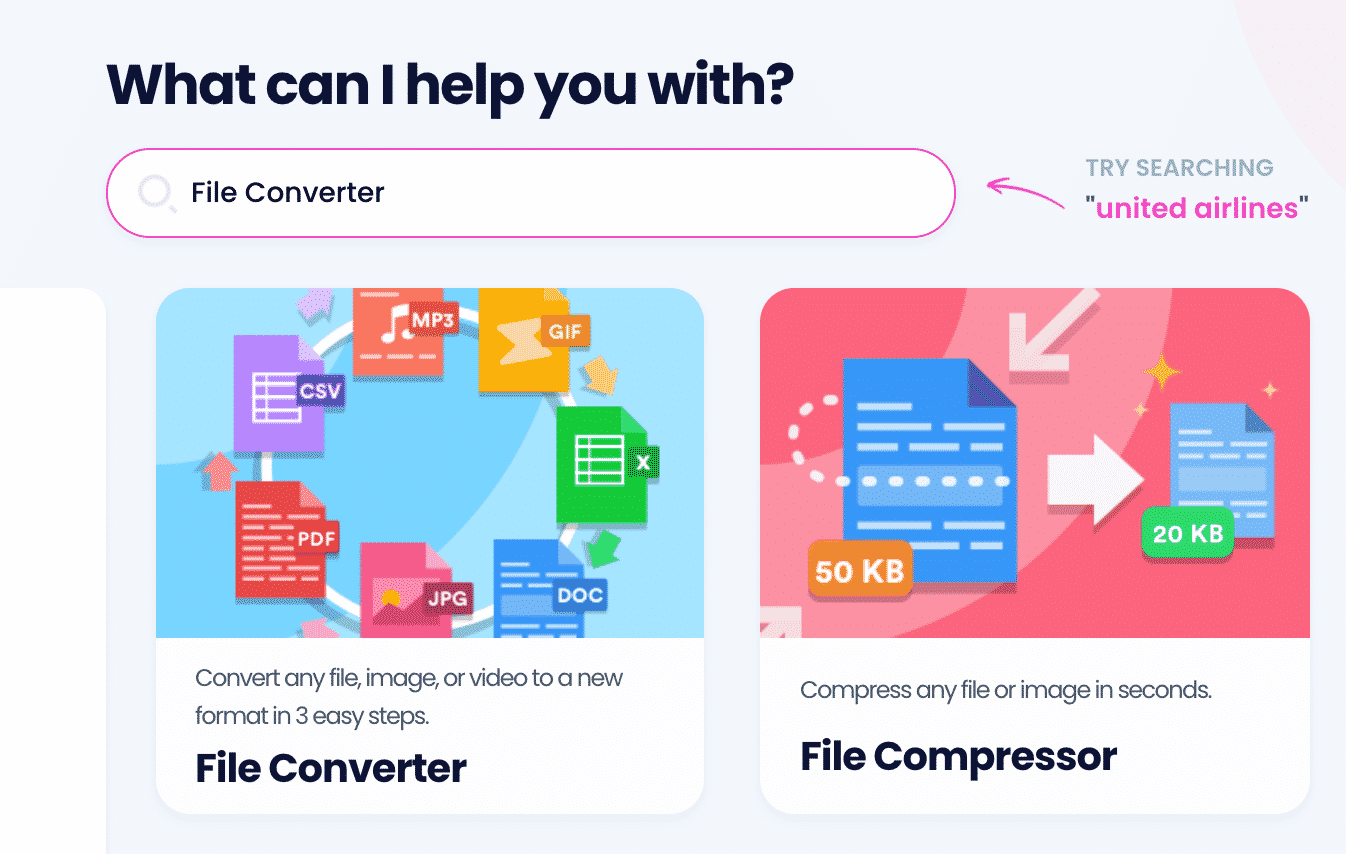 Using DoNotPay, you won't have to worry about the safety of your files. We will delete them after 24 hours to protect your privacy. To start converting your files, take the following steps:
Log in to your DoNotPay account and find the File Converter product
Upload your HTML file
Select PDF as the format you want to convert it to
The new file will be ready in a few seconds and you can download it on the My Disputes page.
What Other FIles Can Be Converted Using DoNotPay?
DoNotPay is here to help you convert a wide range of files! To find out what these are, take a look at the table below:
Download and Compress Anything With DoNotPay
Converting hundreds of different file types is just one of many DoNotPay's file-management capabilities. Once you start using our app, you'll also be able to compress files in seconds, convert online videos to mp3s so you can play your favorite tunes on your PC and phone, as well as download videos from the web with a single click.
Once you understand how convenient and easy-to-use DoNotPay is, and once you understand how much time and energy it saves you, you'll never do any of these tasks manually again!
What Else Can DoNotPay Do?
DoNotPay is an ever-expanding app. We're constantly adding new products and features that will save you time, money, and energy!
From simplifying complex legal processes like Creating a Power of Attorney or drafting a will, to suing companies in small claims court, DoNotPay does everything in its power to improve the quality of life of the average person.
Are you sick and tired of annoying robocalls and email spam? Let us take care of it and enjoy your peace of mind.
Don't want to spend hours waiting on hold or filling out dozens of forms? Use DoNotPay to jump the phone queue, schedule a DMV visit, or cancel an unwanted service or subscription in seconds.
This is just a fraction of what DoNotPay can do for you! Sign up today and see for yourself why over 150,000 people rely on our award-winning app each month.