Tips on How To Convert HEIC to PNG Without Breaking a Sweat
High-efficiency Image File Format (HEIC or HEIF) is a new image format that can store both photos and high-definition videos. It was created by the Moving Picture Experts Group (MPEG) as an alternative to the Joint Photographic Experts Group (JPEG) format.
PNG stands for Portable Network Graphics, which is a raster image format that offers lossless data compression and transparency support.
If you want to convert HEIC to PNG or JPG, you can do it by using different online converters. We're here to explain how these online converters work and offer you a couple of commonly used options. You can also avoid using shady platforms and opt for DoNotPay instead. The service our app provides is completely secure, and you can use it on any operating system (such as Linux, Windows, and Mac).
Sign up now to get access to our File Converter feature!
How To Convert HEIC to PNG
If you want to convert your files online, you can try one of the following converters:
CloudConvert
Convertio
CloudConvert
CloudConvert provides a cloud service that allows people to convert their own documents into portable, searchable, and editable files on the cloud. The service is useful for converting PDFs, Word documents, PNGs, HEICs, PowerPoint presentations, and other formats.
Convertio
Convertio is a tool that can convert all kinds of files. It allows you to change your PDF, DOCX, and XLSX files to RTF. In addition, you can also use it to convert your HEIC files to PNGs, among other formats.
The Common Downsides of Using Free Online HEIC to PNG Converters
Although they get the job done, there are many downsides to free file converters. The most common one is that these converters can put malware on your computer or steal your data. That can be extremely dangerous if you're converting important work files or any documents containing your personal info.
Another downside is that these platforms can convert the file incorrectly, which causes errors when you open the file afterward.
There are also third-party sites that can gain access to your private information and use it for malicious purposes. Free online converters usually aren't protected, so your data being acquired by unauthorized third parties can happen easily. Thankfully, you don't have to choose just about any converter out there. There are ways you can ensure the website you use is a safe one, and we're here to tell you how.
How To Ensure an Online HEIC to PNG Converter Is Safe
To make sure you avoid the risks, follow this guide and use our tips on how to find a safe and reliable converter:
Check the reviews—See what other people who used the service have to say about it. If you find positive reviews, the converter is probably safe to use, but if not, steer clear of it
Find out what the supported file types are—You want to make sure that the file type you have already has an extension that the converter supports. For example, if you are converting a DOC file, you will need a converter that supports .docx
See if the company offers support—Check whether the website provides support if you have any issues or need help with it after using it for free. Many people don't get this information until they experience a problem and must contact the developer's support team for help. If the website doesn't provide a way to reach support and ask for help, you might want to stay away from using its services and find a different one
Look up the company's privacy policy—A trustworthy and reliable company will provide all the specifics about how they intend to use your data and personal info in the privacy policy. If you can't find such details, don't risk using the said company's services and look for a different one
DoNotPay Can Convert HEIC to PNG in a Jiffy!
Forget about wasting time researching a ton of websites and making sure the one you want to use is secure! With DoNotPay, you don't have to worry about the safety of your data at all! We make sure all of your files and info are completely protected and delete them 24 hours after the conversion. You can rest assured the conversion process will be completely safe and the converted files of high quality. Subscribe to DoNotPay and follow the next steps to start converting your files right away:
Open the File Converter product
Upload your HEIC file
Click on PNG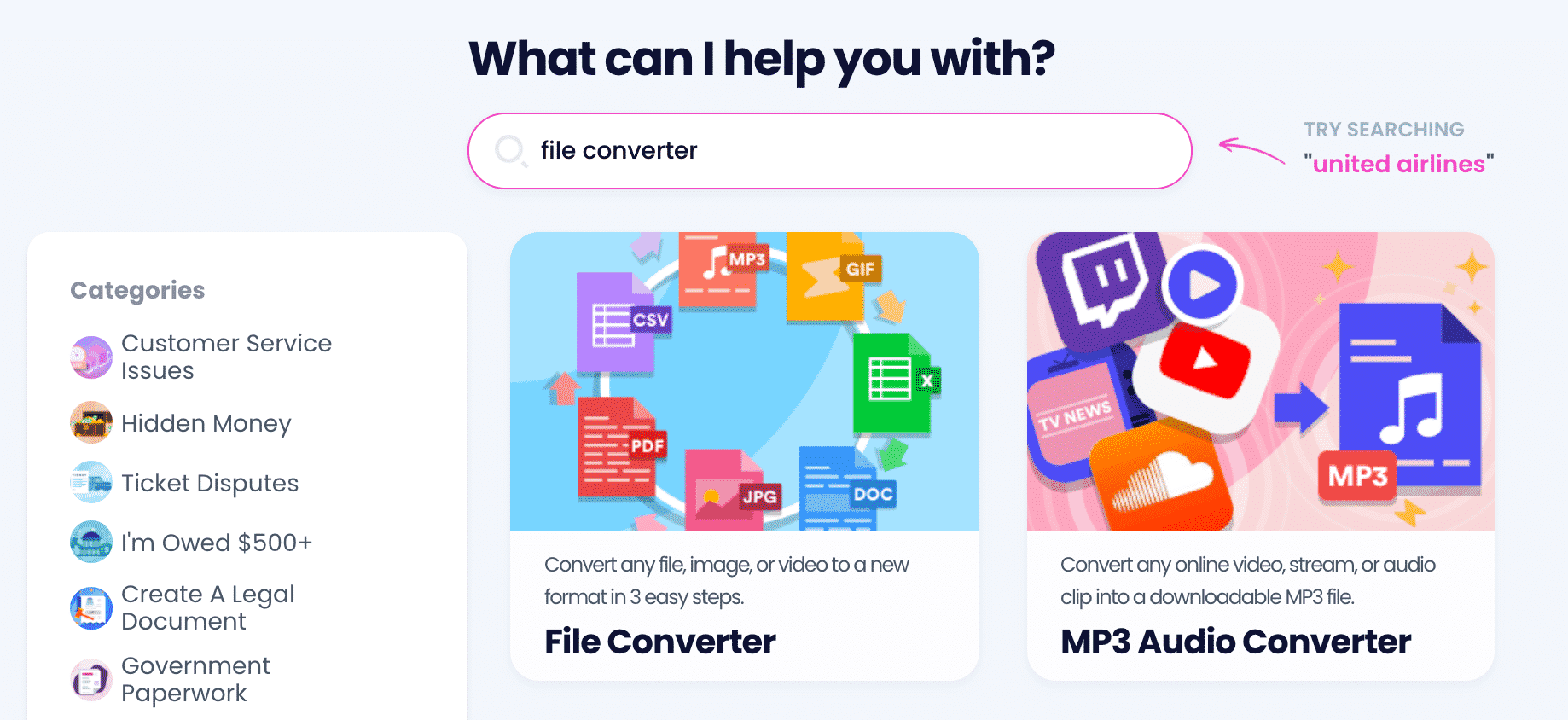 That's it! We'll convert your file instantly, and you can download it from the My Disputes tab.
What Other Files Can DoNotPay Convert?
You can achieve so much more with our app! There is no shortage of available file formats you can convert from and to in only a few clicks! Check out the table below to see a fragment of what you can convert with DoNotPay:
Save Money With the Help of DoNotPay
Are you tired of losing money on useless memberships and forgotten subscriptions? Our app can help you cancel subscriptions or memberships in a snap. Have some questions for the customer service? Use DoNotPay to jump the phone queue.
If you want to sign up for a free trial but don't want to risk being charged, get our virtual credit card. Thanks to this card, you'll enjoy any free trial stress-free. It will also save you from receiving spam emails.
In case you're also struggling to claim a warranty or insurance, we can assist you with this too. Rely on DoNotPay to solve any issue regarding purchased products—whether you need to return an item, file a chargeback request, or get a late delivery refund.
If you're dealing with a serious problem, don't bother wasting your money on lawyers—our AI-powered app can help you file a complaint, appeal a banned account, sue anyone in small claims court, and draw up various legal documents!
DoNotPay Also Helps You Earn Money
Our app is an expert at saving money, but we can also assist you in earning some. You can use DoNotPay to find unclaimed funds under your name, sign up for paid clinical trials, and get victims' compensation. If you want to redeem your gift cards for cash, enter numerous sweepstakes, and get compensated for a delayed flight, count on our help!