A Quick Guide on How To Convert HEIC to PDF In Seconds
High-Efficiency Image Format (HEIC) is an image file format developed by Moving Picture Experts Group (MPEG). HEIC can store other media streams besides images, such as timed text, audio, and video.
PDF stands for Portable Document Format. It's a document that contains text, images, and other information and does not require any special reader program to open.
If you need to convert HEIC to PDF, we'll walk you through the conversion process step by step. The most common way to convert your files is by using free online converters, so we'll focus on explaining the conversion process with those converters, but that's not all. We'll also list some of the common problems you may encounter with these conversion tools and offer you a reliable and convenient alternative—DoNotPay. Once you register for our app, you'll be able to convert HEIC to PDF in three simple steps safely!
How To Convert HEIC to PDF Online
The most common way to convert any file type is by using free online converters. There are various free online converters that you can use to convert your HEIC files to PDFs, including:
FreeConvert
Convertio
CloudConvert
Most of them work in the same way—upload the file you want to be converted, choose the desired output format, and download your converted file once ready.
The problem with this conversion method is that the disadvantages of free online converters are usually overlooked because of the convenience they provide. Since the conversion process takes almost no time and the instructions are pretty straightforward, some people think there are no drawbacks when it comes to this method. The truth is that these converters come with various disadvantages, and we'll break down each one.
The Common Disadvantages of Free HEIC to PDF Converters
The internet has a plentiful supply of free online file converters, but their disadvantages can be significant. We'll go over some key points that you need to know before deciding to use a free HEIC to PDF converter online.
In many cases, free file converters come with a hefty price to pay—all those advertisements and pop-ups that make the conversion process unbearable.
These types of sites make it easy for hackers to invade your system and steal your personal information or your bank account info.
Another problem with free file conversion sites is that they are riddled with viruses. It's quite common to find malicious software on these sites.
So before you take that shortcut and download a file, remember the consequences it may have on your private info and computer system. The internet is full of cybercriminals, so free file converters may not be worth the risk.
How To Convert HEIC to PDF With DoNotPay Safely
You can make sure all of your personal info and sensitive data are completely protected by using DoNotPay to convert files! We ensure the entire conversion process is safeguarded and delete your files 24 hours after the conversion, so no other parties can gain access to them.
The quality of the files we provide is high, and there are no limits to the number of files you can convert with us! The process is also super simple—sign up for our app and follow the next three steps to convert your files like a pro:
Open the File Converter product
Upload your HEIC file
Choose PDF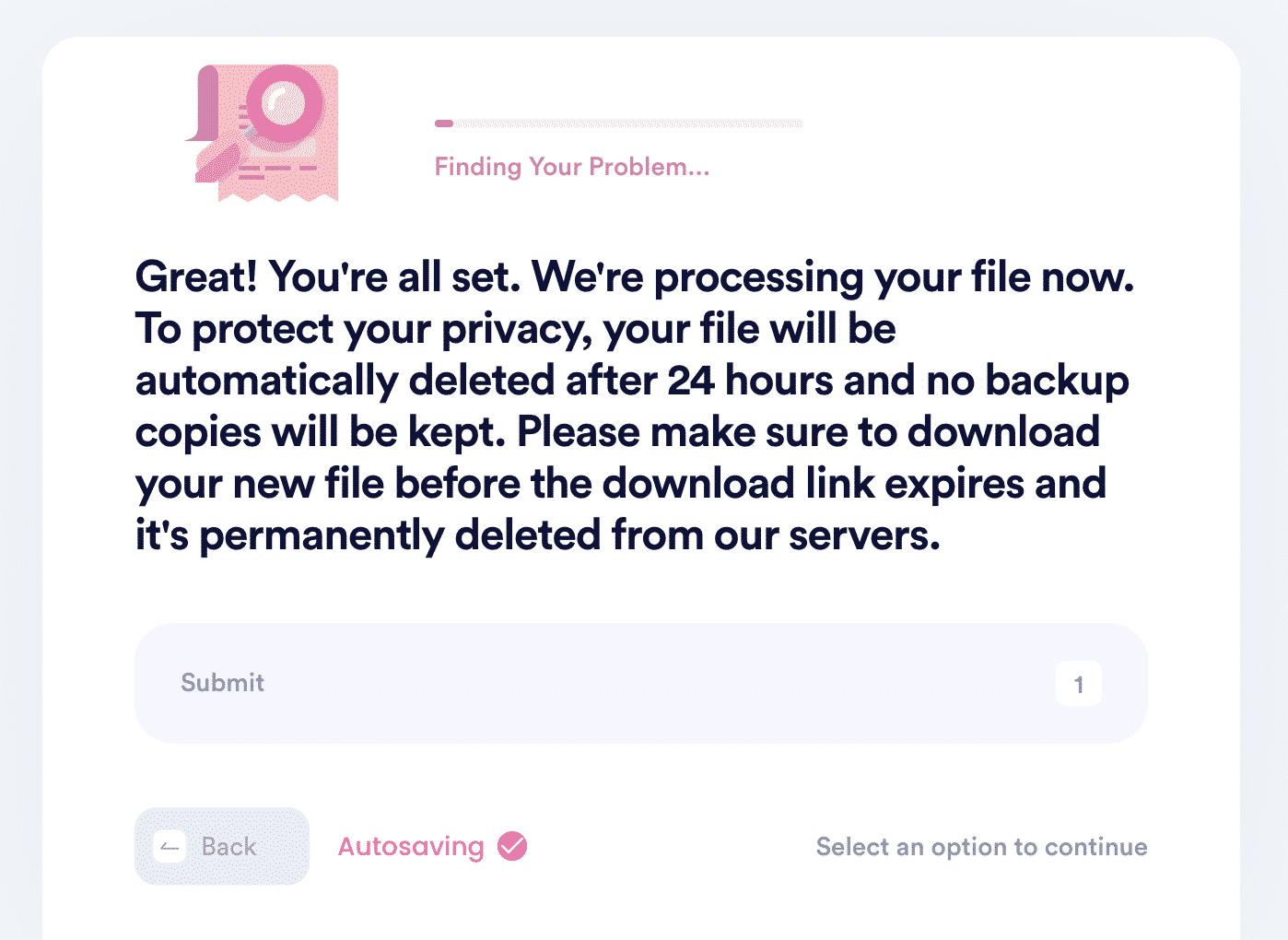 Our app will convert your file in a few seconds, and you can proceed to download it from the My Disputes page instantly!
What Other Files Can DoNotPay Convert?
DoNotPay helps you convert a plethora of other files besides HEIC and PDF! Check out the table below to see what else you can convert in seconds by using our app:
Hundreds of Useful Features at Your Fingertips
What makes DoNotPay stand out from regular file conversion tools is the array of other features you get access to once you start using our app.
On top of converting hundreds of file types, you can also use DoNotPay to:
Compress your files

so they don't take up too much space
Download videos from social media and the web

Convert all manner of online videos to MP3 files

with a click
DoNotPay isn't just a converter—it's an app designed to make your life easier by automating tedious and complicated tasks. You'll find hundreds of different products inside our award-winning app that will help you save time and money!
Create Legal Documents, Cancel Subscriptions, Appeal Parking Tickets—All With One App!
There's no shortage of tasks DoNotPay can assist you with. For example, the world's first robot lawyer can help you with all manner of legal processes, including:
You can also have DoNotPay handle tedious, time-consuming tasks, like filing complaints, requesting refunds and chargebacks, canceling subscriptions, contesting parking and seatbelt tickets, and fighting email spam for you.
DoNotPay can also save you hundreds of dollars each month by helping you reduce property taxes, lower your bills, and find unclaimed money in your name.