Convert HEIC to JPG Files Effortlessly!
When you are downloading new photos from a camera, the chances are that you will be receiving the ones in High-Efficiency Image Format (HEIF). HEIC stands for High-Efficiency Image Container. It is a free format for storing photos and videos on modern iPhones, iPods, iPads, and Apple devices (including the new Mac Pro). This format stores images with a smaller file size compared to JPG. Simply put, it uses less space in your device for more detail and smoother videos while reducing the file size by 30%.
There are many aspects to consider when choosing which image format is the best for your needs. What will they save in size? Is there any specific software you need to use? Most importantly, how do you convert these file types securely and easily?
We're here to answer all of those questions and more! Once you sign up for DoNotPay, you'll be able to use our app to convert HEIC to JPG without breaking a sweat!
How To Convert HEIC to JPG Online
Images that are saved in the HEIC format in the iPhone and iPad storage cannot be opened by computers or photo editing software. This is a problem for many users, especially those who need to use photos that were captured with their devices, such as a website screenshot or screenshot of an iOS display. Apple's solution to this problem is converting these images to JPGs before being uploadable to websites and using other apps. But how? Here are some tips for converting HEIC pictures to JPG files by using:
iMazing
Photos.app
iPhoto
Using iMazing To Convert HEIC to JPG
iMazing is an app that allows you to convert HEIC images into JPG, PDF, or TIFF in a few clicks. It's a multimedia management tool that also allows you to transfer data between your iPhone, iPad, and computer.
It also offers a wide range of functions, such as deleting the entire app collection from an iPhone to freeing up space. With this app, you can convert HEIC images to JPG and use them when needed.
Using Photos.app To Convert HEIC to JPG
Photos.app is a built-in app for Mac that allows you to manage pictures from any connected device, including iPhone, iPad, and iPod touch devices. It also gives you the ability to save images captured in any format you want, and it does not require third-party software for HEIC conversion. The only drawback is that you can only convert HEIF images to JPG and PNG files and not TIFF or other formats.
Using iPhoto To Convert HEIC to JPG
iPhoto is a free photo library app for Mac that you can use to store and manage your images captured with your iPhone or iPad. It's not for professional photographers or video editors, but it does include a number of features. One of them is the ability to save images in HEIC, HEIF, and JPEG formats at the same time. The images will be saved in the format that you chose during the process.
The Disadvantages of HEIC to JPG Online Converters
The biggest drawback of converting a HEIC to a JPG file online is the quality of your image. It will likely be poor because online converters use multiple steps that end up making an image blurry or pixelated.
You will usually have to save your HEIC image first in the file format that you prefer (JPG or PNG) and then run the converter again. The images will lose quality in both sections, so getting a perfect conversion from HEIC to JPG online is unlikely.
Another issue you can run into when using these online HEIC to JPG converters is your device getting attacked by viruses. Since the websites and apps aren't always protected and secure, cybercriminals might gain access to your sensitive information, like bank account details or passwords.
How To Check if a HEIC to JPG Converter Is Safe
Due to the variety of HEIC to JPG converters, it might be problematic for you to find one that works in your favor. Therefore, we have compiled a short list of tips that will help you pick the best HEIC image converter:
Try to find a converter that retains 100% of your images' quality and make sure that the HEIC to JPG online converter you choose does not alter your images in any way
Double-check the privacy policy when it comes to free online HEIC to JPG converter programs since they are usually not trustworthy regarding the protection of your data and might potentially be a source of viruses or malware
Visit forums and ask the webmasters that specialize in uploading pictures online for recommendations
Why DoNotPay Is Your Most Trustful HEIC to JPG Converter
When you're in need of quick file conversion, you don't want to think about what website or app is safe and waste time trying to figure out how to navigate the confusing online instructions. Since we know how frustrating this can be, we've developed a product that you can use to convert any file with ease and without worrying about your sensitive data being stored or shared with third parties!
You can rest assured your files will be removed from our app after 24 hours and get your high-quality documents in only a few clicks! Here's what to do once you register for DoNotPay:
Upload the file you want to convert
Choose the format you want to convert it to
Download your file from your My Disputes tab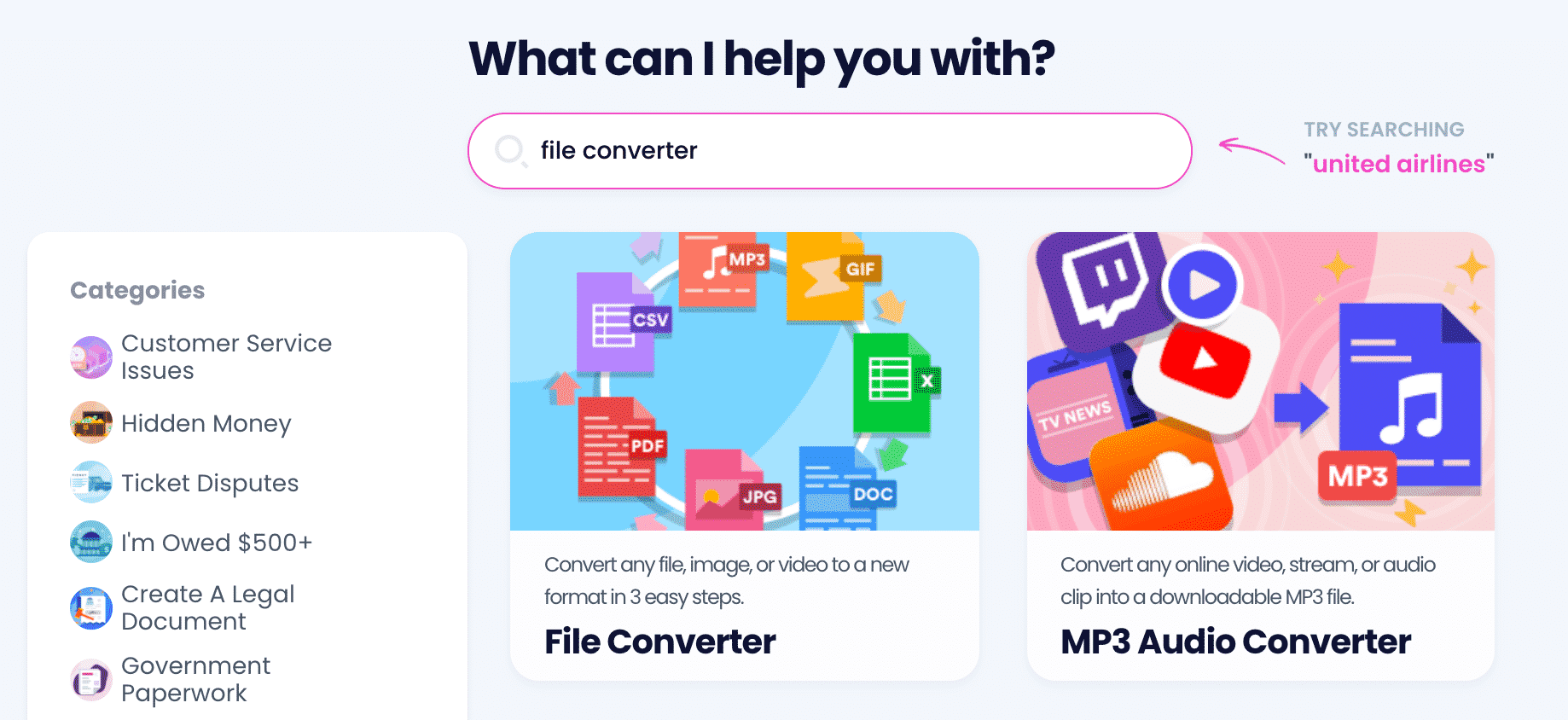 Other Files DoNotPay Converts in a Snap
There is a wide range of files that DoNotPay can convert other than HEIC or JPG! Check out the table below to see what you can convert using our app:
Solve Many Annoying Issues Using Our App
Nobody likes dealing with bureaucracy. This is where our app comes in! We can help you complete the following tasks:
As soon as you sign up for DoNotPay, you will be able to handle all these chores and many more with ease.
What Else Can You Use DoNotPay For?
Aside from streamlining numerous tasks for you, our app can be of more assistance. You can rely on DoNotPay when you need to:
With our help, you can also connect with a loved one in jail, send online faxes, or create passport photos in the blink of an eye. Explore our learning center, and you'll see that there's not much DoNotPay can't do!