Wondering How To Convert HEIC to JPG on Mac? We Got You Covered!
HEIC is the acronym for High-Efficiency Image Container. It's a new format for saving images that was launched by Apple in iOS 11. As soon as the latest version of Apple's operating system, iOS 10, was released, iPhone and iPad users started to notice that their HEIC photos were going missing. This led to a lot of online debate on whether you should convert your HEIC files before storing them on your phone. Many apps still can't open or process HEIC images.
There are two reasons that Apple introduced the High-Efficiency Image Format (HEIC). The first is to reduce photo file sizes, and the second is to improve pixel quality. All JPG images have 8-bit color depth, which means there are 256 shades of each color. The HEIF image format, on the other hand, has a color depth of 16-bit. Thus, the pixel level of HEIC images can be higher.
The main reason why people are worried about HEIC files is that they often can't be opened in their phone's gallery app. That's why we're here! We'll help you understand how the file conversion works and show you how to convert HEIC to JPG on Mac easily! Once you register for DoNotPay, you'll be able to convert HEIC to JPG without breaking a sweat! There is also a variety of other file types you'll be able to convert with our app in a flash!
How To Convert HEIC to JPG on Mac
HEIC files can be converted online using different apps or web-based programs, but they can also be converted on your Mac.
There are several ways to convert your HEIC files to JPGs on Mac, including:
Preview app
Apple's Photos
Automator
Using the Preview App To Convert to JPG on Mac
One of the common ways to convert your HEIC files on Mac is to use the built-in Preview app. The process can get slightly complicated, so we'll break it down for you step by step. Here's what you need to do:
Open your HEIC file in Preview
Click on File
Choose Export
Select JPEG
Set the compression level and a file location
Save your converted file
Using Apple's Photos To Convert to JPG on Mac
You can also use Apple's Photos app to manage your pictures and convert your HEIC files to JPG. Follow the instructions below to finish the process via Apple's Photos:
Import your HEIC images into Photos
Select the images you want to convert
Click and drag the images into any Finder window
Using Automator To Convert to JPG on Mac
Automator is another built-in Mac tool that you can use to convert your files. Navigating this tool can be overwhelming and confusing since it requires you to complete various steps. This is how it works:
Open Automator from the Applications folder
Choose Quick Action or Service
Find the Workflow receives current or Service receives selected from the drop-down menu
Select Image
Click on Library and choose Photos, then drag Change Type of Images into the grey area on the right
Set the new image format as JPG
Find your HEIC to JPG script and double-click it
Click Install
How To Convert HEIC to JPG With DoNotPay in Seconds
You can avoid spending hours trying to figure out how to navigate the confusing Mac tools. DoNotPay offers you an alternative way to convert your HEIC files to JPG in a few seconds and with barely any effort! Some of the benefits our app provides are 100% safe and secure service, no annoying ads, no limits to the number of files you can convert, and the neat option to convert any file regardless of which system you're using (such as Windows, Mac, or Linux).
Forget about struggling with confusing instructions and opt for an easy way to convert any file! You can also have peace of mind knowing we won't store your data or share it with anyone! To guarantee that, we'll delete your files after 24 hours. All you need to do to initiate the conversion process is:
Upload your HEIC file
Choose JPG as the format you want to convert it to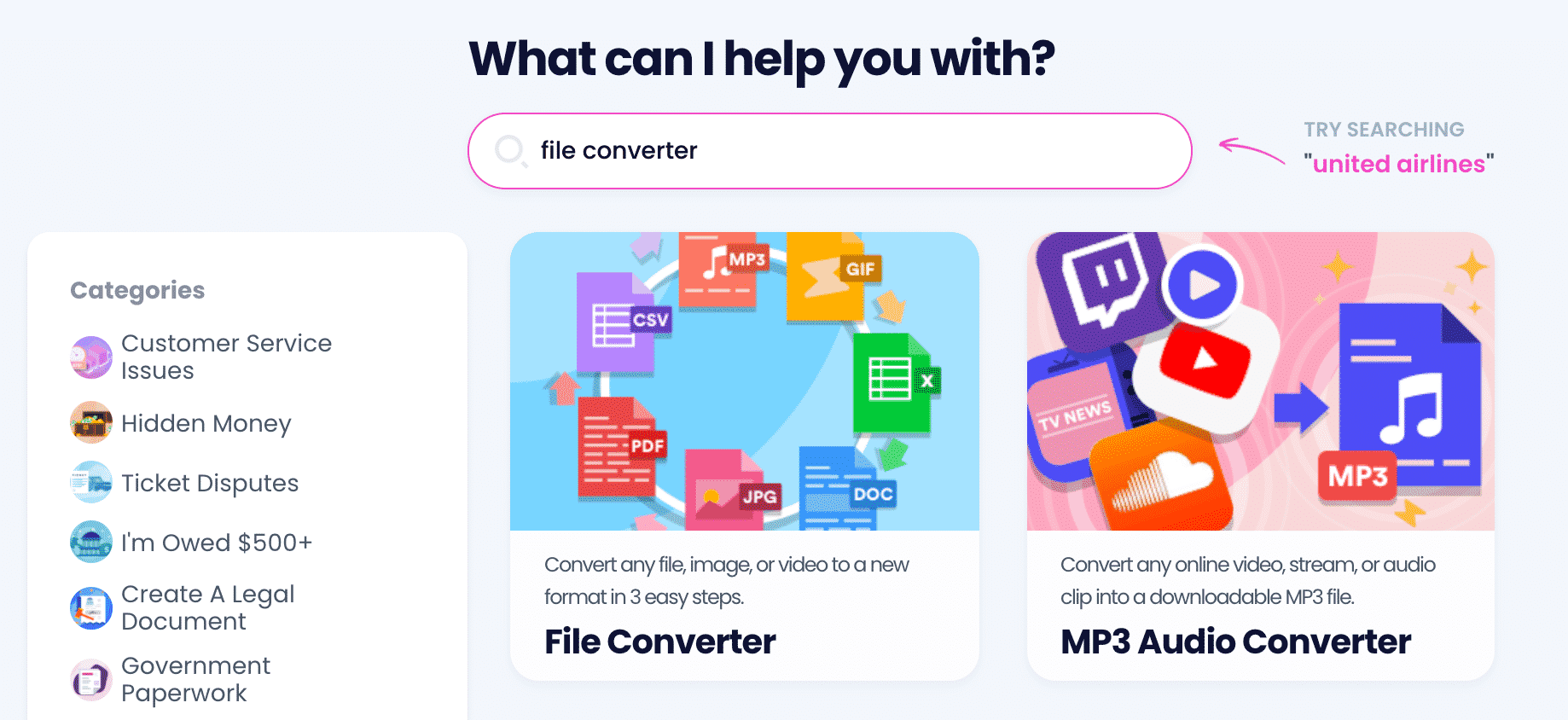 After we convert your files, you'll be able to download them from your My Disputes page.
What Other Files Can DoNotPay Convert?
Converting your HEIC files is only one in a sea of files we can convert for you! Not only can you use DoNotPay to convert any file type there is, but you can also convert as many as you want without a limit! From GIFs to transparent PNGs—we got you covered!
Check out the table below to find out how you can convert a wide range of files using our app:
DoNotPay Brings the Best Solution to Any Problem
If you want some help canceling subscriptions, requesting refunds, or signing up for free trials without being charged, our app is exactly what you need.
No task is too demanding for DoNotPay, and our product offer keeps on growing. With us, you can lower your property taxes, enter giveaways and sweepstakes, file insurance and warranty claims, and report copyright infringement. In case you also need to apply for scholarships, draft power of attorney documents, or appeal banned accounts, we'll come to the rescue.
In a few clicks, you'll get the assistance that you've been looking for!
Our App Helps You Protect Your Privacy
Keeping your privacy intact is no easy feat since more and more services request your email address, phone number, and other personal details. If you sign up for DoNotPay, that requirement will become a thing of the past!
With our Virtual Credit Card product, you'll get a randomly generated name, email address, and payment details and stay unknown. If a platform asks you to submit your phone number, you can select our Burner Phone feature and get a temporary number.
DoNotPay can also put a stop to spam emails, text messages, and bothersome robocalls. We can even help you conduct a sex offender search for your area, file anonymous HR complaints, generate child travel consent forms, and send demand letters to your noisy neighbors.