Learn How To Convert H.264 to MP4 in No Time
An H.264 file is a video file encoded with H.264 compression. It is a popular format for high-definition video, and it's often used as the video format for HDTV, Blu-ray, AVCHD camcorders, and HD DVD.
An MP4 file is a compressed video file format commonly used for playback on computers, TVs, and portable digital devices, such as iPods and iPhones. It is a digital multimedia container that holds both audio and video information and is the most common format for internet-based videos.
While MP4 is a file container format, H.264 is actually a video compression codec. It is about 1.5 to 2 times more efficient compared to MPEG-4 encoding. However, if you want to keep the high quality of the H.264 video but decrease its huge size, the best solution is to convert it to MP4.
By signing up for DoNotPay, you will get access to our nifty File Converter product, which will help you convert H.264 to MP4 in record time and with zero effort!
How To Convert H.264 to MP4
You can convert H.264 to MP4 either by using an online converter or downloadable conversion software. Online converters allow you to convert files to the desired format without having to download and install additional software first. This is especially useful when you're in a
hurry to convert your files.
If you have no experience in file conversion, you will appreciate online converters because they are incredibly easy to use. All you need to do is upload the file, select the output format, and hit Convert. Some commonly used H.264 online converters are listed in the table below:
| Converters | Description |
| --- | --- |
| AnyConv | AnyConv is a free file conversion website with a user-friendly interface |
| MiConv | MiConv is a web-based tool that allows users to convert file formats by simply selecting them from a list |
| Media.io | Media.io is a free, open-source converter toolkit that you can use to convert a variety of files from one format to another |
When it comes to downloadable or offline converters, thanks to the multiple features they offer, the output is of higher quality. However, they will take space on your computer's hard drive and require more time and effort on your part. If you don't know anything about file conversion, using an online converter might be a better idea. Here are some popular offline H.264 to MP4 converters:
H264 to MP4
MacX Video Converter
Program4Pc
The Common Issues With Using an Online H.264 to MP4 Converter
Online file converters are the quickest and most convenient way to convert your files, but, unfortunately, they are not without their pitfalls. Common issues range from technical (files getting corrupted during the conversion) to logistical (file size limits) and safety (virus infections) ones. By checking out reviews of the online converter you plan to use and examining its Privacy Policy, you can avoid privacy risks and wasting your time.
Use DoNotPay To Convert H.264 to MP4 Without Breaking a Sweat
Using our award-winning app, you can convert H.264 to MP4 and a variety of other files without worrying about your privacy. The conversion process is fast and 100% safe, without annoying ads popping up. Keep in mind that we will delete all your files from our servers 24 hours after the conversion.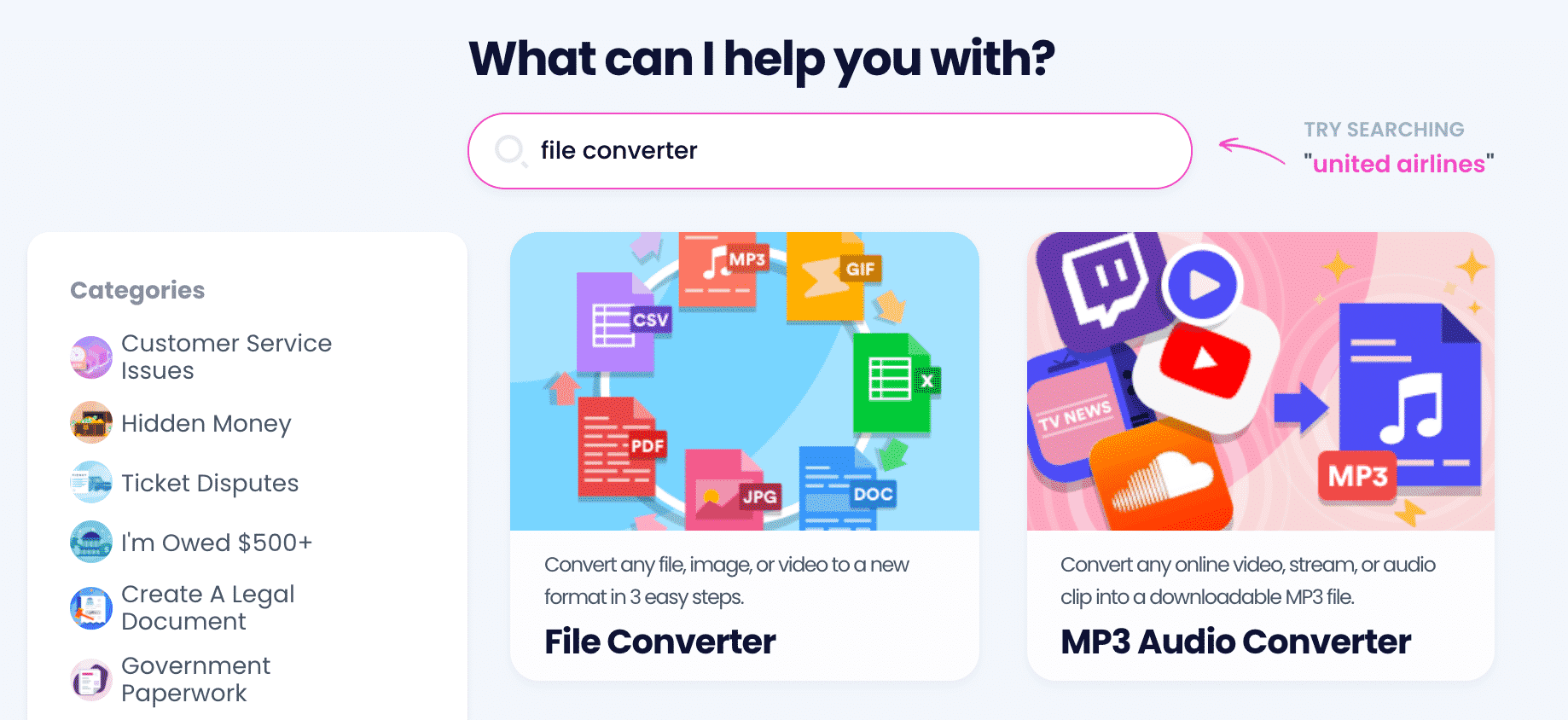 To initiate the conversion, all you need to do is log in to your DoNotPay account and follow the instructions below:
Open the File Converter product
Upload your H.264 file
Select MP4 as the output format
Your MP4 files will be ready in a couple of seconds, and you'll be able to download them from the My Disputes page.
What Other Files Can DoNotPay Convert?
DoNotPay guarantees high-quality output no matter what file you choose to convert. In the table below, you can find other files you can convert using our nifty File Converter product:
Have All Your Files in One Place
DoNotPay is designed to help you do more with less work. Apart from converting hundreds of different file types, you can also leverage DoNotPay to compress your files to take up less space on your device.
Found a video online that you'd like to save as an MP3 to play it on the go? Whether it's a music video, a guide, a lecture, or a podcast, DoNotPay can convert all manner of online videos to MP3 files with ease! You can also use our award-winning app to download videos from social media and the web so you can enjoy them even when you don't have access to the internet.
DoNotPay Helps You Tackle All Manner of Different Tasks With Ease
Streamlining complex processes and saving you a ton of time and money in the process is what DoNotPay does best!
For instance, we can help you skip the phone queue of any company by waiting on hold in your stead. We can also help you cancel any unwanted subscription or service with a single click, as well as request a chargeback, return an unwanted item, and get a late delivery refund.
You can also use DoNotPay to find unclaimed funds in your name, lower your bills, reduce property taxes, appeal parking tickets, and dispute seatbelt tickets. Apart from saving you a ton of money each month, DoNotPay can also give you that much-needed peace of mind by helping you get rid of annoying robocalls and email spam for good!