Learn How To Convert FLV to MP4 With Zero Effort!
FLV is a multimedia container file format that uses Adobe's Flash Player or AIR framework and was created by Macromedia for streaming videos on the internet. This container format can contain both audio and video tracks.
If you ever need to convert your FLV file to something more manageable, like MP4, MP3, or some other format, you can. We're here to show you how to convert FLV to MP4 using free video and audio converters, but that's not all we got in store for you! We'll also show you how to avoid sketchy websites by using DoNotPay—the most secure conversion service on the market!
How To Convert FLV to MP4
When it comes to converting files, using free online converters is the most obvious solution. Although convenient and simple, this is not always the most reliable option. Before you decide to go with it, you should get informed about how the process works and what issues you can encounter.
Firstly, here are some of the commonly used FLV to MP4 converters that you can try:
CloudConvert
Zamzar
FreeConvert
As for the conversion process, it's similar for most of these web-based converters. You have to:
Upload the file you want to convert
Decide what format you want it to be converted to
Wait for the conversion to be finished
Download your converted file once ready
Despite the process not seeming too difficult, it might not always be a smooth-sailing experience. There are certain issues that most free web-based converters cause and that you should be aware of prior to using them.
What Issues Can I Encounter When Using a Free FLV to MP4 Converter?
There is a number of online file converters that offer free downloads, but using them can cause your computer to become infected with viruses and malware.
Another potential risk is that the safety of your data won't be protected, which can result in it being shared among other unauthorized parties. This can be extremely problematic if you're converting important work files or any files containing your personal info.
The quality of any file converted online can be compromised by various issues, including bandwidth limits, lack of the right codecs, and third-party ads. These are just some of the many possible problems that could arise when working with free file converters.
You might be able to avoid these issues by using a converter from a reputable company and not from an unknown, sketchy-looking one that could put your computer at risk.
Use DoNotPay To Convert FLV to MP4 Without Breaking a Sweat!
With DoNotPay's File Converter product, you can forget about worrying about the safety of your files or their quality! Our app makes sure both your files and personal info are completely protected during the conversion process and will even remove your files after 24 hours to ensure that! The quality of the converted files will be intact, and you can convert your FLV file on both Windows and Mac—the choice is yours. There is also no limit on the number of files you can convert and no annoying ads popping up during the conversion.
Here's how to convert your file easily and stress-free with DoNotPay:
Sign up for DoNotPay and open the File Converter product
Upload your FLV file
Choose MP4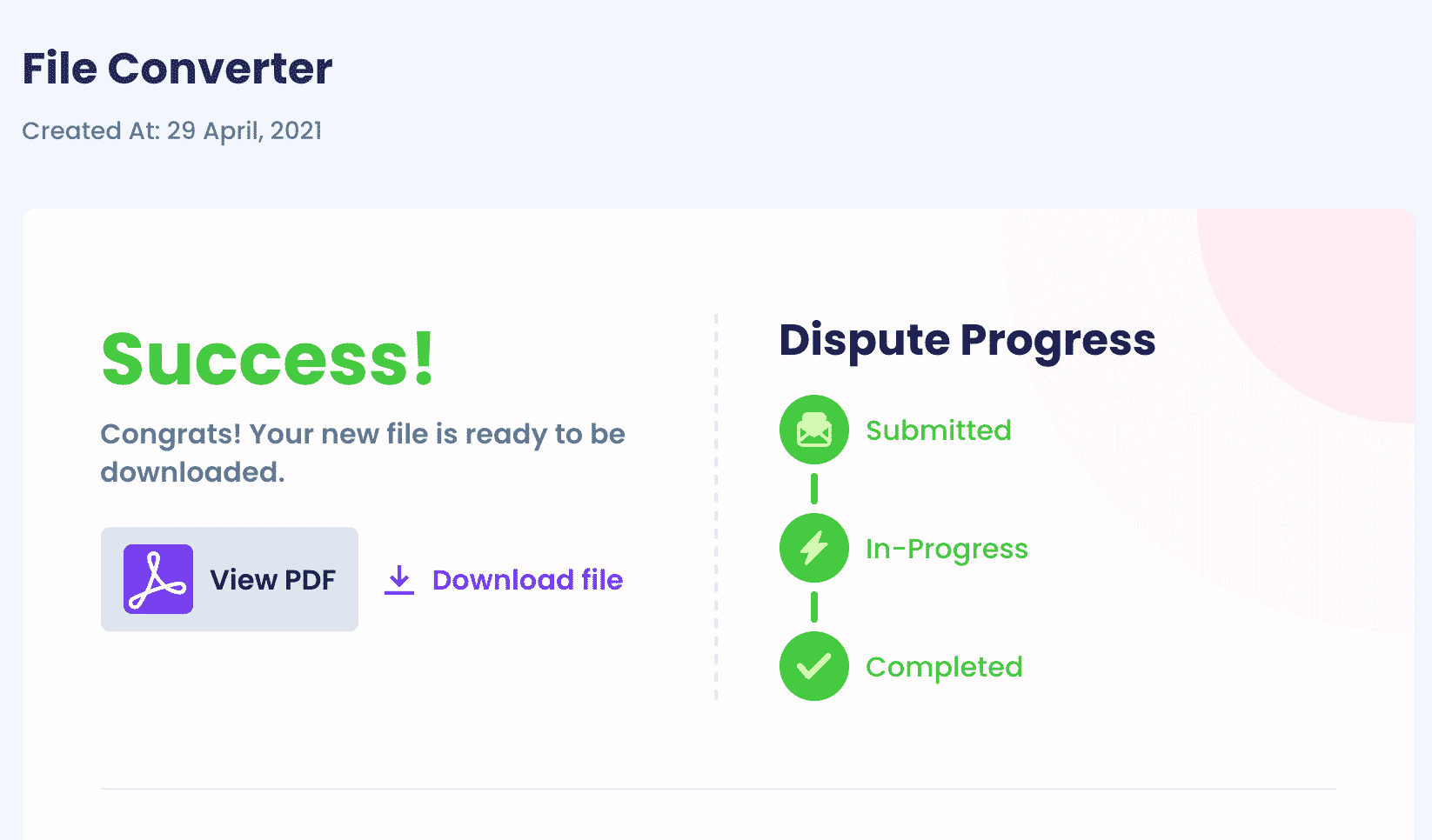 Go to the My Disputes page to download your converted file instantly!
What Other File Types Can DoNotPay Convert?
Want to convert other files besides FLVs? We got you covered! Check out the table below to see what you can convert using DoNotPay:
Much More Than a Simple File Converter
When you're converting files, keep in mind you'll need hard disk space for both the original and the converted file. While the HDD space individual files take up is barely noticeable, if you're planning on converting multiple files, it can quickly add up.
Luckily, DoNotPay also lets you compress files to make them easier to store. You can also use our award-winning app to convert online videos to MP3s, as well as download videos from social media and the web and save them on your device.
DoNotPay Offers Unmatched Functionality
DoNotPay offers a lot more functionality than a regular file converter. On top of these file management features, you'll find hundreds of different products within the app that can facilitate, streamline, or automate a wide variety of tasks, saving you time, money, and nerves!
Here are just some of the areas in which you'll find DoNotPay's assistance invaluable:
| Legal | Time-Saving | Money-Saving |
| --- | --- | --- |
| | | |
The possibilities truly are endless with DoNotPay!