Learn How To Convert FLAC to WAV in a Flash!
FLAC stands for Free Lossless Audio Codec. The FLAC files use a lossless compression method, which means they can be compressed without losing quality.
WAV is a file format used mainly for storing digital audio. It is a lossless compressed audio file that was adopted as the standard by Microsoft and Sony, among others.
If you need to convert FLAC to WAV, MP3, or other formats, we offer you a step-by-step guide on how to get it done using a free audio converter online. We'll provide all the info about how the conversion process works, what converters you can use, and what some of the common issues you may run into are.
In case you don't want to use an online converter, you can opt for a completely safe and easy-to-use conversion service instead—DoNotPay. Once you access our app, you'll be able to convert FLAC to WAV safely and in seconds!
How To Convert FLAC to WAV Online
There is no shortage of free FLAC to WAV converters you could use to convert your files online. Since the internet is full of these converters, choosing one on your own can be challenging. To help you narrow the search down, here are some of the most commonly used ones:
CloudConvert
Zamzar
Convertio
These converters aren't difficult to navigate, and they mostly work in the same way—you upload the file you want to convert, choose the output format, and download your converted file once it's ready. The conversion process doesn't take much time, and it's pretty straightforward. However, people sometimes overlook the disadvantages that these converters bring because of their convenience. The truth is that there are numerous problems associated with free web-based converters, and we're here to explain what they are.
The Problems You Can Encounter When Using Free FLAC to WAV Converters
Free file converters can come with all kinds of risks and problems that not many people realize. There's no telling what the site you're using does with your work, what happens to it after you're done, and how easy it is to gain access to later on.
One of the common issues you'll run into when using a free file converter online is that the site could have a virus, spyware, or adware attached to it.
Sometimes when you try to download a file from a free file converter online, you'll end up downloading a different program with it. This is usually because the download site wants to earn money from your download and install a free ad-supported program where they can make money from your clicks. Some of these programs are actually viruses that give hackers access to your computer and your personal info.
The biggest problem with free online converters is that there is no guarantee that your files are protected. There are sites out there that will steal your files and send your information to other parties without your knowledge or consent.
Use DoNotPay To Convert FLAC to WAV the Safe Way!
Not only does DoNotPay help you avoid all of the risks we previously explained, but it also guarantees that your converted files will be of high quality! You can use our app to convert FLAC to WAV safely on any operating system, including Mac and Windows. The process takes almost no time at all—here's what you need to do:
Access DoNotPay and open the File Converter product
Upload your FLAC file
Choose WAV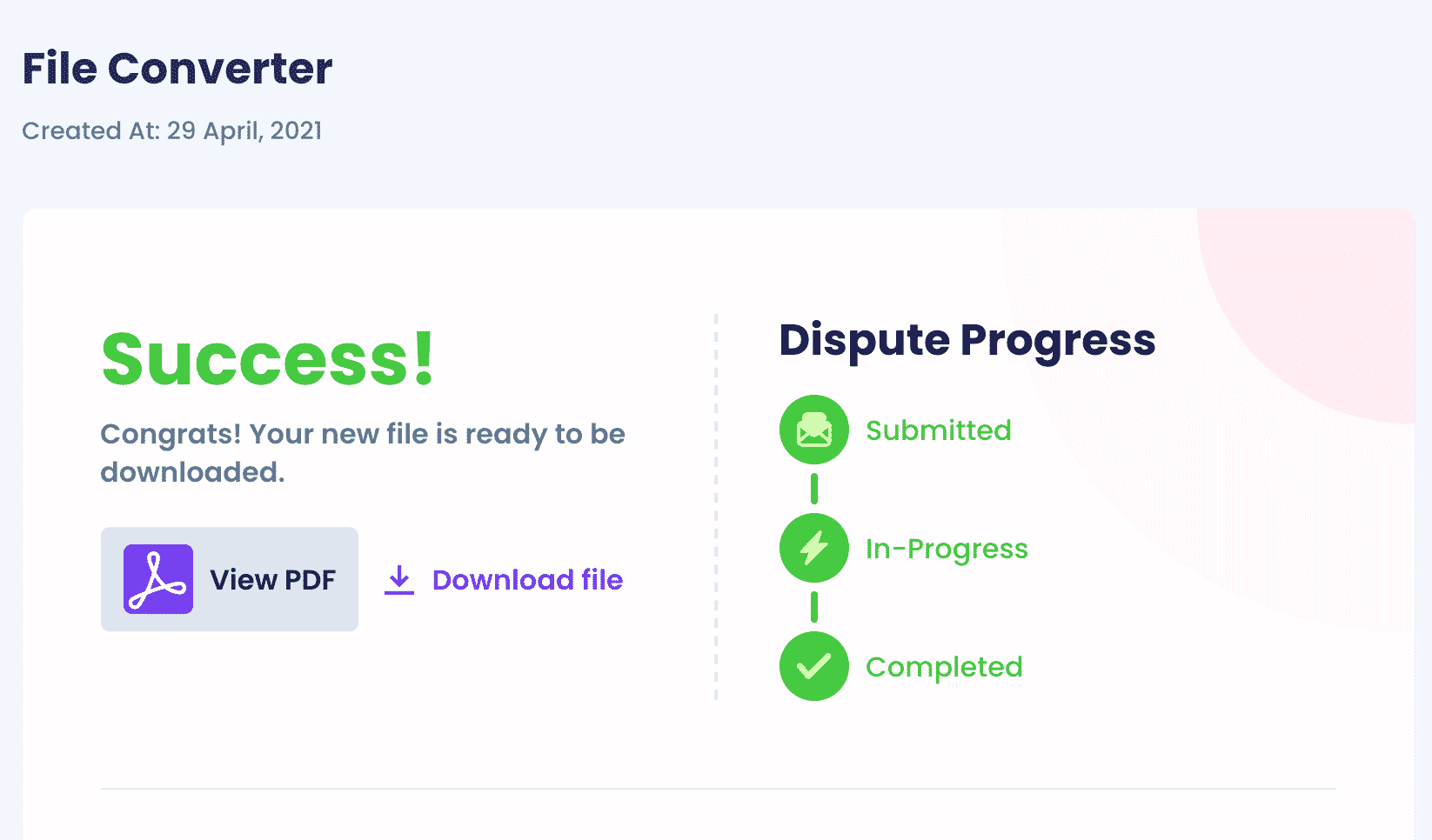 We convert your file instantly, and all that's left is to download it from the My Disputes page!
What Other File Types Can DoNotPay Convert?
Want to convert more files? We got you! Check out the table below to see what else our app can help you convert in a jiffy:
Hundreds of Useful Features at Your Fingertips
What makes DoNotPay stand out from regular file conversion tools is the array of other features you get access to once you start using our app.
On top of converting hundreds of file types, you can also use DoNotPay to:
DoNotPay isn't just a converter—it's an app designed to make your life easier by automating tedious and complicated tasks. You'll find hundreds of different products inside our award-winning app that will help you save time and money!
Create Legal Documents, Cancel Subscriptions, Appeal Parking Tickets—All With One App!
There's no shortage of tasks DoNotPay can assist you with. For example, the world's first robot lawyer can help you with all manner of legal processes, including:
You can also have DoNotPay handle tedious, time-consuming tasks, like filing complaints, requesting refunds and chargebacks, canceling subscriptions, contesting parking and seatbelt tickets, and fighting email spam for you.
DoNotPay can also save you hundreds of dollars each month by helping you reduce property taxes, lower your bills, and find unclaimed money in your name.