You Can Convert Excel to Word in 3 Simple Steps
Excel is a spreadsheet program made by Microsoft. It first appeared in the early versions of Windows and has since become one of the most frequently used programs. Excel has many uses, but it's mainly used to store data, create charts, and analyze information.
Microsoft Word is a word processing program developed by Microsoft.
If you want to convert Excel to Word, using a free online converter would be the most practical and common way to do it. However, these converters aren't always reliable and safe to use, so we're here to offer an alternative—DoNotPay. Once you register for our app, you'll be able to convert a variety of files safely and in only a few clicks!
How To Convert Excel to Word Online
Web-based converters are the least demanding way to convert files since they don't require you to install any additional programs. There is more than one free online converter that you can use to convert your Excel files to Word, including:
Online2PDF
Convertio
Smallpdf
If you're wondering how the conversion process works with them and what you'll need to do, check out the list below:
Attach the document you need converted
Choose the output format for your file
Wait for the conversion to be finished
Download your converted file
Although free online converters are known as the easiest and fastest way to convert files, they aren't the most trustworthy. You can run into various issues when using these web-based converters, and we're here to explain what these issues are.
Free Online Excel to Word Converters—Common Issues
Considering how easy it is to convert documents online, it's no surprise that most people tend to overlook the consequences. There can be serious problems if you use an unreliable Excel to Word online converter. If you're using an online converter that is not secure, the following issues can occur:
Your computer can get infected with viruses or malware that could cause damage and corrupt your data
Free online converters can make it easy for someone to gain access to your private and sensitive info and use it for malicious purposes. Cybercriminals can steal your money and/or identity
The quality of your files is usually reduced when using these free converters. Sometimes, you'll even end up with a completely unusable file
Ads will pop up during the conversion process and prolong it
DoNotPay Can Help You Convert Excel to Word in Seconds!
If you don't want to waste time trying to find the most reliable online converter, you don't have to. DoNotPay provides you with a safe and simple way to convert over 100 different file types with barely any effort! We completely streamlined the process so that you can get your high-quality converted files in record time.
You can use our File Converter product on any operating system, and you don't have to worry about pesky ads popping up and annoying you. We'll also delete your data 24 hours after the conversion to ensure no unauthorized third parties can gain access to them.
To start converting your files safely with our app, here's what you'll need to do:
Sign up for DoNotPay and open the File Converter product
Upload your Excel file
Select the output format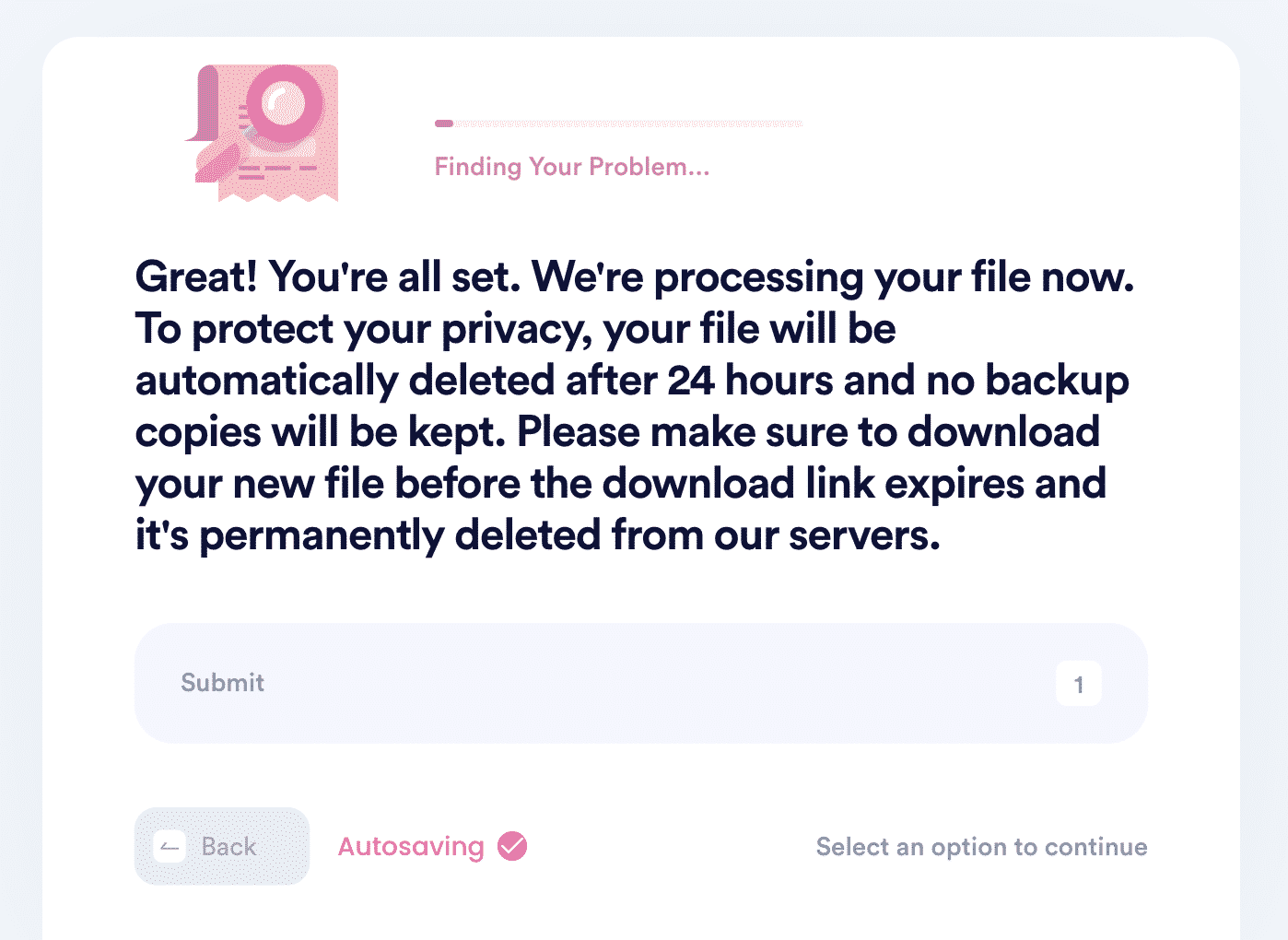 Once we convert your file, you can visit the My Disputes page and download it instantly!
What Other File Types Can DoNotPay Convert?
You can convert a ton of other file types besides Excel and Word with us! Look at the table below to see what else you can convert with DoNotPay in a snap:
Download and Compress Anything With DoNotPay
Converting hundreds of different file types is just one of many DoNotPay's file-management capabilities. Once you start using our app, you'll also be able to compress files in seconds, convert online videos to MP3s so you can play your favorite tunes on your PC and phone, as well as download videos from the web with a single click.
Once you understand how convenient and easy to use DoNotPay is, and once you understand how much time and energy it saves you, you'll never do any of these tasks manually again!
What Else Can DoNotPay Do?
DoNotPay is an ever-expanding app. We're constantly adding new products and features that will save you time, money, and energy!
From simplifying complex legal processes like creating a power of attorney and drafting a will to suing companies in small claims court, DoNotPay does everything in its power to improve the quality of life of the average person.
Are you sick and tired of annoying robocalls and email spam? Let us take care of it and enjoy your peace of mind.
Don't want to spend hours waiting on hold or filling out dozens of forms? Use DoNotPay to jump the phone queue, schedule a DMV visit, or cancel an unwanted service or subscription in seconds.
This is just a fraction of what DoNotPay can do for you! Sign up today and see for yourself why over 150,000 people rely on our award-winning app each month.