Convert Excel to PDF Without Breaking a Sweat
Microsoft Excel is a program that is primarily used to create spreadsheets. It allows you to quickly analyze data with formulas, charts, pivot tables, graphs, etc. Excel files are saved with the .XLS extension and contain all the data in a table format.
PDF is an acronym for Portable Document Format. This file format is universally supported by many operating systems and has become popular because of its usability and support for both text and images.
While Excel files are incredibly useful for storing data, it can be difficult to translate that data into a readable, easy-to-understand form. Converting Excel files into PDF is one of the best ways to accomplish this.
Other reasons why people convert Excel to PDF are:
To make the data portable and readable on other devices, such as cell phones or tablets
To archive or backup data since Excel files can be corrupted due to unrecoverable errors
The biggest advantage of converting Excel to PDF is the ability to easily save, view, and share your data. It is also important to note that text documents like PDFs are virtually immune to file corruption.
In this article, we will go over everything you need to know about converting Excel files into PDF files. If you want to start converting right away, sign up for DoNotPay to get access to our quick, reliable, easy-to-use File Converter.
How To Convert Excel to PDF
If you have Microsoft Excel installed on your computer, you can use it to convert Excel to PDF. While converting an Excel spreadsheet into a PDF file is simple, in theory, given that all you need to do is click on Save as and choose the PDF, the process is a lot more complex than it initially seems.
Before you can save or export your file, you need to make sure that the PDF will be well-organized, and that the data will be presented in an easy-to-understand manner. This involves carefully adjusting various options, such as margin, orientation, size, and background, as well as defining the print area and fitting, among other things.
That said, converting Excel to PDF doesn't have to be complicated. There are various tools that can be used for this purpose, either offline or online. If installing and downloading additional software on your device is something you'd rather avoid, consider using one of the following Excel to PDF online converters:
| Converters | Description |
| --- | --- |
| Excel2PDF | Excel2PDF is an easy-to-use online converter that allows you to convert an Excel spreadsheet into a PDF document in seconds |
| iLovePDF | iLovePDF is an online PDF conversion tool that offers users the ability to convert PDFs to any size, in a variety of file formats and more |
| Smallpdf | Smallpdf is a PDF converter and file conversion service. It can be used to convert PDF files into DOC, JPEG, PNG, TIFF, and other formats |
| PDF2Go | PDF2Go is the all-in-one online file converter for PDF to Word, PowerPoint, Excel, Visio, and more |
| Soda PDF | Soda PDF is a site that allows you to convert your PDF file to various formats |
All the programs listed in the above table are free.
What Are the Drawbacks of Using an Online Excel to PDF Converter?
If you are looking for an easy way to convert your excel files to PDF, you may lean towards an online file converter. However, there are some drawbacks associated with these online conversion tools, for example:
Editing features may be missing
Formatting may be lost
Files may take a while convert, sometimes even hours if your internet connection is slow
The quality of the converted files isn't the best—Many online converters don't work as advertised
Your privacy may be at risk—There's a chance of accidentally downloading malware or viruses if you're using a random online converter
How To Make Sure an Online Excel to PDF Converter Is Safe
One way to check if an online Excel to PDF converter is safe to use is to do a quick sweep of the company's website. There may be links to reviews from past customers who have had a good experience with the company. Also, check forums and sites dedicated to reviewing online converters to see what other people have to say about the tool.
Another way to find out whether or not an online file converter is safe or not is to check the website's security certificate. If a website has an SSL certificate, it means that your information will be encrypted while you're browsing on the site. It's also important to read the Terms of Service and Privacy Policy to learn how the company handles the users' data. If you don't agree with its terms or policies, avoid using the converter.
Useful Tips for Converting Excel To PDF
Before converting Excel to PDF, it is important that all columns are left-aligned because you can't edit them after conversion. The page setup for a PDF file should be a 4:3 ratio. Make sure that no other program is running while you convert Excel to PDF because Excel may cause it to malfunction. Lastly, it is recommended to use conversion tools that automatically synchronize all the cells in the spreadsheet.
Convert Excel to PDF in a Few Clicks With DoNotPay
Looking for a reliable Excel to PDF converter online is a time-consuming and demanding task. To avoid all the hassle, opt for DoNotPay. With our File Converter, you can convert a variety of files safely and effortlessly! Our service is easy to use and works on both Mac and Windows.
To get started, sign up for DoNotPay and complete the following steps:
Open the File Converter product
Upload your Excel file
Select PDF as the format you want to convert it to
Go to the My Disputes page and download your new file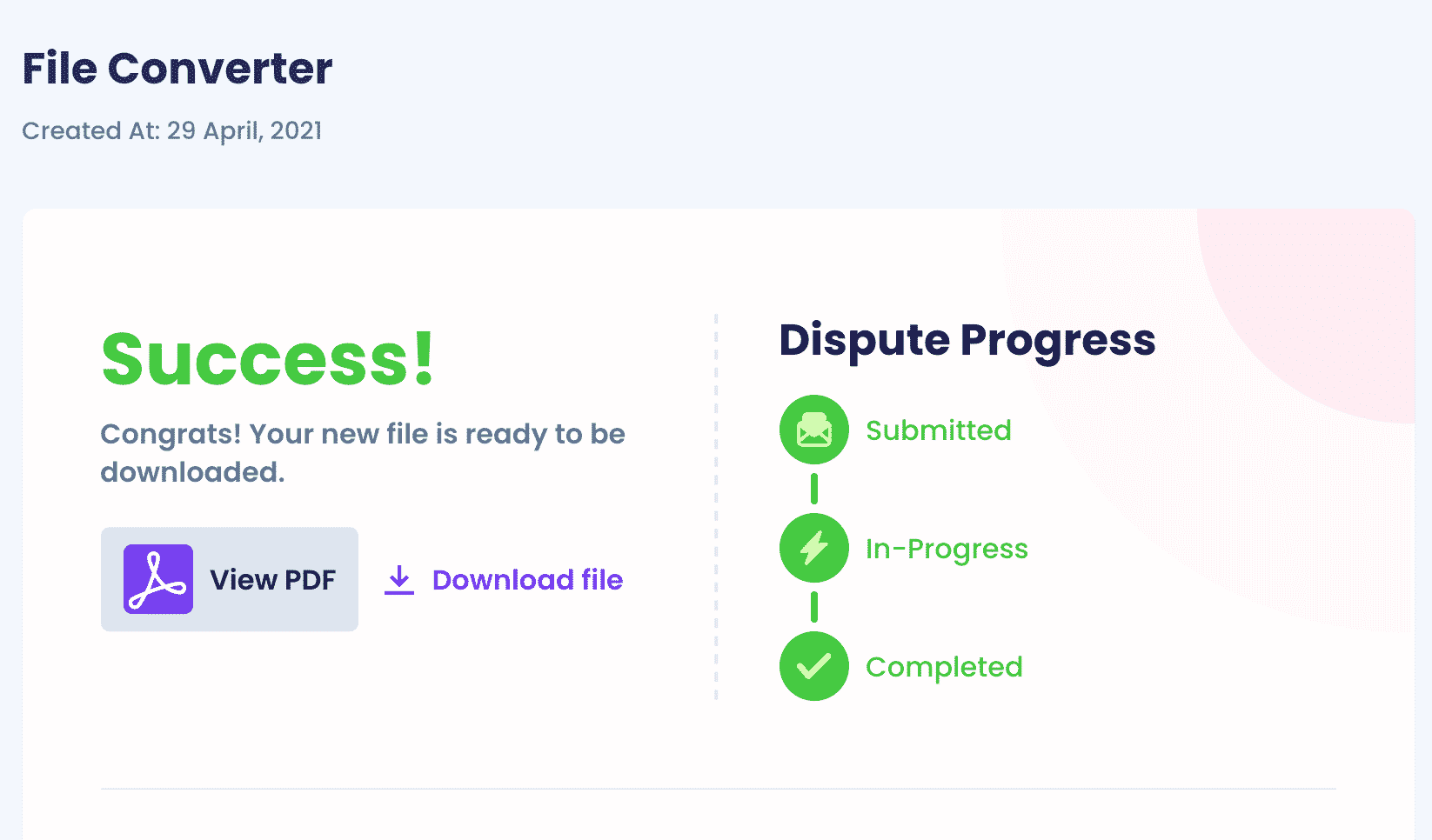 Keep in mind that all your files will be deleted from our app's database 24 hours after the conversion.
What Other Files Can DoNotPay Convert?
If you need to convert a spreadsheet to another file type that presents the data in an easy-to-understand manner, DoNotPay can help you:
Convert Excel to Google Sheets
Other than Excel, DoNotPay can convert a wide range of other files, some of which are listed in the table below:
Much More Than a Simple File Converter
When you're converting files, keep in mind you'll need hard disk space for both the original and the converted file. While the HDD space individual files take up is barely noticeable, if you're planning on converting multiple files, it can quickly add up.
Luckily, DoNotPay also lets you compress files to make them easier to store. You can also use our award-winning app to convert online videos to MP3s, as well as download videos from social media and the web and save them on your device.
DoNotPay Offers Unmatched Functionality
DoNotPay offers a lot more functionality than a regular file converter. On top of these file management features, you'll find hundreds of different products within the app that can facilitate, streamline, or automate a wide variety of tasks, saving you time, money, and nerves!
Here are just some of the areas in which you'll find DoNotPay's assistance invaluable:
| Legal | Time-Saving | Money-Saving |
| --- | --- | --- |
| | | |