Discover How To Convert EPS to JPG in Three Easy Steps!
EPS is a file format that stands for Encapsulated PostScript. It's a vector graphics image that's made of lines and curves. This file format can be used with different types of software, including Adobe Illustrator, Inkscape, and Adobe Acrobat.
The EPS file extension is often used to represent vector-based drawings, which are not easy to display on the web without a plugin. Converting your EPS files to JPG can help you save your files easily and allows you to upload them with no issues.
However, learning how to convert EPS to JPG can take a long time if you don't know where to start. That's why we'll make the process easier and show you how to convert your files in a matter of seconds! Sign up for DoNotPay, and let our app convert EPS to JPG, SVG, or PNG in your stead!
How To Convert EPS to JPG
Various online converters can be used to convert EPS files to JPG. A few of the commonly used ones are:
Convertio
Zamzar
CloudConvert
Convertio
The Convertio file converter is a web-based program created for the purpose of converting one type of file to another. Convertio can convert files like text, video, image, and audio.
Zamzar
Zamzar is a website that converts files to different formats, including EPS to JPG. You need to upload the file you want to be converted, specify the format you want it converted to, and start the process.
CloudConvert
CloudConvert is an online file conversion service that also converts one file type to another. The service can convert images, videos, audio files, documents, and more.
The Common Disadvantages of Free Online EPS to JPG Converters
Online file converters can be a valuable resource for converting files to various formats. There are some problems associated with using these free converters, though. Here are some of the most common issues you may encounter:
The converter doesn't support batch conversions
The converted files are of low quality
The converter uses complicated settings for converting files between formats. It may be difficult or even impossible to navigate the converter's confusing instructions
Personal information and data aren't protected. Some websites might share your sensitive info with other parties without you knowing
How To Find a Safe EPS to JPG Converter
There are many tools that can help you convert videos and other media to different file formats. You need to be careful before you upload your files to one, though.
Prior to choosing a video converter, make sure you search for reviews or other user input about them. Find out what the strengths and weaknesses of the converter are, what file formats it can convert to, and whether it is compatible with other devices.
You shouldn't use converters that are not well known. When searching for an appropriate video converter, don't settle for the first one that shows up on Google—the chances are that you will get a lot of results for unreliable converters.
Above all, make sure that the video converter you opt for has the features you need. If you are looking for a free converter, make sure that it is easy to use and has plenty of features. For example, if you need to convert a video in HD quality, you need to ensure that the converter is capable of producing that kind of file.
Once you find the converter that you want to use, make sure to check its privacy policy and/or terms and conditions. You should be able to find more details about how your data will be protected and whether it will be shared with other parties.
How To Convert an EPS File to JPG With DoNotPay in a Flash
DoNotPay provides you with a completely streamlined process of converting your EPS files with ease! You don't have to worry about the safety of your personal info at all—the procedure is 100% secure, and we'll even delete your files 24 hours after the conversion so that you can have peace of mind!
Our app's service also works on every operating system, and the converted files are of high quality. To initiate the process, register for DoNotPay and follow the next steps:
Open the File Converter product
Upload your EPS file
Select JPG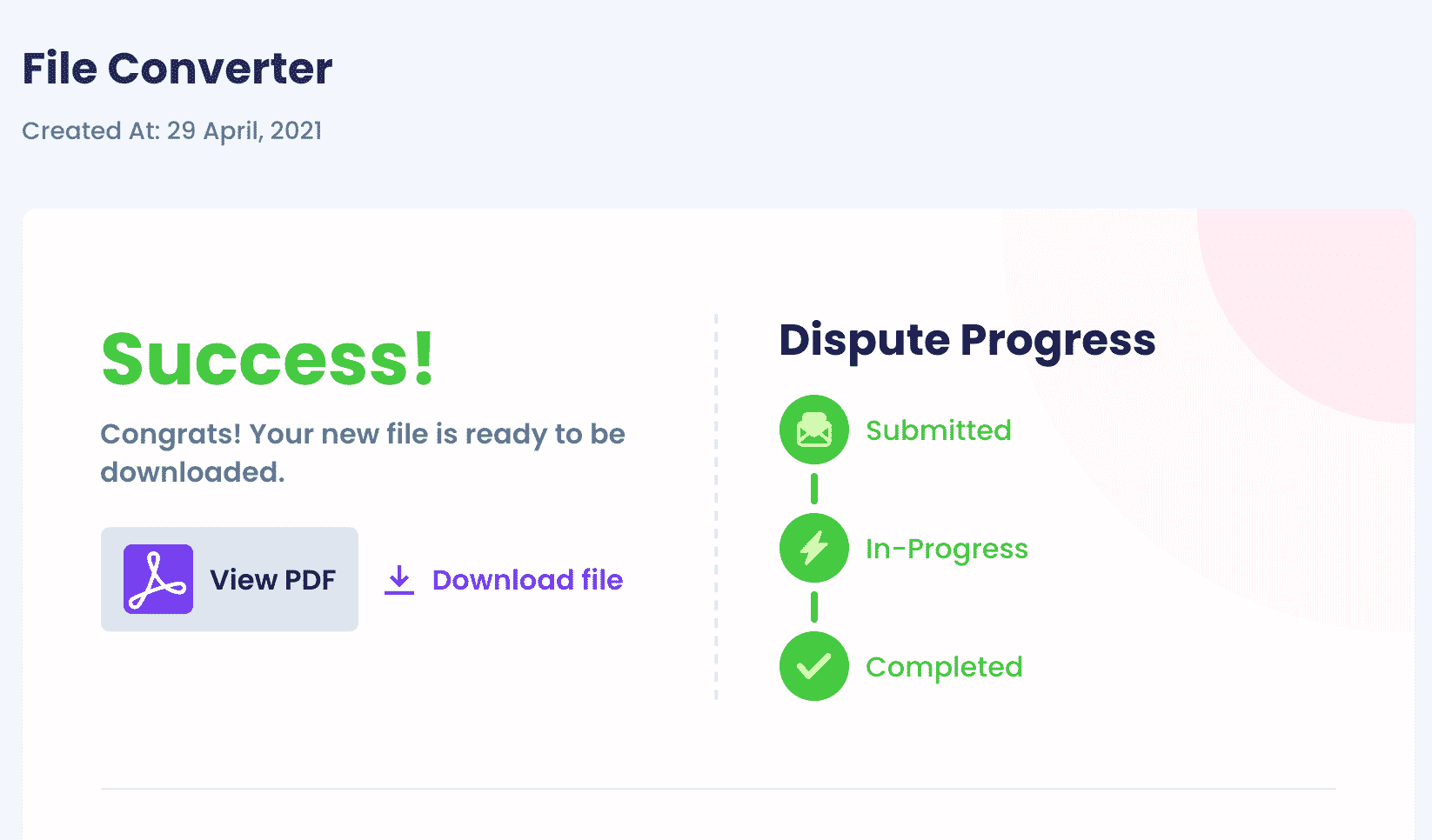 Our app will get right to converting your file, and you'll be able to download it from the My Disputes page in a jiffy!
What Other Files Can DoNotPay Convert?
Need a quick way to convert other files as well? You came to the right place! Apart from converting your EPS files to JPGs, DoNotPay can convert a plethora of other file formats! Take a look at the table below to find out what else you can convert using our app:
Solve Many Annoying Issues Using Our App
Nobody likes dealing with bureaucracy. This is where our app comes in! We can help you complete the following tasks:
As soon as you sign up for DoNotPay, you will be able to handle all these chores and many more with ease.
What Else Can You Use DoNotPay For?
Aside from streamlining numerous tasks for you, our app can be of more assistance. You can rely on DoNotPay when you need to:
With our help, you can also connect with a loved one in jail, send online faxes, or create passport photos in the blink of an eye. Explore our learning center, and you'll see that there's not much DoNotPay can't do!