Learn How To Convert eBook to PDF in 3 Simple Steps
eBooks are becoming increasingly more popular and seem to be taking over many traditional types of books. However, people sometimes can't share digital books with others because of their formats. The solution to this problem is a simple eBook to PDF conversion. If you have a document in an eBook format, you can convert it to PDF in a few minutes.
This article will offer some tips and tricks on how to convert eBook to PDF, as well as share some of the best free online tools for doing this. In case you don't want to rely on free online converters, you can always opt for a safer option—DoNotPay. Once you access our app, you'll be able to convert your eBook to PDF in a jiffy!
How To Convert eBook to PDF Online
You can choose from a wide range of free online converters available for converting eBooks to PDFs. If you aren't sure which one is the best for the job, check out the list below to see some of the commonly used ones:
The conversion process works in the same way for most of these converters—go to the website you want to use, add your files, choose the output format, and download your converted file once ready. Sounds simple? It usually is, but that isn't all you should know about these conversion tools.
The convenience these converters bring isn't the only thing that should be emphasized. There are also numerous drawbacks that these tools come with and that you should be aware of.
The Common Drawbacks of Free eBook to PDF Converters
Free file converters can often be super beneficial. You can use a website to convert files for free, which is convenient if you don't want to spend any money. But there are some drawbacks to using these tools, and we wanted to take a minute to go over them:
The quality of the output may be low because the platform is free of charge. Your files can often end up blurry and pixelated, and sometimes even unusable
The website itself may have a virus on it or ask you to download some add-on that has a virus. It may be difficult to know what bad add-ons are on these sites and what is actually safe
These sites usually don't provide a satisfactory level of protection, which can lead to your personal and sensitive info being shared with third parties that will use it for malicious purposes
How To Convert eBook to PDF With DoNotPay in Seconds
DoNotPay is here to help you convert MOBI and CBR to PDF safely and in record time! You don't have to worry about your files being at risk or ill-protected since we ensure the entire process is completely safeguarded. We'll remove your files from our database 24 hours after the conversion to help you keep peace of mind.
The quality of your converted files will be high, and you can convert an unlimited number of files on any operating system. All you need to do to convert your files with us is register for DoNotPay and follow the next steps:
Open the File Converter product
Upload your eBook file
Pick PDF as the output format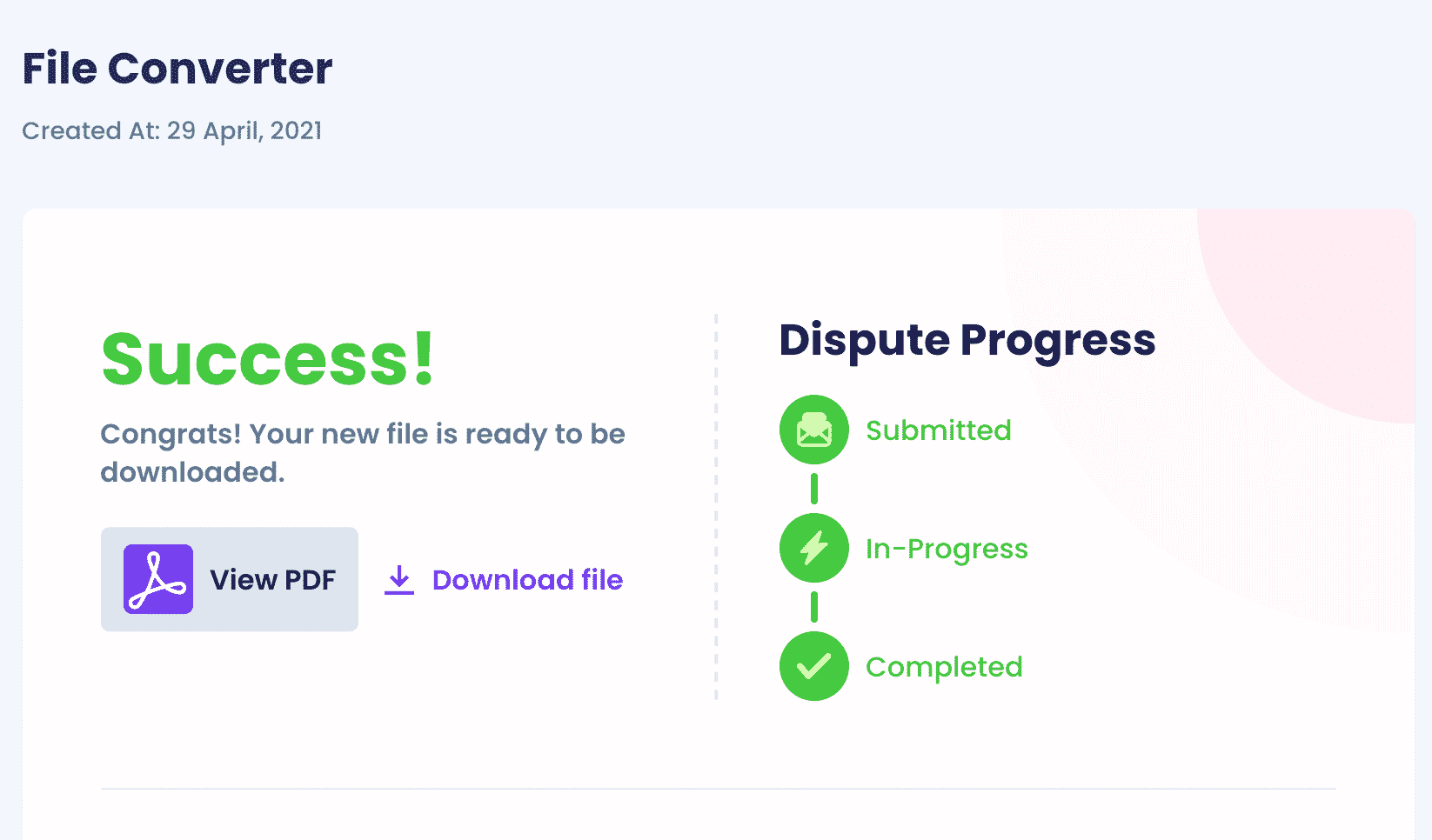 DoNotPay converts your file on the spot, and you can download it from the My Disputes page instantly.
What Other File Types Can DoNotPay Convert?
If you want to convert other files to PDF or any other format, you should know that DoNotPay supports over 100 different file types! You can convert the following files with us in a few clicks:
Convert, Compress, and Download Anything With DoNotPay
Technology is advancing at a rapid pace, and it can be rather difficult to keep up. But there's no need to worry if you're not particularly tech-savvy—DoNotPay got you covered!
With our easy-to-use app, you can compress any file, download videos from the web, and convert online videos to MP3 files, all with a few clicks. There's absolutely no experience needed. Your files are 100% safe, and your privacy is ensured because we delete the converted and compressed files after 24 hours.
Save Time and Money With DoNotPay
On top of file conversion, DoNotPay has hundreds of different products that automate boring tasks and streamline complex processes. And the best part is—you get access to all of them, so you can use our award-winning app to save a ton of time and money.
Here are just a few examples of what DoNotPay can help you with: