Discover How To Convert DOCX to PDF in a Flash
Any document you create in Microsoft Word will be saved as a DOCX file. Bear in mind that not all programs are capable of reading this format. If you want to export your documents in a format that other programs are able to read, you need to convert them into another file type, preferably PDF. PDF files are easy to read on any device, including Android and iPhone devices.
This article will show you the best ways to convert your DOCX files to PDF so that you can open and edit them in more apps or share them with other users who don't have Microsoft Word installed on their computers. If you are in a hurry and want to start converting your files NOW, sign up for DoNotPay. Don't waste time searching for a reliable file converter when you have one at your fingertips.
How To Convert DOCX To PDF
There are a few different ways to convert DOCX files to PDF and it's up to you to choose the best tool for your needs. You can convert your files using:
Microsoft Word—Open a DOCX file in MS Word 2010, click File and Save as PDF
A third-party program—You'll have to find one, download and install it on your computer
An online converter—Most of them are free and don't require downloading additional software
Using an online converter is what most people do when they're in a hurry to convert their files. Online converters are quick and easy to use but you should keep in mind that not all of them are safe and reliable.
Some of the most popular online converters are listed in the table below:
| DOCX to PDF Online Converters | Description |
| --- | --- |
| Smallpdf | Smallpdf.com is a site that allows you to convert dozens of different file types into PDF. It has more than enough options for editing and optimizing your new PDFs too |
| Online2pdf | Online2pdf is a free online service for converting documents (DOC, DOCX, XLS, XLSX) to PDF format. No download is required |
| iLovePDF | iLovePDF is a free online service that allows you to upload a PDF, DOC, XLS, PPT, or TXT document and convert it into a new file format |
| CloudConvert | CloudConvert is a free service where you can convert your files to any format. No matter whether you are looking for a DOCX to PDF, MP3 to MP4, or a WAV to FLAC converter, or —this site will produce the desired result |
| Convertio | Convertio allows you to convert files into every one of the major formats. It is great for users who are new to converting files but also has advanced functions suitable for professionals |
The Common Drawbacks of Using a Free DOCX to PDF Converter
Many online converters that you find on the Internet are poorly made and will never give a satisfactory result. The converted files may not be compatible with your computer system and what's even worse, they may contain malicious software that will harm your device.
If you're using a wireless connection, there is always a risk of your connection getting cut off in the middle of the file conversion process. This would mean having to start all over again.
Keep in mind that many online converters will limit the type of files you can upload—If your document is over 1GB, you may not be able to convert it.
How To Ensure an Online DOCX File Converter Is Safe To Use
If you are dealing with confidential information, then the last thing you want to do is trust it with just anyone. For this reason, we have compiled a list of things you should keep an eye on before deciding to convert your DOCX files to JPG using an online file converter:
Review the service's Privacy Policy
Read the Terms of Use
Examine the sample conversions
Read the feedback posted by past users
Check if the site uses SSL encryption
Convert Your Files Safely With DoNotPay!
Why waste your time trying to find a safe and legit file converter when one is at your fingertips? DoNotPay's File Converter is reliable, quick, and 100% safe. To protect your privacy, we will delete your files 24 hours after conversion to give you peace of mind.
Converting DOCX to PDF with DoNotPay is simple as can be. After logging in to your DoNotPay account, you'll need to:
Open the File Converter product
Upload your DOCX file
Pick PDF as the format you want to convert it to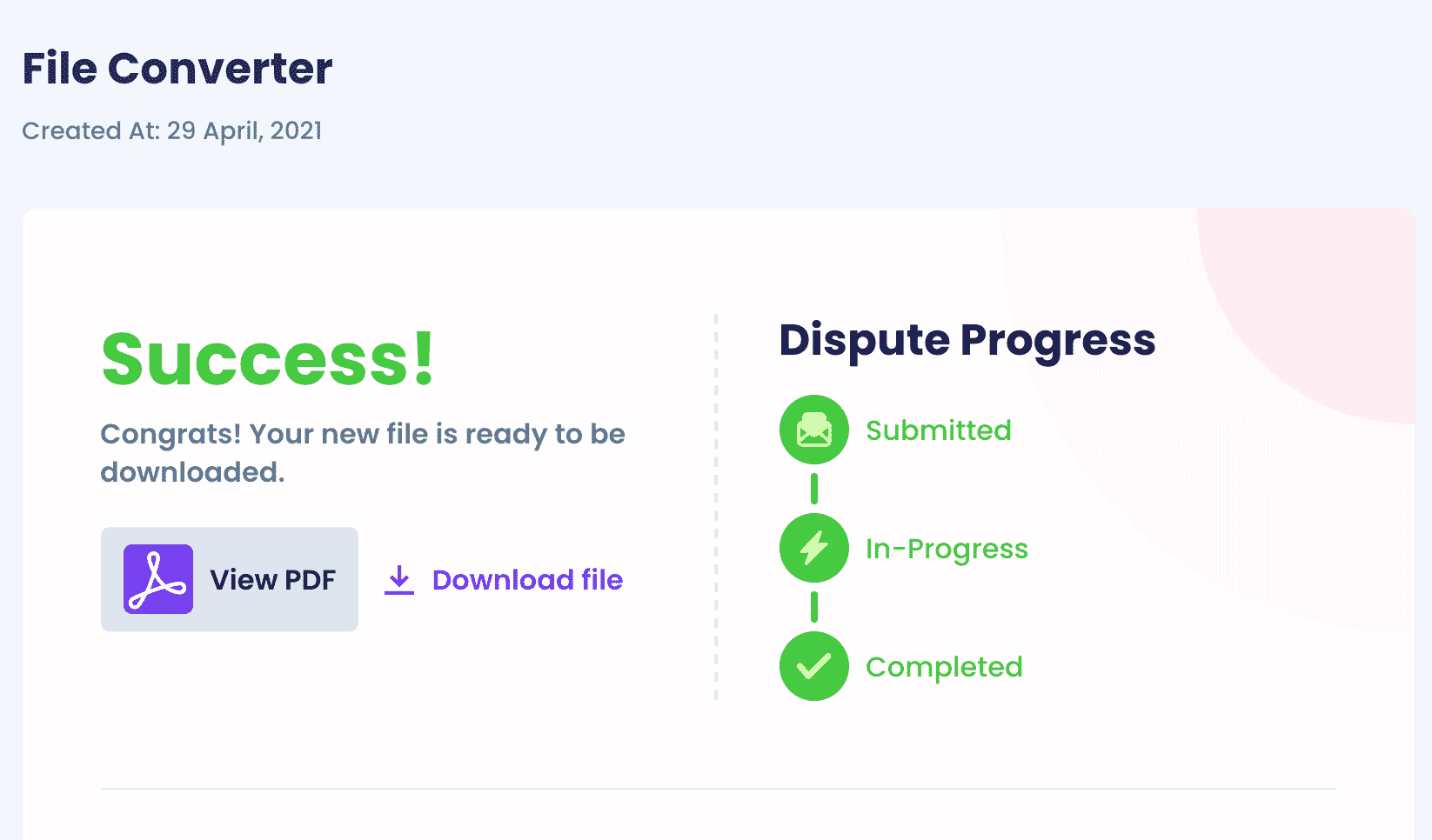 All that's left to do once you complete these steps is to download your new file on the My Disputes page.
Keep in mind that you can convert an unlimited number of files using our File Converter. What's more, it is browser-based—this means you convert any file regardless of which system you're using.
What Other File Types Can DoNotPay Convert?
If you need a quick way to convert files other than DOCX, you've come to the right place! DoNotPay can convert a wide range of file formats! Some of them are listed in the table below:
Hundreds of Useful Features At Your Fingertips
What makes DoNotPay stand out from regular file conversion tools is the array of other features you get access to once you start using our app.
On top of converting hundreds of file types, you can also use DoNotPay to:
Compress your files

so they don't take up too much space
Download videos from social media and the web

Convert all manner of online videos into mp3 files

with a click
DoNotPay isn't just a converter, it's an app designed to make your life easier by automating tedious and complicated tasks. You'll find hundreds of different products inside our award-winning app that will help you save valuable time and money!
Create Legal Documents, Cancel Subscriptions, Appeal Parking Tickets—All With One App!
There's no shortage of tasks DoNotPay can assist you with. For example, the world's first robot lawyer can help you with all manner of legal processes, including:
You can also have DoNotPay handle tedious, time-consuming tasks like filing complaints, requesting refunds and chargebacks, canceling subscriptions, contesting parking tickets and seatbelt tickets, and fighting email spam for you.
DoNotPay can also save you hundreds of dollars each month by helping you reduce property taxes, lower your bills, and find unclaimed money in your name.