Learn How To Convert DOCX to DOC in Seconds
DOC is a file format for text documents, created by Microsoft Word. The DOCX file is its updated version that was introduced in 2007. While DOC is a text-based file format used primarily with Microsoft Word, DOCX is a newer standardized XML-based file type that can be opened and edited in other word processors as well. It can include more formatting and structured elements than its predecessor, which allows for more creativity without sacrificing clarity in terms of content. A DOCX file also has more capacity for storing large amounts of information than its older version.
The main reason why people convert DOCX to DOC is to be able to open a document in older versions of Microsoft Word. Searching for a reliable file converter is tedious and may take a while. If you want to avoid wasting your time on such a tiring task, opt for DoNotPay—a safe and reliable solution that can convert your files in a matter of seconds!
How To Convert DOCX to DOC
Converting DOCX to DOC is easy if you have a newer version of Microsoft Word installed on your computer. If this is the case, all you need to do is:
Open the DOCX file in Microsoft Word
Click on File in the upper-left corner of the document
Click on Save As once a pop-up window appears
Enter a new name for the DOC file
Click on the Save as type drop-down box at the bottom of the Save As window
Choose Word 97-2003 Document from the drop-down menu
Click on Save
Another way you can convert DOCX files to DOC is by using an online file converter. Online file converters are quick and easy to use. No installation or other setup is needed before conversion. All you need to do is drag and drop your DOCX file, choose DOC as the format you want to convert it to, and hit the Convert button. Some popular online DOCX to DOC converters are:
Zamzar
CloudConvert
Convertio
Using an Online DOCX to DOC Converter—The Main Issues
There are potential security risks associated with using an online DOCX to DOC converter. Since you'll need to download the converted file to your computer, there's a possibility that you'll get your device infected with malware. Also, keep in mind that some file conversion websites may sell your data to third parties without your knowledge. To prevent this from happening, you should read the Privacy Policy before choosing a file converter.
Another disadvantage of using an online DOCX to DOC converter is the high probability of encountering glitches when converting files. These could include corruption in formatting or missing elements.
Also, remember you probably won't be able to convert a bunch of files in one go using an online file converter.
How To Convert DOCX to DOC With DoNotPay
If you are looking for an easy-to-use tool for converting DOCX to DOC, DoNotPay is just what you need! Not only does it have a user-friendly interface, but it also converts your files in no time. The conversion process is 100% safe—you don't need to worry about getting your data stolen by hackers or sold to third parties. We will delete all your files from our database 24 hours after the conversion.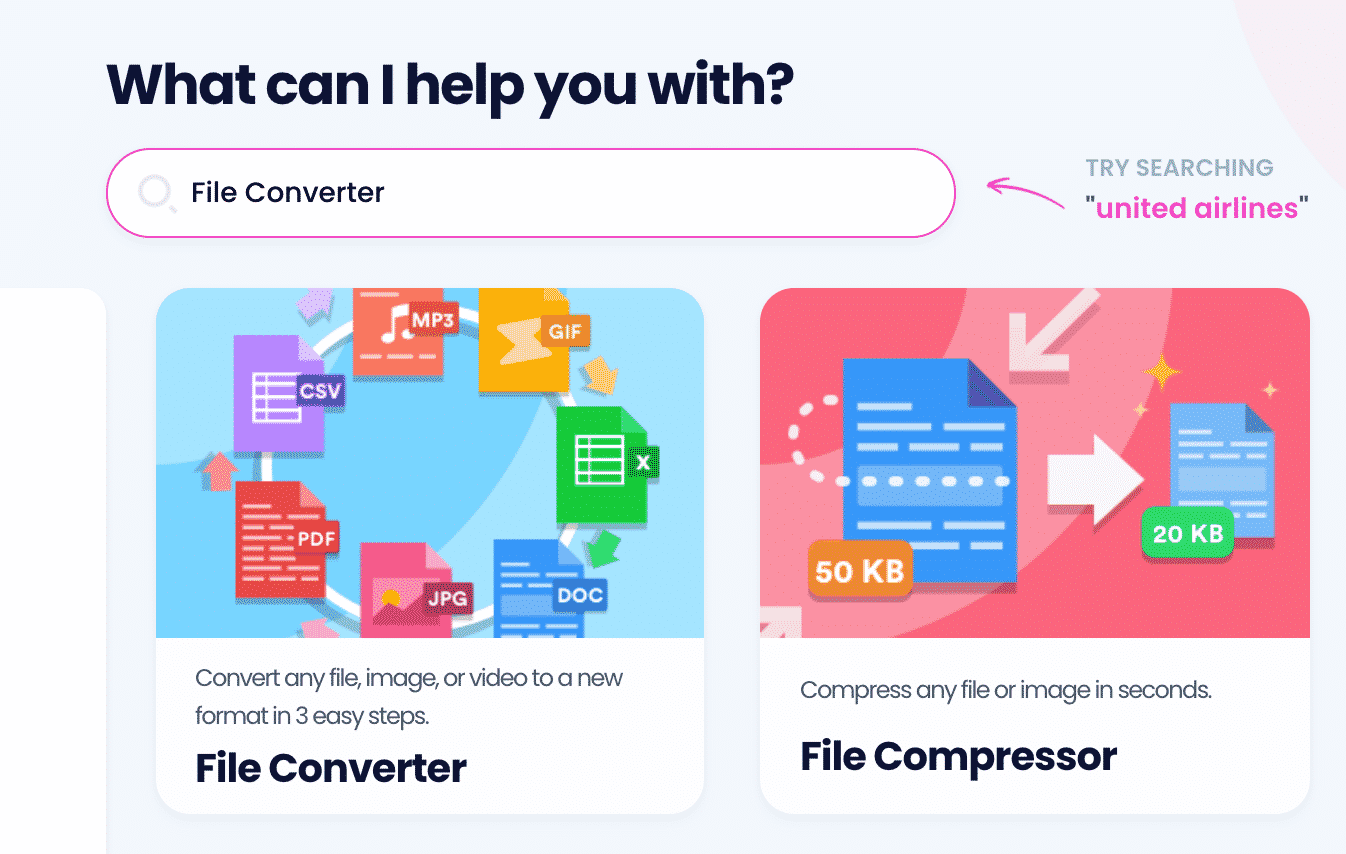 To start converting your DOCX files to DOC, you'll need to log in to your DoNotPay account first and then complete the following steps:
Open the File Converter product
Upload your DOCX file
Choose DOC as the format you want to convert your DOCX file to
Your file will be ready in a few seconds, and you'll be able to download it from the My Disputes page.
What Other Files Can DoNotPay Convert?
DoNotPay can convert a wide range of text, image, audio, video, and other files. Some of them are listed in the table below:
Convert, Compress, and Download Anything With DoNotPay
Technology is advancing at a rapid pace, and it can be rather difficult to keep up. But there's no need to worry if you're not particularly tech-savvy—DoNotPay got you covered!
With our easy-to-use app, you can compress any file, download videos from the web, and convert online videos to MP3 files, all with a few clicks. There's absolutely no experience needed. Your files are 100% safe, and your privacy is ensured because we delete the converted and compressed files after 24 hours.
Save Time and Money With DoNotPay
On top of file conversion, DoNotPay has hundreds of different products that automate boring tasks and streamline complex processes. And the best part is—you get access to all of them, so you can use our award-winning app to save a ton of time and money.
Here are just a few examples of what DoNotPay can help you with: