Learn How To Convert DAV to MP4 With Ease
DAV is a file format that is created by a DVR365 digital video recorder. It's used for recording video captured by CCTV cameras.
MP4 is one of the most commonly used digital multimedia formats. It's mostly used to store video and audio data, but it can also store other data, such as subtitles.
You can convert DAV to MP4 with different online converters, and we're here to walk you through the process.
We are also aware that free online converters aren't always the most reliable option, so we'll offer you another way to convert an unlimited number of files whenever you want—DoNotPay. Once you access our app, you'll be able to convert over 100 different formats in the blink of an eye!
How To Convert DAV to MP4 Online
You can find numerous free DAV to MP4 converters online, but not all of them are safe to use. If you want to take a look at a couple of the most commonly used ones, check out the list below:
The conversion process with the above-listed converters is pretty straightforward—import the document you want to convert, choose the output format, wait for the file to be converted, and download it once ready.
There are also a few downloadable programs you could install and use to convert from DAV to MP4, but they usually require more time and effort than free online converters. They also require you to pay a certain fee to use them.
Free online converters often seem like a perfect option due to their convenience, but they aren't that great. You can run into various issues when using a free online converter as well, and we're here to break down the most common issues one by one.
Free DAV to MP4 Converters—Major Issues
It is easy to use a free platform, but it often exposes our privacy and can lead to the theft of important information that you may not want to share. Here are some of the risks you can run into when using a free file converter online:
Security risks—In most cases, there will be no security measures in place for your personal data or your virtual identity. Unauthorized third parties can gain access to your personal files and sensitive info
Quality risks—It's common for free file converters to downsize the quality of your converted file. You can get a pixelated file that isn't usable
Spyware and malware risks—Many free online file converter tools come with spyware and malware hidden in the code. You may or may not know about any of this, but the fact is that it will be on your computer, and there's no telling what kind of damage it can do to your system
Convert Various File Types With DoNotPay the Safe Way!
If you don't want to rely on free online converters and try to decipher which one is safe and which one is not, use DoNotPay instead! We make sure your files are completely protected and even remove them from our database after 24 hours. That way, no one can gain access to and use them for malicious purposes. You can also convert any number of files you want on both Windows and Mac, and you can choose from 100+ file formats! All you need to do to get started is sign up for DoNotPay and complete the following instructions:
Open the File Converter product
Upload the document you want to convert
Choose the output format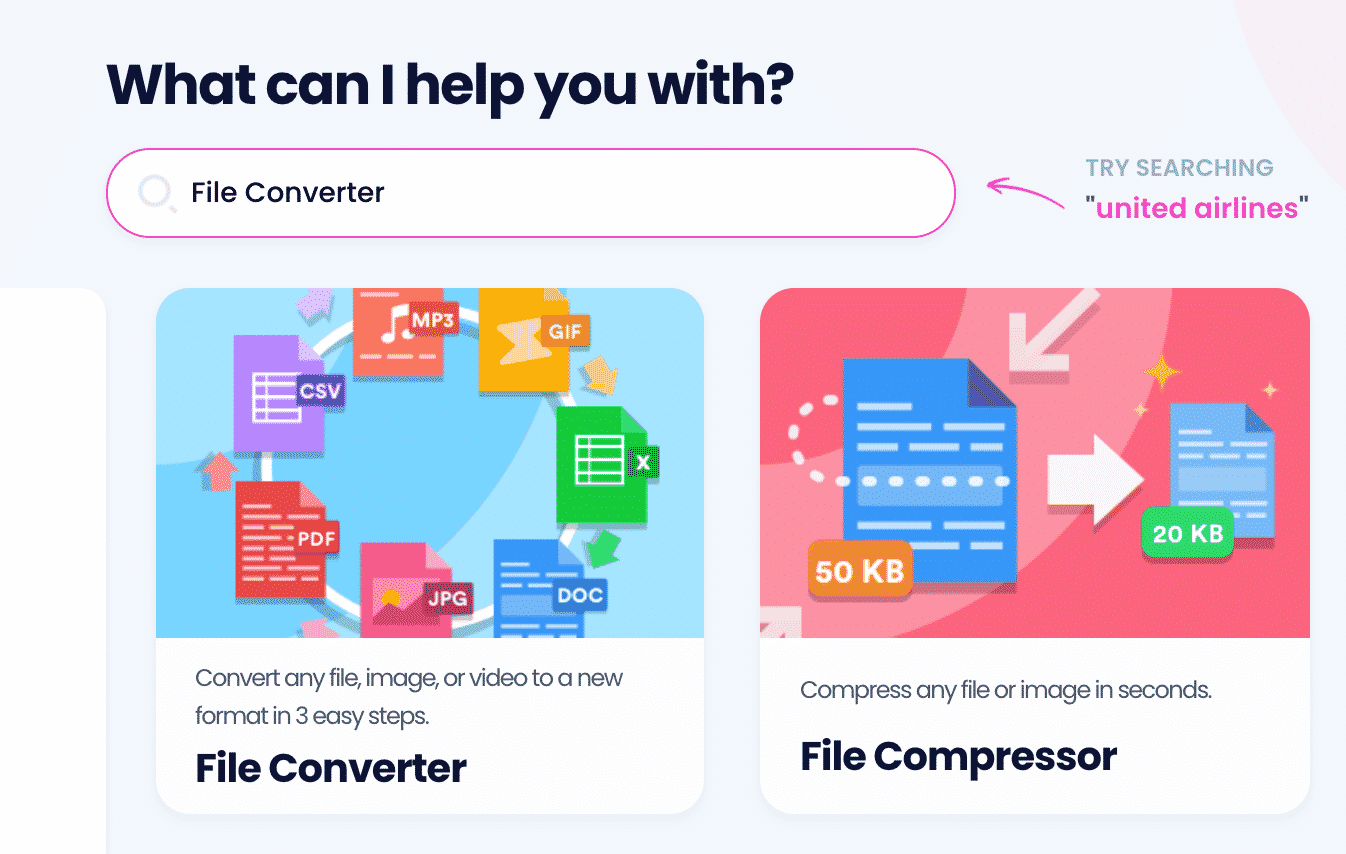 We'll convert your file instantly, and you'll be able to download it from the My Disputes page in seconds!
What Other File Types Can DoNotPay Convert?
There is no shortage of file formats our award-winning app lets you convert in seconds! Check out the table below for more details:
Much More Than a Simple File Converter
When you're converting files, keep in mind you'll need hard disk space for both the original and the converted file. While the HDD space individual files take up is barely noticeable, if you're planning on converting multiple files, it can quickly add up.
Luckily, DoNotPay also lets you compress files to make them easier to store. You can also use our award-winning app to convert online videos to MP3s, as well as download videos from social media and the web and save them on your device.
DoNotPay Offers Unmatched Functionality
DoNotPay offers a lot more functionality than a regular file converter. On top of these file management features, you'll find hundreds of different products within the app that can facilitate, streamline, or automate a wide variety of tasks, saving you time, money, and nerves!
Here are just some of the areas in which you'll find DoNotPay's assistance invaluable:
| Legal | Time-Saving | Money-Saving |
| --- | --- | --- |
| | | |
The possibilities truly are endless with DoNotPay!