Convert CR2 to JPG in a Few Clicks
CR2 is a RAW file format used by Canon for storing raw image data from a single camera without any processing. One of the benefits of the CR2 format is that it contains more color information than JPEG files which are processed to reduce colors and sharpness.
CR2 files are large and uncompressed while JPG files are processed images. The JPG format has gained popularity because of its smaller size and compatibility with other devices, but keep in mind they can't always:
Capture subtle nuances in color
Reveal essential information about your photo's exposure settings
The pixels in CR2 and JPG files are exactly the same. The differences between these two formats lie within the file organization, compression, etc.
One of the main reasons people want to convert CR2 to JPG is sharing the images online or emailing them without taking up too much space. Another reason is that some programs can't read CR2 files.
There are many programs available online to help you convert CR2 files to JPG, but not all of them are safe and reliable. If you sign up for DoNotPay, you'll be able to convert hundreds of file types with a single click, all the while ensuring your data stays safe.
How To Convert CR2 to JPG
The best way to convert your CR2 files to JPG files is by using a photo editing program that has a wide variety of editing tools and can convert images in batches. If you want to make the process easier and avoid downloading 3rd party software and spending months learning something like Photoshop or fiddling in Lightroom, you can use an online converter.
Online converters can help you convert all your CR2 files to JPG at once, saving a lot of time.
To convert CR2 to JPG using an online converter, take the following steps:
Upload the CR2 file
Select JPG as the output format
Press Convert
Once the conversion is complete, you can download the file. Many online converters offer options to save JPG files in specific sizes and qualities.
Regardless of which file converter you choose, it's not guaranteed that the quality of your CR2 image will remain the same after conversion to JPG. Keep in mind that some programs offer more flexibility in photo editing while others are more focused on file conversion that preserves image quality.
Free Online CR2 to JPG Converters
You can convert CR2 to JPG online for free, using any of the following tools:
| CR2 to JPG Converters | Description |
| --- | --- |
| iLoveIMG | iLoveIMG is an online tool that allows you to compress, crop, convert, and resize images in bulks |
| CloudConvert | CloudConvert is a free online conversion tool for converting all kinds of files, including CR2 and JPG |
| Convertio | Convertio is a free online service that allows you to convert CR2 files to JPG files without downloading software |
| Zamzar | Zamzar is a free conversion tool that lets you convert many different types of files, including CR2 to JPG. This includes photos taken on your smartphone, digital camera, or any other device |
| FreeConvert | FreeConvert converts CR2 files to JPG files without requiring software downloads, limited trials, or registration |
What Are the Downsides of Using an Online CR2 to JPG Converter?
The main downside of converting CR2 files to JPG is that it doesn't always retain the full quality of your photo. While some types of programs will convert your CR2 file and preserve some or all of the original data, others may leave you with a lower-quality image and reduced resolution than what you started with.
You should keep in mind that not all online converters are genuine or trustworthy. In fact, most of them are hosted on shady websites that will spam you with ads, might infect your device with viruses, or do who knows what with your data. As long as you use a reputable online converter, your images should be safe from the prying eyes of hackers.
How to Make Sure a CR2 to JPG Converter is Safe To Use
Many CR2 to JPG converter programs that are free to use do not come with a license, especially those from random websites. You should always make sure the website on which the program is offered is well-known and trusted. This can be done by:
Checking out the website's Terms and Conditions and/or Privacy Policy—If neither is present, that's a huge red flag
Reading user reviews on forums and various review websites to get an idea of other people's experiences with the tool
You should always have an antivirus or anti-spyware program running on your computer before downloading anything from these websites.
Convert CR2 Files to JPG in a Jiffy Using DoNotPay!
DoNotPay can convert your CR2 files to JPG and other file formats in a snap! More importantly, you won't have to worry about the safety of your data.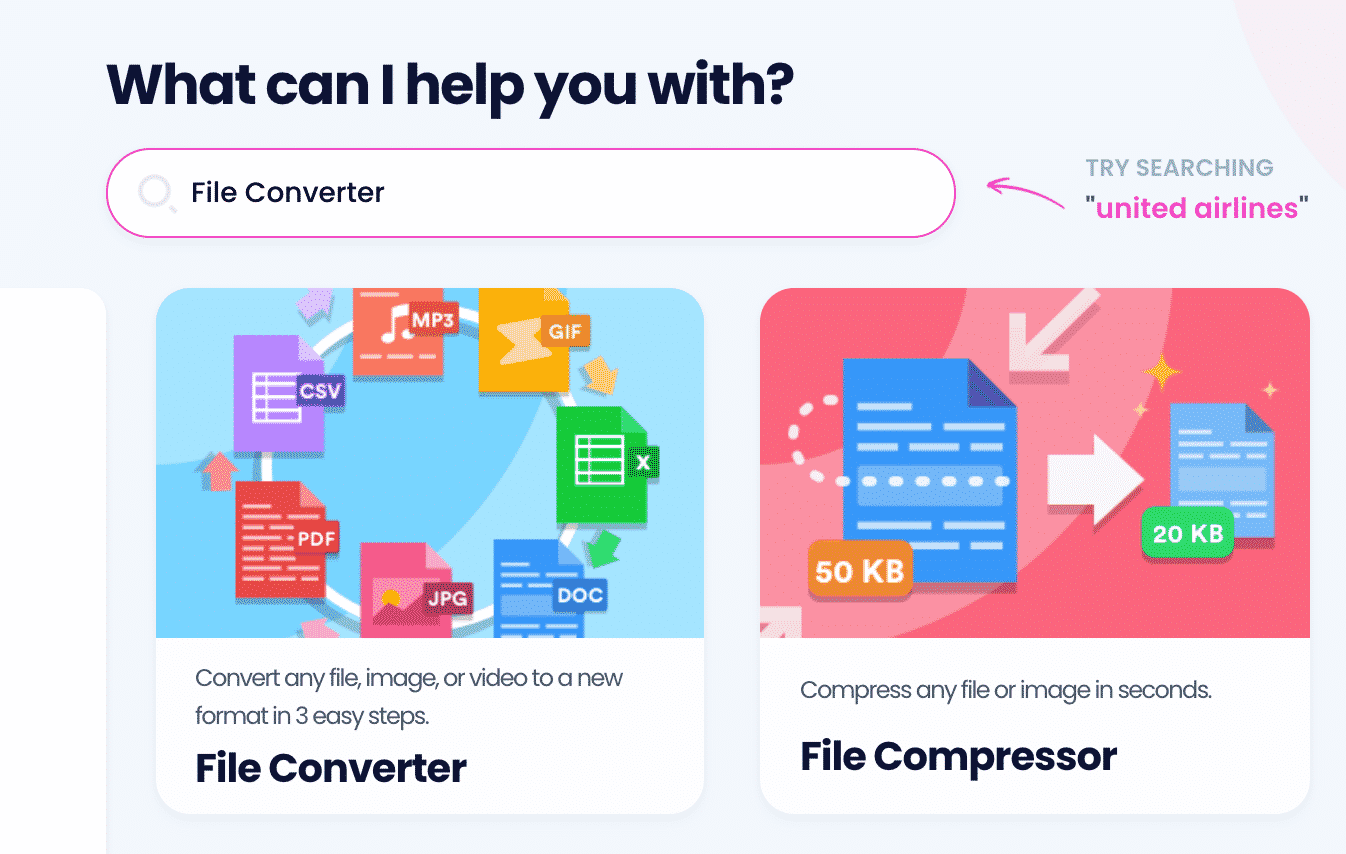 To initiate the conversion of your files with our nifty app, all you have to do is:
Access your DoNotPay account and open the File Converter product
Upload the CR2 file you want to convert
Choose JPG as the format you want to convert it to
Download your file from the My Disputes page
We'll delete your files after 24 hours to ensure the safety of your data!
What Other Files Can Our App Convert?
We can convert a wide selection of different files for you in no time. You can find them in the table below:
Fast-Track Different Tasks With DoNotPay
Are you trying to get a refund from a company and can't reach its customer service? Was your flight canceled or delayed, and you want to get compensated? Is hiring a lawyer out of the question because they're too expensive, but you have to draft some legal documents? Once you register for DoNotPay, we'll be able to help you with all of the above and more!
Rely on our app to finally put an end to text spam, annoying robocalls, and spam emails.
Do you need help canceling your forgotten subscriptions? We'll help you detect all your active memberships or subscriptions and get rid of the ones you no longer want.
In case you're studying for your driving test, you can use our Government Tests Prep product and ace this and many other exams. We can also schedule an appointment with the DMV on your behalf.
If you have to claim your car or any other insurance or warranty, rely on DoNotPay. Use our app to also contest parking tickets in a jiffy!
Protecting Your Privacy Is Easy Using Our App!
While staying anonymous online can be difficult, we can turn it into a breeze. Get a temporary number when you sign up for various platforms. Do you want to keep other personal info to yourself? Use our virtual credit card and avoid hidden charges for free trials.
We'll also help you stay safe from stalkers and harassers, sex offenders, defamation, and workplace discrimination.